In collaboration with Boeing, Amideast is pleased to launch its STEM Ambassadors Program, which will take place at the STEM lab at Amideast/Dubai.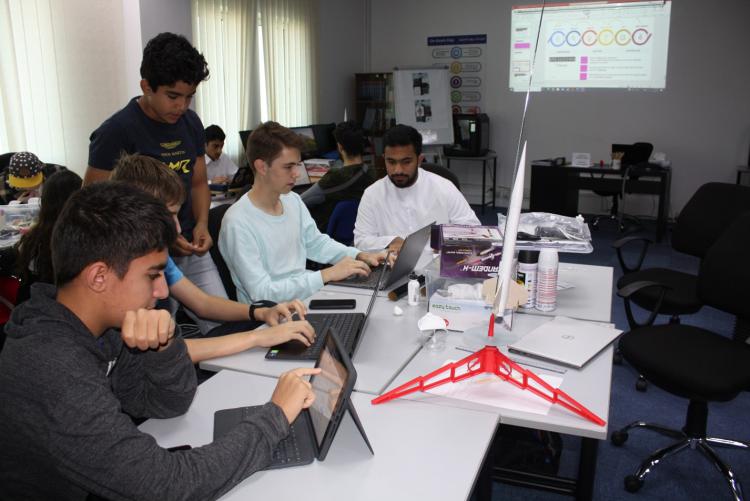 Program Description
The new program will allow participants to benefit from theoretical and practical activities related to aeronautics engineering and sustainability within the field. Students will learn how to connect sustainable concepts and approaches to the aeronautics industry. will focus on expanding students' knowledge, awareness, and interest in both sustainability and science, technology, engineering, and mathematics (STEM) concepts under a general aeronautics engineering theme. The program targets students between the ages of 14 to 18 years old from private schools in Dubai.
Program Objectives
Increase awareness about sustainability, aeronautics engineering, and STEM
Create a thought leadership community through subject matters
Increase participants of females in STEM programs
Increase the repertoire of students who will act as ambassadors for the STEM program
Student Eligibility Criteria
The program is open to Emirati and non-Emirati students in private schools. Students selected for this program MUST meet the following requirements:
Enrolled in grades 8-12 for the academic year 2022-2023
Demonstrate aptitude, commitment, and genuine interest in STEM topics
Ability to commit to an after-school program from January 20 through February 11, 2023
A completed application form
Program Design and Components
Sustainability Knowledge & Awareness Sessions (4.5 Hours)
Seminars with Subject Matter Experts (3 Hours)
Aeronautics Engineering & Design (12.5 hours)
Kit – Rocket Launch Time: Flying with Style
The kick-off of the program and the first day of classes will take place on Friday, January 20, 2023.
For further information, please contact us at: UAE.Training@amideast.org