What do famed Egyptian archaeologist Zahi Hawass, award-winning filmmakers Lucien Bourjeilly and Hind Shoufani, and one of the most influential women in the Arab world, Rana Dajani, have in common? They are alumni of the Fulbright Foreign Student Program for the Middle East and North Africa, a program that Amideast has administered for the U.S. Department of State for the past 50 years.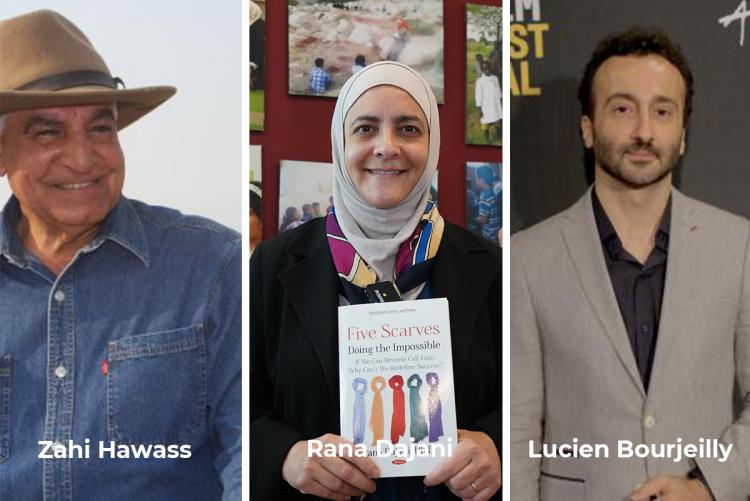 Their stories—and those of all 3,200 Fulbright grantees whose programs Amideast has administered since 1970—make us especially proud to celebrate the 75th anniversary of the Fulbright Program this year. The Fulbright Program is the flagship exchange program of the U.S. Department of State, and these alumni exemplify the Fulbright ideal of passionate and accomplished students, scholars, artists, teachers, and professionals of all backgrounds who, having enriched their educations and careers through their exchange experience, have also made meaningful contributions upon returning home.
The first grantees whose programs Amideast administered came from Jordan, Lebanon, and the West Bank. Soon, other countries and areas were added to our roster, beginning with Algeria in 1972, followed by Egypt (1979), Morocco (1980), Tunisia (1981), Bahrain (1985), Gaza (1987), Iraq (2008), Libya (2008), and the United Arab Emirates (2009). The number of participants continued to grow as well. Amideast now supports nearly 300 students on program each year, in addition to the placement and orientation of approximately 150 incoming students.
Our partnership doesn't end there, however. Over the years, Amideast also administered the Fulbright Foreign Student Program for Oman, Syria, and Yemen (programs that are currently paused); Iran, Kuwait, Qatar, and Saudi Arabia; as well as countries outside of the MENA region—including Cyprus, Sudan, Mauritania, Pakistan, and Turkey.
In recent years, Amideast has also administered group professional development programs for junior university faculty from Iraq, Egypt, and Jordan on select themes. Our country offices are also involved with Fulbright alumni who return home, helping them to stay connected and build on their Fulbright experience through activities such as the Fulbright Alumni Development Grant and Fulbright Alumni Community Action Grant programs.
To date, more than 5,400 Fulbright Foreign Student grants have been awarded to recipients from the Middle East and North Africa—the majority of them with the direct support of Amideast and many in partnership with the binational Fulbright commissions in Egypt, Jordan, and Morocco.
Throughout the year, we will be celebrating the 75th anniversary of the Fulbright Program by highlighting notable alumni from the MENA region. Check here for a preview of their impressive stories and the contributions they are making.