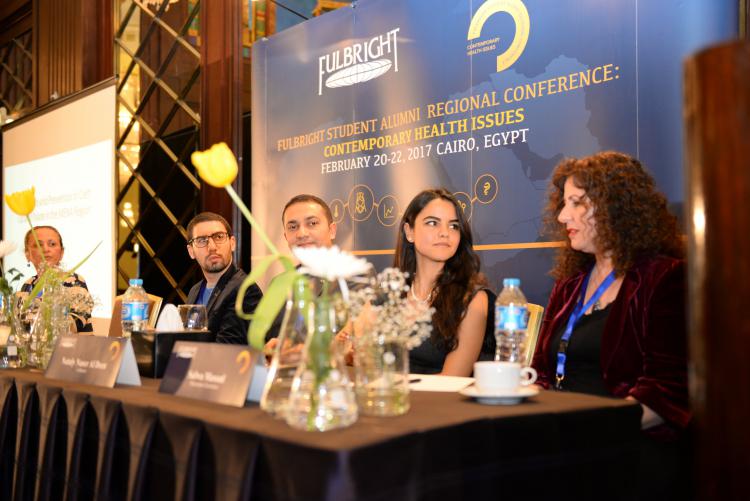 ALUMNI DEVELOPMENT GRANTS
                                                    COMPETITION OPENING ON JULY 11!     
Important Note: Due to the ongoing COVID-19 pandemic, this round of ADG activities will be reserved for alumni development activities that are virtual in nature - that is only online events will be funded and the option of in-person participation will not be offered this round. 
Fulbright alumni from the Middle East and North Africa who received Fulbright Awards administered by Amideast are eligible to apply for an Alumni Development Grant. Sponsored by the U.S. Department of State's Bureau of Educational and Cultural Affairs (ECA), the Alumni Development Grant is intended to help Fulbright Foreign Student Program alumni continue their educational and professional pursuits after their program is completed. Alumni can apply for up to $1,000 to engage in a virtual professional development activity.
Application Deadline: JULY 29th, 2022
Eligibility Requirements
Applicants must be alumni of either: the Fulbright Foreign Student Program, the Junior Faculty Development Program or the Visiting Scholar Program for Iraq - who received a Fulbright Award administered by Amideast on behalf of the U.S. Department of State.

IMPORTANT: Your Fulbright grant must be administered by Amideast to be eligible for an alumni grant. Before you start an ADG application, please check your grant's original Terms of Agreement to confirm Amideast administered your program, not another entity. If you are not sure and can not confirm your records, email ogustafson@amideast.org for assistance.

Applicants must be living and working in their country of citizenship to be eligible for an ADG. Eligible countries need to be from one of the areas administered by Amideast on behalf of the U.S. Department of State.*  

Applicants must have completed their J-1 visa, two-year home residency requirement to be eligible.

Preference will be given to applicants who have never received an alumni grant.

There must be a minimum of a two year period between receipt of a first alumni development grant and application for a second one.

Amideast, U.S. Agency for International Development, U.S. Department of State, and Fulbright Commission staff members, independent contractors, and/or immediate family members are ineligible.
Application Guidelines
The proposed activity should be related to the applicant's field of study and/or current professional position.

The proposed activity must be online, whether it be a conference or professional training, only virtual activities will be considered. 

Preference will be given to applications that demonstrate the active participation of the applicant, for example presenting at a conference or participating in a virtual collaborative project.

The professional development activity must take place anytime between September 2022 to March 2023.

Requested funds may not exceed $1,000 for your proposed virtual activity.

Selection preference will be given to those activities that show evidence of significant cost share (between 15% and 25% of the total cost of the project) through personal funds or funds provided by a sponsor or employer.

Applications must have been submitted by 5:00PM EST  - July 29th, 2022.

Applicants will be notified of their application status in mid-September 2022, via email.

Amideast reserves the right to request any additional information regarding the budget or proposed activity. It is the applicant's responsibility to provide any additional information in a timely manner in order to continue to be considered for the grant.

Applications received will be reviewed for consideration by the U.S. Department of State and Amideast representatives.
Grant Guidelines 
Awards are based on the feasibility and the appropriateness of the activity.

Any ADG application that includes an in-person activity will not be eligible or considered for funding this round. 

Grantees must submit a final report to Amideast no later than 30 days after the completion of their activity. The final report should include a summary of the activity and an itemized list of the total actual costs associated.

Grantees must submit their final report and financial documentation to Amideast upon completion of their activity.
    * Current areas with Fulbright Foreign Student Programs administered by Amideast include Algeria, Bahrain, Egypt, Gaza, Iraq, Jordan, Lebanon, Libya, Morocco, Syria, Tunisia, UAE, West Bank, and Yemen.   

For questions on the application process, contact Amideast:
Fulbright Foreign Student Program/ Alumni Action Grant
E-mail: ogustafson@amideast.org
RETURN TO FULBRIGHT ALUMNI PAGE
SaveSave
SaveSave