This year's theme of International Women's Day—DigitALL: Innovation and Technology for Gender Equality—was well-timed, in our view. Digital skills are unlocking the potential of women and girls to realize their career and employability goals. As we seek to reach and train women and girls from diverse backgrounds, our programs increasingly focus on enhancing their technological skills and digital literacy.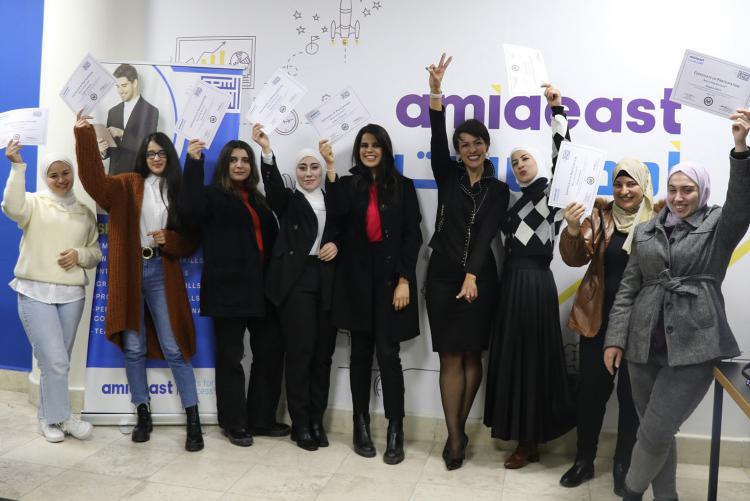 Unemployment rates for women in the region remain stubbornly high despite advances in their academic achievements. Women's labor participation rates in most countries are among the world's lowest, although it is widely recognized that integration of women with secondary and tertiary education into the workforce would boost most of the region's economies.
The rapid changes underway in MENA economies—globalization, the greater use of digital tools and platforms, the changing workplace environment—present opportunities for women in the region. Recognizing these changes, we are increasingly tailoring our programs to enable women and girls to navigate rapidly changing economies and workplace settings. Our programs develop a range of digital skills that will help them overcome barriers they encounter as they seek to enter the workforce and advance in their careers, including basic literacy in widely used office tools such as Microsoft Word and Excel, Internet search skills, social media skills, and email etiquette.
Our multifaceted career-oriented programs also cover topics such as personal branding, online reputation, and professional boundaries. When asked what she learned during the Employability Skills for Women program at our American Corner in Sousse (Tunisia), one participant confirmed, "I learned how to write a good CV that got me a job interview. I went back to LinkedIn after I thought that I will never figure out how it works, and my network increased by 25%." This feedback was seconded by participants in the Career Skills Development program in Kuwait whose newly gained skills and knowledge yielded an increase in job interviews and employment offers as well as in their workplace skills and confidence in their own professional abilities.
Since Covid, the ability to operate in the digital realm has become critically important. To mitigate the impact of the pandemic which drove many Jordanian women out of the workforce, our Skills to Careers Initiative is helping Jordanian women enter or re-enter the job market through virtual English language and soft skills training as well as mentorship. Our virtual programming also addresses mobility and the safety concerns that often curtail women's and girls' ability to benefit from in-person training models.
Digital skills training clearly offers a path towards a brighter future for women and girls in the MENA region. "Innovation and technological change, and education in the digital age are essential today to achieving gender equality and empowering all women and girls," notes Takwa Khalifi, our trainer who developed the Work Readiness course in Tunisia.