The Professional Certificate in English Language Teaching (PCELT) continues to be an important signature program for AMIDEAST, reaching teachers across the MENA region committed to improving the language proficiency of students of different ages in diverse contexts.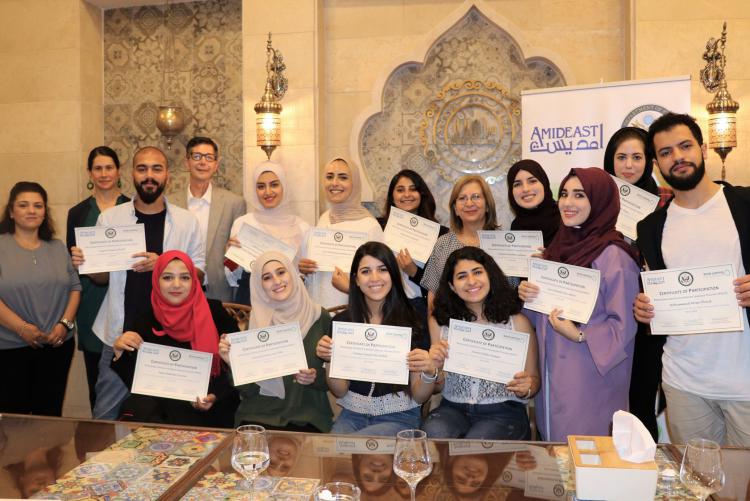 To date, 862 English language teachers across 11 countries have been trained and certified through PCELT — a U.S.-accredited program developed through AMIDEAST's partnership with World Learning/SIT Graduate Institute. In 2019, 116 teachers from six countries were trained through the generous support of the U.S. Embassies in Jordan, Kuwait, Libya, Morocco, and Palestine, and through a private donor and teachers' self-funding in Lebanon.
The 2019 PCELT graduates include teachers who work at Ministry of Education schools, who teach in AMIDEAST's U.S. Department of State-funded English Access Microscholarship Program, and who are pre-service teachers preparing for their career in teaching. In addition, a PCELT initiative in Morocco targets Ministry of Education supervisors and trainers who impact the practices of in-service and pre-service teachers. Also worthy of note are the two cohorts of teachers from Libya, trained in Tunisia, who are now transferring their new skills to classrooms throughout Libya.
Considering the significant impact that PCELT has on teachers' attitudes, planning, and practices, the subsequent positive effect on student learning has spread far and wide. A conservative estimate is that PCELT graduates are now providing improved learning experiences for tens of thousands of students across the region each year. School leaders, supervisors, and peers report a marked difference in the classrooms of PCELT teachers, where students interact more regularly with each other and practice English with greater motivation and confidence.
"PCELT is one of the best experiences I have ever encountered in my professional career," commented a Lebanese teacher after completing the PCELT course in summer. "I feel that I came with a small suitcase, but came out with a heavier one filled with strategies, skills, and a lot of activities."
With funding for at least 10 new PCELT courses approved for 2020, AMIDEAST is gearing up for another busy year for this signature program that continues to improve English language teaching throughout the MENA region.