As the largest American provider of English language training in the Middle East and North Africa, Amideast has partnered with World Learning/SIT Graduate Institute—a U.S.-based global leader in teacher education—to launch a unique certificate program for teachers of English.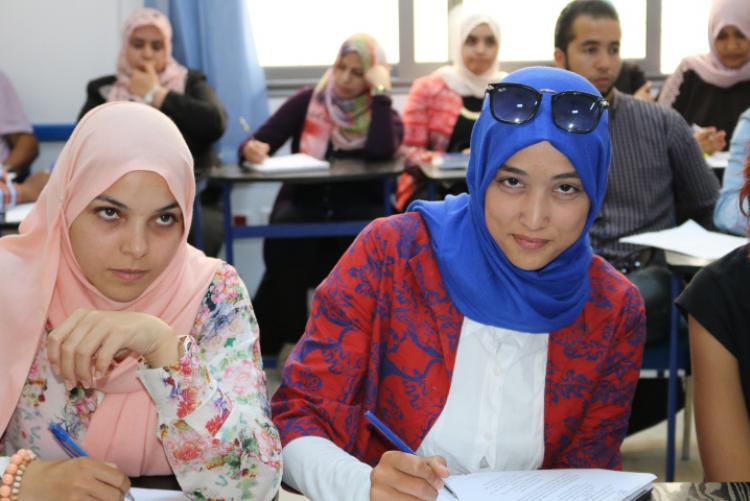 The Professional Certificate in English Language Teaching (PCELT) is designed to meet the growing demand in the Arab world for quality training in English language teaching and provide current and future teachers the first such American-accredited program available in the region. With English linked to youth opportunity regionwide, the relevance of this undertaking cannot be overstated.
What is PCELT?
PCELT is an internationally recognized TESOL certificate developed by Amideast and World Learning/SIT Graduate Institute delivered through Amideast's network of offices in the MENA. The 120-hour program provides flexible delivery options and adaptable content to address different English language teaching needs and contexts — from public to private, urban to rural, traditional to alternative, resource-rich to resource-poor classrooms.
Who is PCELT for?
PCELT is designed for current and aspiring teachers of English who are proficient English speakers but who have little or no teaching background, as well as for experienced teachers who wish to upgrade or update their knowledge and skills based on the latest language teaching methodologies and emerging trends in the field. PCELT-certified teachers gain many rewards, including a competitive edge for career advancement and increased confidence in the classroom.
What is the PCELT approach?
PCELT is designed to provide the 12 participants in each course with needs-based, individualized attention throughout. PCELT provides a meaningful blend of theory and practice, with an ongoing emphasis on hands-on experience and practical application to a wide variety of teaching situations. The overall program approach is grounded in experiential learning, critical thinking, and creative problem solving within a learner-centered framework.
What do PCELT participants gain?
PCELT participants gain professional competence as English language teachers through interactive workshops, guided lesson planning, observed practice teaching, and continuous peer and trainer feedback. The comprehensive curriculum covers both the fundamentals of effective English language teaching and a wide range of adaptable modules on such topics as assessment, materials adaptation, and online classroom resources. In addition, PCELT incorporates workshops on emerging trends and issues of particular relevance to the Arab world, such as the role of English in international communication, and youth development. Participants also draft a professional development plan to implement following the course.
How is PCELT delivered?
In order to suit the schedules of different participant groups, the 120-hour program can be delivered in intensive (4 weeks), semi-intensive (10-12 weeks), or extended (16+ weeks) modes. Highly qualified, PCELT-certified trainers teach the course and observe practice teaching with real students at each of Amideast's PCELT locations across the MENA.
How are PCELT participants assessed?
PCELT is awarded to participants who successfully complete the full program, as assessed through their ongoing participation, lesson planning, observed practice teaching, teacher reflection assignments, learner case studies, and teacher portfolios. PCELT is a permanent certificate with lifetime validity.
How much does PCELT cost?
Contact Amideast country offices for price information. PCELT is competitively priced within each country, costing less than other well-known international certificates and representing significant value given PCELT's customized content and extensive components. Course registration, materials, and certification are included in the price.
What is the PCELT application process?
PCELT applicants are required to complete a written application, provide evidence of English language proficiency, and participate in an admissions interview.
Please contact the Amideast office in your country or Josephine Clark Kennedy for more information.