New and aspiring entrepreneurs in the MENA region are finding a partner in the Amideast Entrepreneur Institute, where they can access training, mentoring, and other support as they launch and grow their business ventures.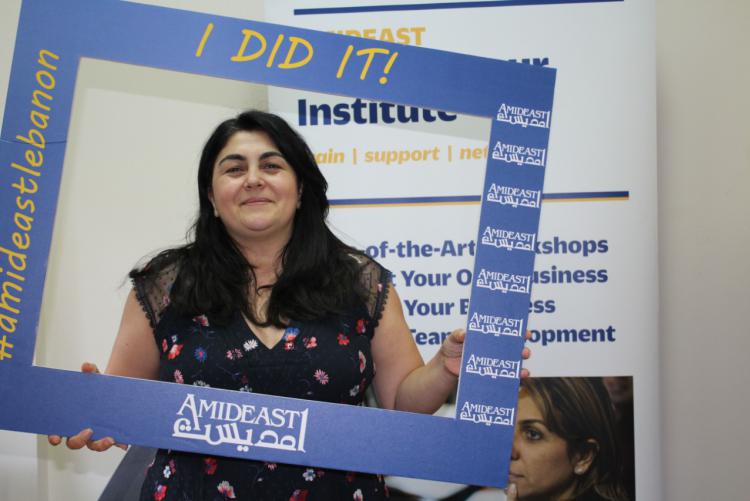 The Amideast Entrepreneur Institute (AEI) seeks to advance entrepreneurship as a way of stimulating  job creation and economic growth in the Middle East and North Africa. Based in Beirut and open to those residing in the MENA region, AEI offers onsite and virtual training and other support to new and aspiring entrepreneurs as they seek to launch and grow their business ventures.  AEI's mission is to train, support, and help entrepreneurs network and build relevant business contacts.
Our Scope
Since its launch in 2010, the Amideast Entrepreneur Institute has provided training to more than 550 aspiring entrepreneurs, business owners, and professionals on how to start a business, grow a business, develop a sales team, and spur business growth using ICT. In 2020, it took its decade-long experience in onsite training to the Internet, enabling participation in countries throughout the Middle East and North Africa.
Our Online Programs
Networking is central to entrepreneurial success. Today it pays to be tech savvy, as well as grounded in business basics and topics such as human resources, branding, and marketing. That's why we conceived of our regional webinars: they help us expand our reach to new markets. As important, by including people from diverse professional and geographic backgrounds, they offer an enriching classroom experience. Registration is facilitated by our offices throughout the MENA region.
OUR ONSITE PROGRAMS
The Amideast Entrepreneur Institute offers the following programs and services at its Beirut location:
Entrepreneurship training delivered by successful Lebanese entrepreneurs and other professional trainings
Advice from guest speakers and business advisors who are regional and local entrepreneurs or experts
An online platform complementing all workshops offered by AEI
A network of other entrepreneurs, business leaders and experts motivated to help you succeed
A legal clinic — the first of its kind in Lebanon — providing guidance on legal obstacles frequently encountered in the startup phase
Ongoing individual support, coaching, and mentoring
Networking events
A central source to keep you informed about all entrepreneurship activities and support in Lebanon
Power session trainings on topics you request
For more information about our upcoming workshops and programs, please check the links below:
Grow Your Own Business
GrowthWheel®
CONTACT INFORMATION
For more information, please contact us at +961-1-989901 ext. 236 or at entrepreneurs@amideast.org