Amideast has partnered with the Inventionland Institute (ILI) to support innovation and economic growth opportunities for youth and young innovators across the MENA region.
Utilizing ILI's 9-Step Method of product ideation and design thinking and Amideast's enduring network of partners across the Middle East region, the Inventionland innovation program offers youth with bright ideas the opportunity to develop product design skills, finish with a working prototype of their creation, and the opportunity to utilize ILI's existing network of major international retailers, including Walmart, Home Depot, Amazon, Best Buy and more, to make their invention a commercially viable product that generates income for the innovator themselves.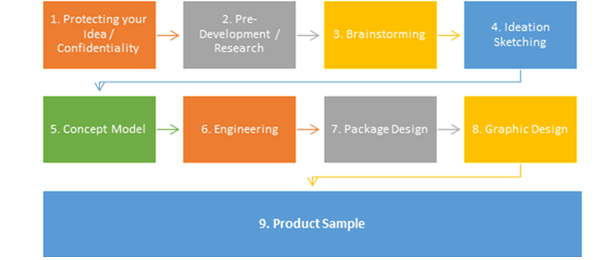 The Inventionland program seeks to enhance, develop and reward innovators with ideas and solutions to daily challenges encountered in life through simple yet effective design interventions that are market-ready and able to generate income for the inventors themselves, encouraging an entrepreneurial mindset and connecting innovative solutions and thinking with small business growth and development.
The Inventionland curriculum is available in English and Arabic. Amideast's InventionLand program can be applied to three broad and complementary areas:
1) Teacher Training: Amideast seeks to build the capacity of local educators and resources to become innovation facilitators for youth in their communities through its certified 40-hour teacher training course.
2) Inventionland Curriculum: The Inventionland curriculum is an instructor-mediated, online program that typically takes between 32 and 64 instructional hours to complete, depending on the implementation approach that the educational organization selects. The program can be implemented as part of the organization's regular curriculum, as an elective course, as an after-school or evening program, as a weekend program, or as a summer program.
3) Designing Creative Learning Environment: Inventionland design experts will work on a collaborative basis with the management, instructors, and students of the participating educational organization to design a creative learning environment appropriate for the facility, considering size, equipment, and budgetary factors.
For more information on this program please contact Mrs. Nura Alnajjar at nalnajjar@amideast.org .
Watch Amideast on Jordan TV's "Youm Jedid" morning show, opening the program in the Kufranja Youth Center
Watch the launch of the Train-of-Trainers course attended by H.E. Mr. Mohammed Nabulsi, the Minister of Youth and H.E. Dr. Hussein Al Jbour, the Secretary General of the Ministry of Youth
See Amideast and the Ministry of Youth review and interview over 700 applicants to join the Youth Innovation Program as program trainers in Kufranja, Zarqa and Tafileh
Learn how Amideast and the Ministry of Youth selected the centers to participate in the program
Watch how it all started! When Amideast and the Ministry of Youth signed a Memorandum of Understanding to implement innovation and skills programs to support Jordan's youth
Watch the final presentations of teams from Tafileh, Zarqa and Kufranja to reveal their innovations and products to the judging team from Amideast, InventionlandMENA and the Ministry of Youth, the best innovations to be selected to present at the national competition in Amman!