Join the community for a free online series to learn about and share experiences in entrepreneurship!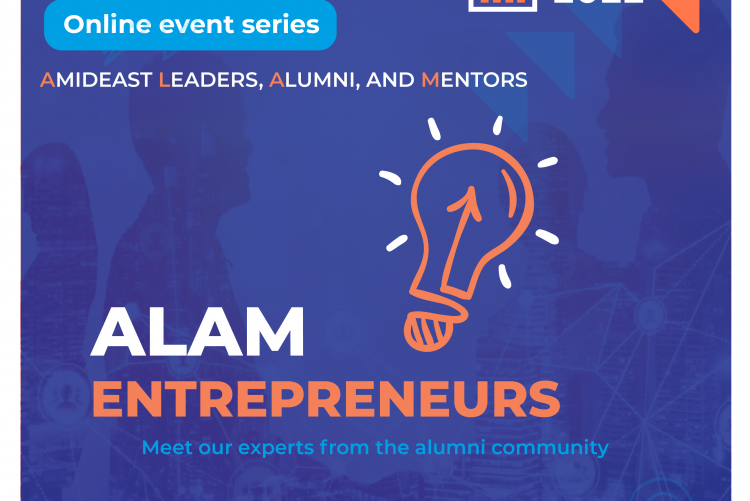 The Amideast Leaders, Alumni, and Mentors (ALAM) network is excited to present a free, online event series on entrepreneurship! On Mondays and Wednesdays throughout February, we posted videos on our youtube channel and social media pages made by experts from the MENA region on topics related to Entrepreneurship. The series culminated in a live virtual event on February 25 to meet the speakers and build your network.
ALAM Entrepreneurs content is available in both English and Arabic. Read the details below for links to the videos:
Feb 2: "Tips for Becoming an Entrepreneur", presented by Neda DeLuca, founder of PalestinianMadeUS, which partners with refugee artisans in Palestine to bring fashionable embroidered and metal-crafted accessories for resale in the U.S. Her business model is focused on building resilient refugee communities by enhancing the quality and quantity of income-generation opportunities. Neda is an alumna of several programs Amideast administered, including Camp Discovery, U.S. Department of State-funded English Access Microscholarship program, the Kennedy-Lugar Youth Exchange and Study (YES) program, Middle East Partnership Initiative (MEPI) Abraham Lincoln Incentive Grants, and the Hope Fund.
Feb 9: "Entrepreneurs-to-be: Between College, Self, Society, and Entrepreneurship", presented by Anas Almassri. Anas, from Gaza, is a PhD student working on modelling alternative forms of higher education in Palestine. Anas is an alumnus of Georgetown and Durham universities as well as several Amideast-administered programs including the English Access Microscholarship, Middle East Partnership Initiative (MEPI) Abraham Lincoln Incentive Grants, Hope Fund, and Gaza Graduate Study Prep Group (GGSPG). Anas was also Gaza's first Access program Alumni Coordinator from 2016 - 2018.
Feb 14: "Lessons from a Youth Entrepreneur" by Ahmed El Gebaly, co-founder and COO at www.MARJ3.com, an online platform that supports students to obtain scholarships and study abroad. MARJ3 has won initial investments and follow-up investments and was named Startup of the Year in 2018 from GEN Egypt. Ahmed also works as a part-time entrepreneurship trainer for small businesses established by refugees in Egypt and has many years of experience training students in Egypt. As a young social entrepreneur in 2014, Ahmed won the Best Project award at the Entrepreneurship Competition at Cairo University, which was supported by Pathways Egypt and the ILO. Startup Scene named Ahmed one of the 25 Under 25 Youth Entrepreneurs Reinventing Egypt in 2017. Ahmed is an alumnus of the Youth Entrepreneurship Program (YEP), administered by Amideast in Egypt in partnership with Citi Foundation. 
Feb 16: "Social Enterprise", presented by Dalia Najjar, who joined Farouk Systems Palestine as the youngest General Manager in the company's history. Dalia currently serves as an adjunct faculty member at Al-Quds Bard College teaching Social Entrepreneurship, where she also works with the university to develop a full curriculum in Social Entrepreneurship and Innovation.  Dalia is a 2008 alumna of the Kennedy-Lugar Youth Exchange and Study (YES) program, administered in the West Bank by Amideast.
Feb 21: "Startups and Building Value", by Ralph and Marc Haddad. Marc Hadded cofounded an educational startup and works to integrate concepts of art, engineering, and entrepreneurship. Ralph Haddad is Chief of Staff at L37, where he works closely with the partnership on operations to lead strategic projects and support the firm's portfolio companies. Before joining L37, Ralph founded the creative studio Numeral and co-founded a retail-tech company called Spaces. Ralph and Marc Haddad are alumni of Amideast's Diana Kamal Scholarship Search Fund (DKSSF) and are originally from Lebanon.
If you missed the live event on February 25, now you can watch the recording to learn more and build your entrepreneurial mindset! Click on this link to find more details on the Localized platform.