The Hope Fund provides young, academically talented Palestinians who possess leadership potential with an opportunity to pursue undergraduate degrees in the United States.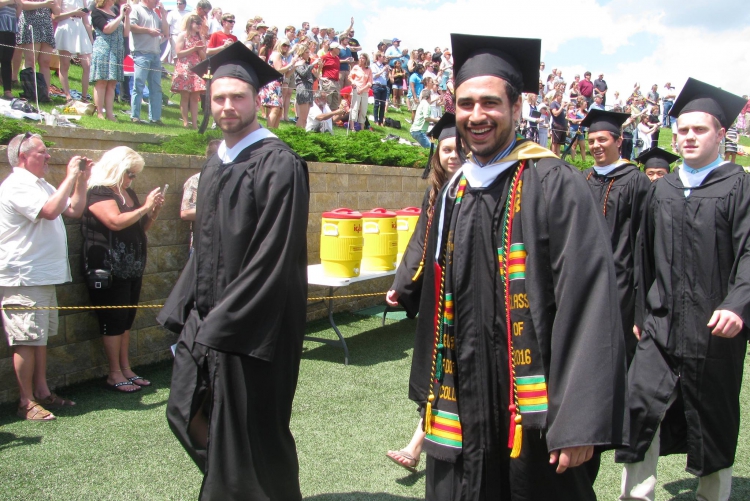 For nearly two decades, the Hope Fund has provided higher educational opportunities in the United States for exceptional Palestinian students living in the West Bank, Gaza, Lebanon, and Jordan, particularly refugees and others from disadvantaged circumstances. To date, 140 Palestinian men and women have been selected based on their leadership potential, character, and strong academic qualifications, as well as limited financial resources that pose an obstacle to their pursuit of a higher education.
HOW IT WORKS
Participation in the Hope Fund is a four-step process:
Step One: Amideast identifies candidates with the academic potential to succeed in a college environment.
Step Two: Once accepted, candidates receive academic advising, test preparation, essay writing guidance, and other assistance throughout the application process.
Step Three: Amideast works directly with U.S. institutions of higher education, students, and families to match scholars to select American colleges or universities willing to provide scholarship resources to fund candidates' completion of four-year undergraduate degree programs in the United States.
Step Four: For students matched with scholarships, the Hope Fund covers educational costs—above and beyond what universities and families are able to commit—for items such as tuition, books, health insurance, and transportation.
HISTORY
In 1999, Dr. Fahim Qubain began exploring the possibility of establishing a mechanism to help educate children who lived in the poorest and most desperate corners of the region's refugee camps. In 2000, he and his wife Nancy established The Hope Fund Corporation as a (501C3) charitable public organization, enabling it to receive tax-deductible contributions from individuals and corporate bodies.
The Hope Fund then turned to Amideast to serve as its key in-region partner. With our extensive network of field offices across the region, we were well-positioned to assist with the selection and preparation of prospective students — a service we provided free of charge.
In 2001, the Hope Fund welcomed its first two students, Khaled El-Nemr and Hanan Dahche. In what would become the Fund's model, Roanoke College generously supplied full scholarships for the students, while the Hope Fund covered travel, insurance, incidental expenses such as books and laptops, and initial social support. Both students graduated cum laude in May 2005—Khaled in Physics and Math, Hanan in Biochemistry—with outstanding scholastic records that would encourage more colleges to support the Hope Fund's mission.
After 15 years as an independent nonprofit organization, the Hope Fund entered a new era in May 2015, when it became a part of Amideast. Our commitment to expanding opportunity for underserved youth will help the Hope Fund continue to open doors to higher education for Palestinian youth for years to come.
PARTNERING COLLEGES
More than 40 U.S. colleges and universities have generously supported the Hope Fund and its mission:  
American University in Cairo
Amherst College
Augsburg College
Augustana College
Bard College
Barnard College
Bridgewater College
Brigham Young University
Bryn Mawr College
Carleton College
Carthage College
College of Wooster
Columbia College
Columbia College for Women
Connecticut College
Earlham College

Franklin & Marshall College
Georgetown University
Gettysburg College
Grand View University
Guilford College
Gustavus Adolphus College
Haverford College
Hollins University
Illinois College
Manhattanville College
MIT
Millsaps College
Monmouth College
Mount Holyoke College

Randolph College
Roanoke College
Savannah College of Art & Design
Smith College
St. Olaf College
Swarthmore College
University of Oregon
University of Pennsylvania
University of Richmond
University of Rochester
University of Toledo
Washington & Jefferson
Washington & Lee University
Wesleyan University
Wilson College