The Diana Kamal Scholarship Search Fund (DKSSF) assists highly qualified Arab students from underserved populations in the Middle East and North Africa who seek to pursue their undergraduate studies in the United States, but lack the financial means to do so.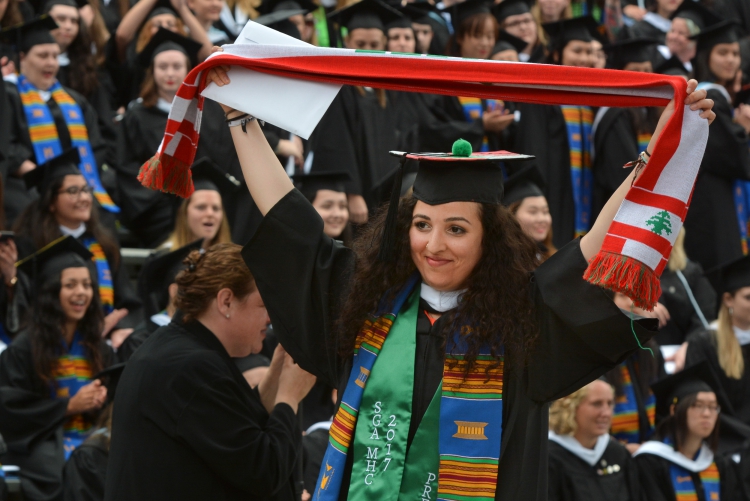 The DKSSF makes it possible for Amideast to identify and help students of exceptional accomplishment and promise through the complicated process of applying for the scholarships they need to complete their undergraduate studies at an institution of higher learning in the United States.
To date, the DKSSF has matched more than 150 deserving young men and women from Egypt, Jordan, Lebanon, Libya, Morocco, Palestine, Syria, Tunisia, and Yemen with scholarships at colleges and universities across the United States.
DKSSF scholars bring their experiences and insights to their college communities, contributing to and enhancing the intellectual dialogue at host institutions. In the process they are furthering Amideast's mission of strengthening mutual understanding and cooperation between Americans and the peoples of the MENA region.
How it works
The resources in this special fund enable Amideast to provide the services that assist several candidates each year to apply and qualify for four-year scholarships to select U.S. institutions of higher learning. To accomplish this, we do the following:
Amideast administers an extensive region-wide search through our country offices, EducationUSA centers, and other networks to identify applicants of exceptional accomplishment and promise
Amideast staff provide a full range of services, including academic advising English-language enrichment, testing services, and travel expenses, for up to two years to assist scholars through the lengthy, and often complicated, testing and application process
Working directly with U.S. institutions of higher education, students, and families, we match scholars to select American colleges or universities willing to provide scholarship resources to fund candidates' completion of four-year undergraduate degree programs in the United States
For more information on the DKSSF and to learn how to apply, please contact the Amideast office in your country, or email DKSSF@amideast.org.
Until May 2015, the DKSSF was also offered for students from the West Bank and Gaza. Palestinian students should instead apply to the Hope Fund, a similar scholarship program for Palestinian students.
history
The DKSSF was established in 2006 in memory of Amideast Senior Vice President Diana Kamal, a recognized leader in the field of international educational exchange and an individual with a lifelong commitment to improving understanding between Americans and the peoples of the Middle East and North Africa. To honor her memory, this fund identifies talented young Arab students and matches them with scholarship opportunities at U.S. colleges and universities.
participating colleges
More than 50 U.S. colleges and universities have generously supported the DKSSF and its mission of expanding educational opportunity for bright, underserved Arab youth:
Adelphi University
American University
American University of Central Asia
Babson College
Bard College
Barnard College
Bates College
Berea College
Boston University
Brigham Young University
Bryn Mawr College
Carthage College
Central Washington University
Colgate University
Columbia University
Concordia College
Cornell University
Dartmouth University
Dickinson College
Drexel University
Duke University
Earlham College
Franklin & Marshall College
Georgetown University
Grinnell College
Hamilton College
Harvard University
Haverford College
Hawaii Pacific University
Hult International Business School
Jacksonville University
Lafayette College
Lehigh University
Loyola Marymount University
Lycoming College

Minerva Schools at KGI
Mississippi College
MIT
Monmouth College 
Mount Holyoke College
New College of Florida
Northwestern University
NYU Abu Dhabi
Parsons School of Design
Princeton University
Purdue University
Sewanee: The University of the South
Smith College
St. Lawrence University
St. Olaf College
Swarthmore College
Troy University
University of Chicago
University of Cincinnati
University of Denver
University of Illinois at Urbana-Champaign
University of Minnesota
University of Notre Dame
University of Pennsylvania
University of Rochester
University of Toledo
Vanderbilt University
Vassar College
Villanova University
Wesleyan University
Williams College
Wilson College 
Yale University
Yale-National University of Singapore