The U.S. Department of State's English Access Microscholarship (Access) Program is well known for giving its young participants a foundation of English language skills that, for many, may improve their educational and job prospects. AMIDEAST, which has managed more than 36,000 Access microscholarships over the years, has taken that experience to Yemen and the UAE to reach more than 260 youth through programs that build on the Access model.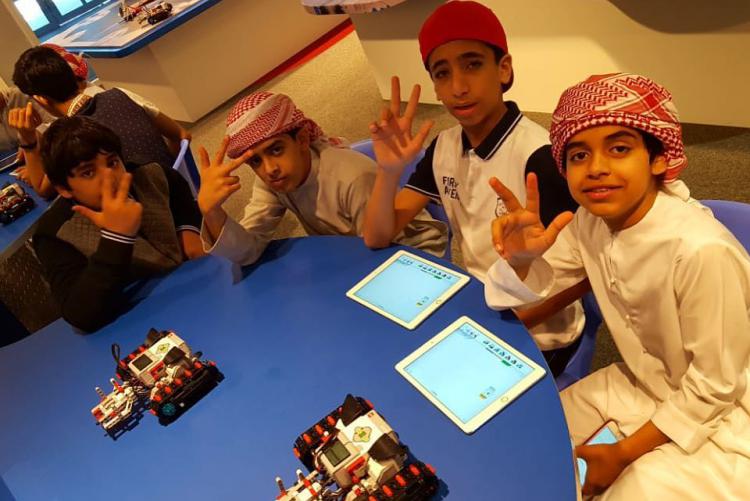 Like the Access Program, the new programs provide English language training, cross-cultural awareness, and personal and professional development opportunities. They also expose the students to American cultural values and help them develop a sense of civic responsibility by engaging them in community service activities. In both countries, the programs are benefiting these young learners personally, culturally, and academically.
English After School Program in Yemen
Launched in 2017, the English After School Program, or EASP, is providing 100 underserved youth in Aden with skills and incentives that will further their education and future prospects. A key emphasis is on instilling tolerance and openness — values that are important to the future of their war-torn country and offer meaningful alternatives to extremist and militia narratives.
Participant selection for EASP is based on students' talent and need, while also taking into consideration gender balance and broad geographic representation. Participants include older youth (up to age 24) who are hampered by their lack of English to succeed in school and get meaningful jobs — including academic positions at such university faculties as engineering and medicine that use English texts.
Because improvement in language skills is a main goal, virtually everyone comes away with greater confidence in his or her ability to use English. "I feel now that I can express myself in English, something I never thought I would be able to do. The vocabulary and grammar that I learned helped a lot in this," says Dina Yousef after one year in the program.
The program's impact is evident in other important ways, too. Through classroom activities like group work, students learn how to function as a team member, listen to others, and respect those working on a common task. The importance of time management is also emphasized. The interactive classroom environment, with discussions led by supportive teachers, helps boost students' self-confidence.
Additionally, by expanding the students' knowledge of different cultures, communities, and religions, the program is helping a new generation to develop a deeper respect and understanding of the people around them. An emphasis on community engagement encourages students to be involved in their own communities through group projects. "Besides the language skills, I have learned a lot from the community service activities — the importance of giving back to the society. These activities have also made me aware of what we can do to improve our society," Saleh Gamil says.
Because of EASP's success, the U.S. Department of State, which provides the funding, decided recently to renew it for another two years, enabling 110 more youth to benefit from the program.
Youth English Program in the UAE
A similar program has been underway since 2018 in Sha'am, the most northerly village on the UAE's Arabian Gulf coast. Learning English is at the core of the Youth English Program, which is funded by the U.S. Embassy in the UAE and offered in partnership with the Sheikh Saud bin Saqr Al Qasimi Foundation for Policy Research (QF) and the Tawon Sports Club.
The 55 secondary-school students in the program, who come from Sha'am's two key schools — the Ghalilla Boys School and the Al Wadi Girls School — are receiving after-school English language instruction for a two-year period. By improving their English language proficiency and communication skills, the high-quality English language instruction will prepare them for increased opportunities in their professional and academic lives, including the potential to study in the United States.
Within the language curriculum, as well as through special workshops and activities, the program also focuses on important life skills, cross-cultural awareness, and community engagement. Recent field trips to the Arts Festival and LEGOLAND® Dubai's Mindstorms encouraged the students' interest in the arts and STEM fields, respectively.