For 30 Egyptian students whose scheduled summer study abroad program in the United States was upended by the pandemic, AMIDEAST arranged a five-week virtual academic exchange program with the University of Nebraska-Lincoln (UNL). The new partnership combined the best of online academic learning and virtual cultural exchange between Egyptian and American students.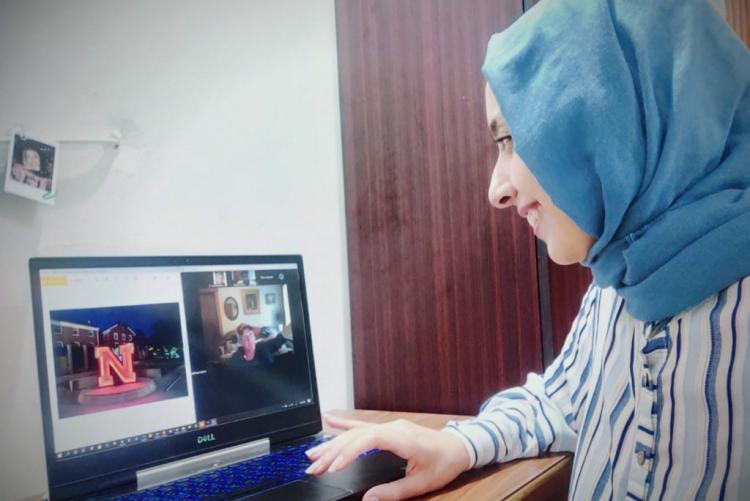 The 30 students, who belong to the USAID-funded HEI Public University Scholarships program, were able to experience the American academic approach and values. They took on team-based projects with their American colleagues — competing to draw up the best business plan in their entrepreneurship course — that developed their leadership and collaboration skills. Social connections and professional networks blossomed through the virtual interactions that occurred during coursework and professional mentorships, as well as social activities including karaoke parties, Monday motivation co-working events, weekly check-ins with their UNL global ambassador, Big Red startup sessions, and an event with the African Student Association.
The five-week exchange was just the beginning. The program will culminate with a two-week session in February that will include a start-up challenge and final pitch competition. If conditions permit, as everyone hopes, it will be held in the United States, making it possible for the Egyptian students to visit U.S. companies and further explore U.S. culture and society.
UNL is well prepared to support the virtual program, offering the technology and personalized support that ensure that all students, including those with visual impairments, are able to fully access and engage in all aspects of the program. Summer extracurricular activities and social, cultural, and professional engagement build long-lasting friendships and mentoring relationships. Equally important, they prepare students to become global citizens ready for the workplace. 
"It's fun to be meeting new people, immersing yourself in a new culture, learning about a new location," exclaims Merna Osama Saber Elawadly, a computer science major at Mansoura University. "AMIDEAST Virtual Exchange Program … is a great way to get expert insight on career, culture and language from local professors and join a virtual network of students from across the world"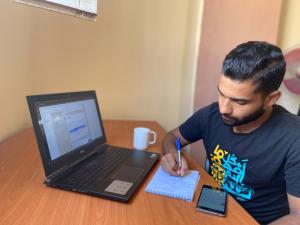 The program's entrepreneurship course teaches the concepts, skills, know-how, information, attitudes, and alternatives relevant for startup entrepreneurs and entrepreneurial managers. Big Red Startups, UNL's entrepreneurship club, hosts weekly events such as Founder Fridays and Monday Motivation Co-Working, creating an inclusive and diverse environment in which the young entrepreneurs from Egypt were able to engage with American youth and develop the startup skills and social networks that will help them thrive.
The entrepreneurship course was valued by Kyrillos Nayer Shawky Shehata, a computer science major at Ain Shams University who is pleased to have the opportunity to study entrepreneurship, a subject he feels is important to Egypt's future but not covered in his degree program. "One of the benefits of the virtual program is it showed me a new lifestyle, of being an entrepreneur, which is about building a life on your own terms," he said.