While every student faces hurdles during the college application process, the challenges confronting a Yemeni female student seeking to study in the United States are almost insurmountable. With AMIDEAST's support, Hana Ba-Sabaa overcame numerous obstacles to begin her studies at Dartmouth College.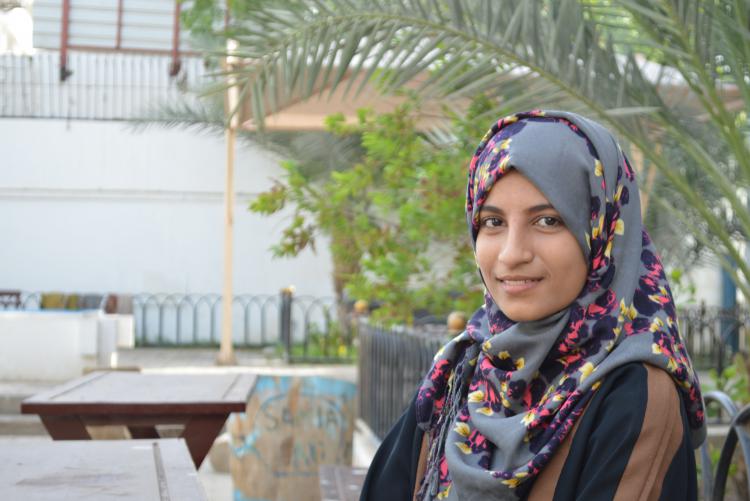 Some obstacles for Yemeni students are not new. With a pre-war per capita GDP of less than $2,000 per year, almost no Yemeni family can afford to send a child abroad for higher education. Only the few opportunities currently extant for Yemeni students, such as AMIDEAST's Diana Kamal Scholarship Search Fund (DKSSF), offer the hope of securing a funded study-abroad experience.
Moreover, differences in the educational systems between Yemen and the United States mean that, for a Yemeni student to qualify for admissions to a U.S. university, it requires extensive preparatory work and a strong understanding of the various prerequisites expected of U.S. college applicants.
AMIDEAST's EducationUSA center staff, its teachers and faculty (many of whom are U.S.-educated or -trained), and its international testing programs are critical in this regard; they provide access to advice and services that are essential preparation tools for U.S. university admissions. Finally, Yemen's conservative values make it very difficult for young women to travel abroad to study. In Hana's case, her supportive family allowed her dreams to flourish.
However, Hana had even more significant challenges on the road to a U.S. education. Yemen's conflict, which has been raging for over three years, witnessed the occupation of her hometown, Aden, by rebel militia groups. This conflict occasioned widespread suffering and loss; airports have been closed, schools have been destroyed or limited in use as they are occupied by IDPs, and many teachers have not received their salaries. Yet, Hana was able to continue her studies in Yemen and excel at them.
The travel ban barring the entry of most foreign nationals from several countries, including Yemen, then became a new, looming obstacle. Although Hana qualified as an exception once she had received and accepted a formal offer of admission and was issued an I-20 form from Dartmouth, applying for a visa necessitated a trip to Lebanon for a visa interview at the U.S. embassy there, since the U.S. embassy in Yemen has been closed due to the conflict since the beginning of 2015.
Thanks to the assistance of AMIDEAST/Lebanon's experienced staff, a visa interview was quickly arranged, and Hana traveled there. She almost lost that chance because of delays departing Yemen, but again, our staff in Yemen and Lebanon worked to rebook her connecting flight and reschedule her visa interview. To our delight, Hana received a visa on July 9, 2018, thereby overcoming her last and largest obstacle. Hana arrived in the United States on August 26, 2018 and has now begun her studies at Dartmouth.
Overcoming these obstacles wasn't easy, and Hana faced numerous challenges and setbacks on her path to a U.S. education. She credits her family and friends for helping her: "What I strongly believe made me applicable for the scholarship was having a close-knit support system of family and friends and having the persistence to try again after being rejected and disappointed multiple times."
Hana adds, "I know this might sound cliché but 'don't give up easily.' Apply, and if you fail, apply again. Do not be discouraged from trying out different opportunities; you never know which one will be your stepping stone."
For Hana, AMIDEAST's Diana Kamal Scholarship Search Fund promises to open a world of new opportunities for this talented and hard-working Yemeni student.