Thanks to the latest technology, the teachers and trainers in the most recent PCELT (Professional Certificate in English Language Teaching) course in Kuwait had a full professional development experience, despite the restrictions imposed by the pandemic. By Amideast's introduction of the Swivl robot, the trainers were able not only to complete their virtual training and become licensed, but also to train 12 teachers with the same level of quality of all PCELT programs. In addition, the volunteer students for the practice teaching component participated online for the first time in PCELT history.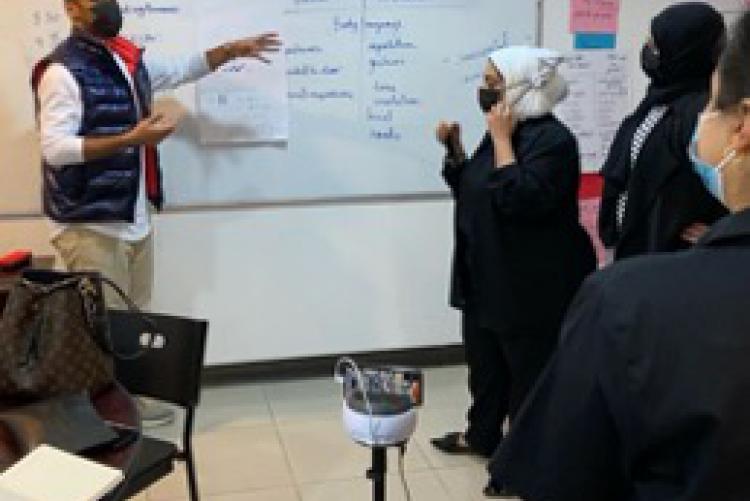 The Swivl robot, with its 360º tracking, sound and livestream capabilities, made it possible for a master trainer based in the United States to provide crucial support to two trainers-being-trained during the critical final stages of their rigorous program to become PCELT-licensed trainers. This marks an important milestone for the Kuwait program since, by preparing these trainers, Amideast, in partnership with the Kuwait Ministry of Education (MOE), will increase its capacity to train and certify future cohorts of government-school teachers across the country's educational districts.
"This course changed my life, it gave me a new outlook on my career and what I can do to help teachers improve their teaching skills," said Lulwa Bourisli, a veteran teacher with the MOE for the past 11 years, who is now a PCELT-licensed trainer.
The U.S.-accredited PCELT is a recognized TESOL certificate program developed by Amideast and the World Learning/SIT Graduate Institute. The 120-hour program provides a cutting-edge curriculum that blends international best practices with topics of particular relevance for teachers in the MENA region. Since 2017, more than 50 Kuwaiti public-school teachers and supervisors have successfully earned their PCELT certification under a special program sponsored by the Embassy of the United States. This latest training also received funding from the Boeing Company and Zain Group.
Since Amideast introduced the PCELT program in 2012, over 900 teachers in the region, across ten MENA countries, have been trained and PCELT-certified. This year, with six courses already funded and approved for Jordan, Kuwait, and Palestine, we expect to pass the 1,000 mark in 2021 for this signature Amideast teacher development program.
The use of the Swivl robot is just one of the ways that Amideast has introduced innovative solutions in order to avoid interrupting training goals and to ensure that learning new skills remains possible during the pandemic. By the end of last summer, Amideast offices across the region had delivered hundreds of online English language courses for adults and young learners on its own customized platform. During the fall, Amideast courses were nearly all delivered online for public and corporate clients, as well as for a range of sponsored programs. Feedback to date indicates an increased recognition of the importance of e-learning — through various online and hybrid solutions — and Amideast, in response, is continuing to increase its capacity to plan and deliver a wide range of e-learning options for ongoing English language training.