Students in our programs are thrilled to be mobile once more, able to travel abroad again for high school exchanges and higher education.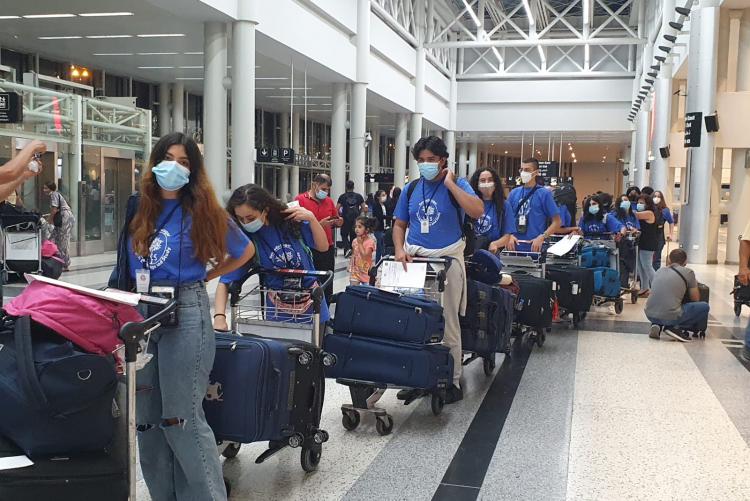 Inbound 
This fall, with the support of Amideast, nearly 600 students from the MENA region, including more than 235 from the Fulbright Foreign Student Program, found their way to the United States, excited to return to, what we hope will be, as close as possible to a pre-Covid normal. 
They also included 181 teenagers from 10 countries in the Kennedy-Lugar Youth Exchange and Study (YES) program, who began arriving to the United States in August. After a turbulent year of deferrals and program reconfiguration due to the global Covid-19 pandemic, including the first ever YES virtual program, their excitement upon arrival was palpable. 
In addition, nearly 50 Egyptian students have made it to U.S. campuses. Some came through the Onsi Sawiris Scholarship Programs for undergraduate and graduate degrees. Others came for summer and fall terms on custom study abroad programs through the U.S.-Egypt Higher Education Initiative Public University Scholarships Program, notably including the program's first student with a visual impairment to participate in the study abroad component.  
We're additionally pleased that our signature proprietary programs, the Diana Kamal Scholarship Search Fund (DKSSF) and the Hope Fund, are supporting a record number of freshmen students this year: 41 DKSSF scholars from Egypt, Morocco, Tunisia, and Yemen and 67 Palestinian Hope Fund scholars.  
Outbound 
American students in our Education Abroad programs have been enjoying in-country programming since last May. Amideast has safely hosted students in Morocco, Tunisia, and Jordan for rewarding personal and academic experiences, and a number of customized and faculty-led programs are in the works. Consider joining us in any of our host countries in 2022, including at the American University of Dubai, our newest partner in study abroad.  
Want to know more? Check out "Amideast Education Abroad Connect" and find out what our student bloggers are reporting about their programs and experiences in these locations