As the 2019-20 school year came to an end, AMIDEAST's headquarters staff took a leading role in arranging for the repatriation of more than 350 students to their home countries, a process fraught with logistical hurdles due to limited international flights, last-minute cancellations requiring quick itinerary changes, airport closures in a number of destination countries, and testing and quarantine requirements that varied from country to country and were susceptible to change.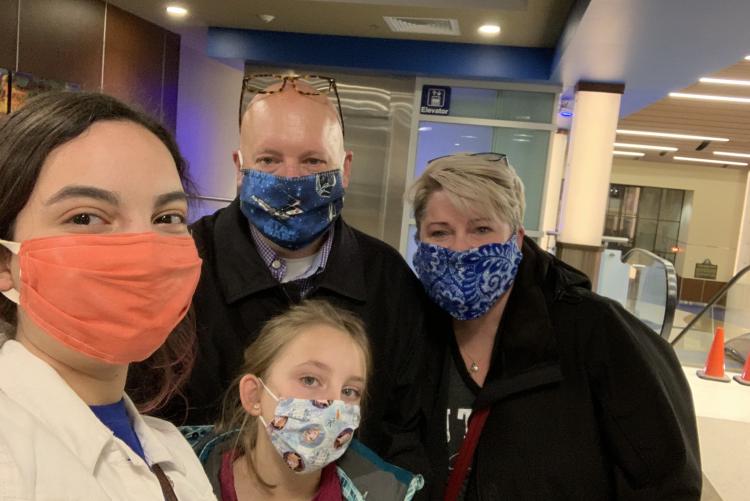 The students included 38 Egyptian undergraduates in the HEI Public University Scholarships program, whose travel home was impacted in particular by a lack of international flights. With the help of the Egyptian embassy in Washington, DC, which facilitated arrangements with EgyptAir. They travelled in May in three groups on chartered flights to Egypt and were placed in a mandatory 14-day quarantine in Marsa Alam before returning home.
They also included 121 Fulbright students from 10 countries, whose return home by September was arranged in coordination with the U.S. Department of State's Bureau of Educational and Cultural Affairs (ECA).
The drama was most acute for 199 high school students from nine MENA countries, living with host families in 43 states when the crisis began. Our staff worked closely and, at times, around the clock with ECA and the five NGOs that, with AMIDEAST, form the consortium that administers the Kennedy-Lugar Youth Exchange and Study (YES) program. They also liaised with a wide range of stakeholders, including representatives of foreign government ministries, relevant U.S. and foreign embassies, airlines, quarantine and COVID-19 test providers, and — last but not least — the students' natural families and their host families.
They helped YES students navigate issues, such as lost luggage, fluctuating travel safety precautions and protocols, constantly changing entry and quarantine requirements, unanticipated border closures and openings, last minute flight cancellations, and varying government requirements for entry for students of different nationalities returning to the same country.
And, because the YES students are minors, they secured the required permissions for much of this travel from natural parents who themselves were dealing with the added stress of going through their own quarantines and lockdowns. They additionally had to make sure that arrangements for travel and the quarantine met the YES program's high standards for safe travel during a global pandemic.
The repatriation process began in April, starting with 24 students from Bahrain, Kuwait, and Tunisia who travelled home that month, mostly individually or in small groups.
The rest travelled in waves on commercial or chartered flights between May and early August, remaining in quarantine with their American host families until they could leave. To keep their spirits high and offset the stress that both they and their host families were feeling, AMIDEAST joined with our partner iEARN to create YES Spirit Week, from May 4-8, in order to remind our students and the general YES audience of the goals of the YES program and to celebrate the students' achievements during their exchange year.
YES Spirit Week provided a positive send-off for 97 YES students who returned to Jordan, Lebanon, Tunisia, and Saudi Arabia between May 7 and May 12. Later that month, 46 Palestinian students, whose repatriation was complicated by airport and land border closures into Gaza and the West Bank, were able to return.
As of June 1, the students from Morocco and Libya remained, and their departures would have to wait. The closure of Morocco's airports posed a challenge for repatriating the 21 Moroccan students until July 8, when they took commercial flights to Frankfurt and then a charter flight to Casablanca. The 10 Libyan students returned in two groups: two via Egypt to their homes in eastern Libya in early July, and the rest via Tunisia to western Libya in the first week of August.
Exchange programs provide a life-changing experience, a truism not lost on Rihem Sassi, a YES student from Tunisia, who recalls the premature ending to her year in South Dakota as a "rough time," but one for which she is thankful. "I know this experience didn't end as we thought it would. I personally went through a very rough time when I found out that all my plans fell apart, and all my trips got cancelled. But it's okay! This generation is very special and our experiences are very special. I think quarantine brought us all together. It was a good chance for us to reflect on our exchange and start thinking about what's the next chapter in our lives. I'm proud to be officially a YES alumna!"