Amideast is committed to a vision of a world in which all people have access to opportunities that enable them to go as far as their dreams, talents, and dedication can take them. In Egypt, we have been putting that commitment into action by promoting disability inclusion in Egyptian higher education.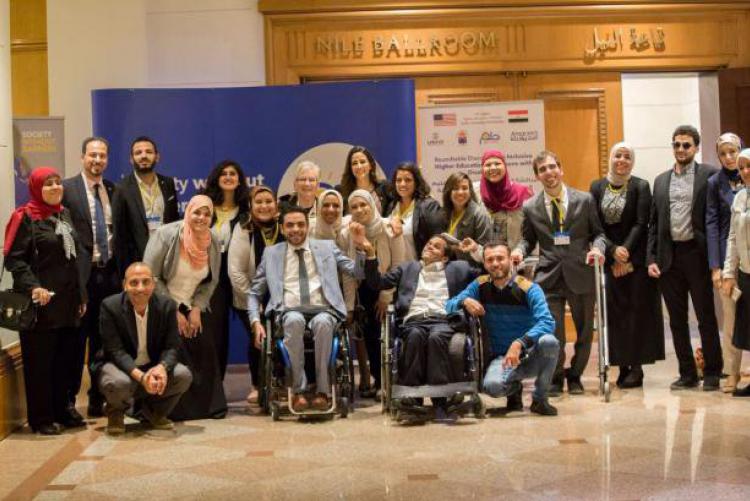 This multi-year effort resulted in a March conference and official launch of centers dedicated to supporting people with disabilities at five Egyptian public universities. The role of the new university disability service centers at Ain Shams, Alexandria, Assiut, Cairo, and Mansoura Universities is to ensure that the universities provide equal access to quality education for students with disabilities.
The effort to create the centers came about through a partnership between Amideast, the U.S. aid agency USAID through its funding of the Amideast-managed HEI Public University Scholarships Program, Egypt's Ministry of Higher Education and Scientific Research, and Helm Consulting for Inclusive Solutions, a private Egyptian organization that works to integrate and train people with disabilities.
In Egypt, as in many Arab countries, there have historically been barriers for students with disabilities to enter higher education in their desired fields, or to be fully included in their programs with their peers. Barriers included regulations that limited what people with some disabilities could study, social perspectives that assumed that a person with a disability would not be able to complete coursework in certain practical fields, and physical barriers that limited movement or access to materials. The centers' role is to reduce and remove the barriers, which contribute to low graduation rates.
Quincy Dermody, Chief of Party of the Public University Scholarships Program, emphasizes that, "while the project activities include the provision of accessible technology and equipment, the main focus is on advocacy, processes, and policies that enable students to participate fully in their education with their peers—by advocating for inclusion, by providing fair accommodations, by educating and supporting professors, and by building awareness of the barriers that are disabling students with impairments."
The centers demonstrated their value already a year ago, as the pandemic hit. Although they were not fully open or equipped, staff had been trained and were therefore able to provide support that enabled students with disabilities to fully participate after the universities closed and students moved to remote learning. They stayed in touch with students through Facebook, phone calls, and online surveys and communicated with faculties to provide support and guidance and to help solve student problems. The Alexandria University Taha Hussein Disability Service Center printed over 2,100 pages of printed braille student course materials, made 19 hours of voice recordings, and coordinated with faculties and the central evaluation office to ensure that planning for final exams considered accessibility for students with disabilities.
The idea to create the centers evolved from Amideast's experience managing an inclusive scholarship program at public universities, a needs assessment conducted by USAID on the conditions of disabled students at public higher education institutions in Egypt, and the implementation of a new 2018 law on disability in Egypt, which applied new requirements to universities. "Our five public university partners were eager to sign on to this program to develop their support for their students with disabilities. They have committed significant time and resources to launch and develop this model for public university disability centers in Egypt," Program Director Dermody added.
The universities provided and renovated space to be fully accessible in line with Egyptian and international regulations, and designated staff to run the centers. Amideast organized a study tour of faculty members, university administrators, and a representative from the Ministry of Higher Education to visit the Universities of Montana and Colorado to learn about possible functions and structures for university disability centers and to explore what concepts could be applied in Egypt to promote inclusion. Further training and coaching in Egypt addressed technical and management content including creating bylaws, project management, fundraising, and communications, to support the centers in the implementation of their action plans.
Setting up the new service centers is just a first step. The model developed by the centers will be shared with all Egyptian universities at a conference in December. Amideast will continue to support the centers through the end of the scholarship program in 2024. It is also supporting the Ministry of Higher Education in establishing a committee on disability that can assess universities' level of inclusion and spread the disability service center model to other universities in Egypt.
"Truly, this is a very important project, and I envision that it will make a huge shift in achieving accessibility," said Dr. Khaled Atef Abdel Ghaffar, Minister of Higher Education and Scientific Research.