Taken in combination, our programs have a "laddering" effect for underserved youth across the region, paving the way to new opportunities and making the impossible attainable for the brightest among them. This year, the impactful connectivity among our programs helped three Gazan refugee youth find their way to MIT.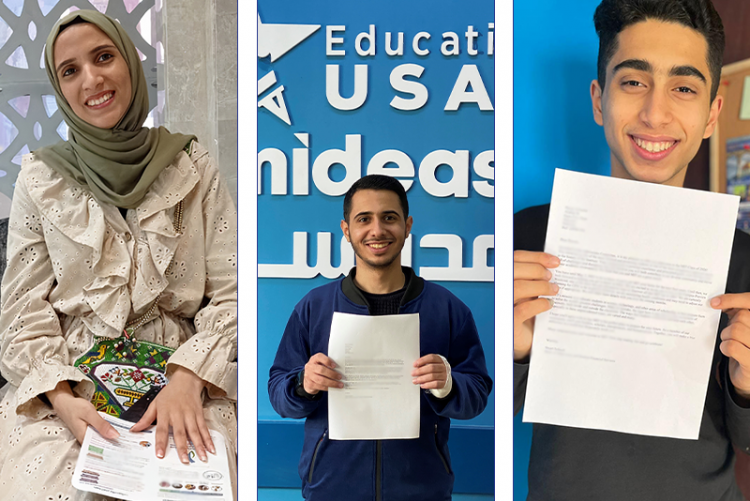 Meet Majd AlAfrange, Fedaa Alsoufi, and Hasan Alsheikh, Palestinian refugees who have lived in Gaza their entire lives. Despite the emotional trauma of witnessing four major attacks on Gaza in 2008, 2012, 2014, and 2021, they excelled academically and took advantage of the opportunities available to them to reach higher. For Majd and Fedaa, a pivotal opportunity was the English Access Microscholarship (Access) Program, which helped them improve their English and develop critical thinking and leadership skills.
Their hard work in Access paid off, as it qualified them for the Kennedy-Lugar Youth Exchange and Study (YES) program. Majd spent his exchange year in New York, continuing to excel in an academically new setting while also serving as a worthy ambassador for Palestine. However, family concerns prevented Fedaa from going on YES that year, and the following year, when Hassan was due to go, Covid restrictions caused a cancellation of the program. As they completed high school, they found support at Amideast to reach for their college dreams. Majd and Hasan qualified for our Hope Fund and Fedaa for the EducationUSA Competitive College Club. And, as you'll read below, the self-starter in each one propelled them to take advantage of numerous other opportunities.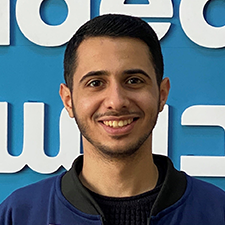 Majd attended UNRWA schools during grades 1-9, then moved to Arafat Secondary Public School for Gifted Boys, where he excelled in his studies, especially in his favorite subjects, mathematics and physics. At age 12, his fascination with computers and electronics was sparked when he received a smartphone, motivating him to teach himself programming in order to create and launch his own apps.
After returning home after his YES exchange year in the United States, he was selected for the Hope Fund program but decided as he finished his senior year that he would take a gap year to concentrate on preparing himself for the challenging U.S. college admission process. That year, he also participated in hackathons and finished more than 10 online courses at Harvard, MIT, and other top institutions. At MIT, Majd plans to major in electrical engineering and computer science.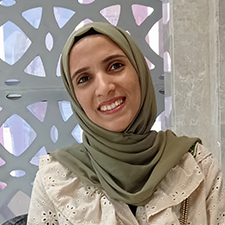 Fedaa is a fifth-generation Palestinian refugee living in Rafah in the Gaza Strip. After completing her basic education grades 1-9 in UNRWA schools, she transferred to a government high school, where she stood out for her academics and extracurricular activities. Recognizing her aptitude for programming, her IT teacher pushed her to participate in two Scratch & Visual Basic competitions, and after placing second in both, she was hooked on computers. She has since honed programming and human-centered design skills in Code For Palestine (CFP) that enabled her to develop a mobile application called RentMeUp, participate in WI-Hack hackathons, and finish the worldwide 2020 Technovation Girls Challenge as a semi-finalist. Her sights set on studying in the United States, Fedaa joined the Competitive College Club during her senior year. However, after graduating high school in August 2021, she took a gap year, using the time to focus on giving back to her community. She volunteered as a writer for We Are Not Numbers and at Code For Palestine as a teaching assistant. She also wrote a book that guides 10–15-year-olds into the world of programming. In addition, for a research course at the Islamic University of Gaza, she developed a research plan titled, "Can Unethically Produced Data Be Used Ethically?" Recently, she co-founded PaliForClimate, an initiative that aims to raise awareness among Palestinian youths of climate change and green colonialism. She plans to major in computer science at MIT.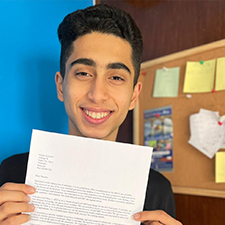 Hassan completed grades 1-9 at UNRWA schools in Gaza City and then transferred to Arafat Secondary Public School for Gifted Boys. An exceptionally bright, highly motivated student, he graduated with top marks from the Code for Palestine program. Hassan further demonstrated his academic and intellectual ability, outstanding leadership skills, ambition, and dedication to learning when he was chosen from among hundreds of students to participate in the Computer Science and Human-Centered Design program. While in this prestigious program, he learned directly from UCLA and Stanford University students and worked on various projects including Online Studio, a platform to support young Palestinian freelancers in Gaza. With the support of the Hope Fund, Hassan was able to take test prep and essay writing courses, and received guidance on how to submit the common application. Hasan plans to start freshman year at MIT in the fall, where he plans on majoring in electrical engineering and computer science.