AMIDEAST's English language programs are moving in an important new direction as evidence grows that English proficiency expands access to opportunities in the STEM (science, technology, engineering, and mathematics) fields, one of the fastest job growth areas worldwide.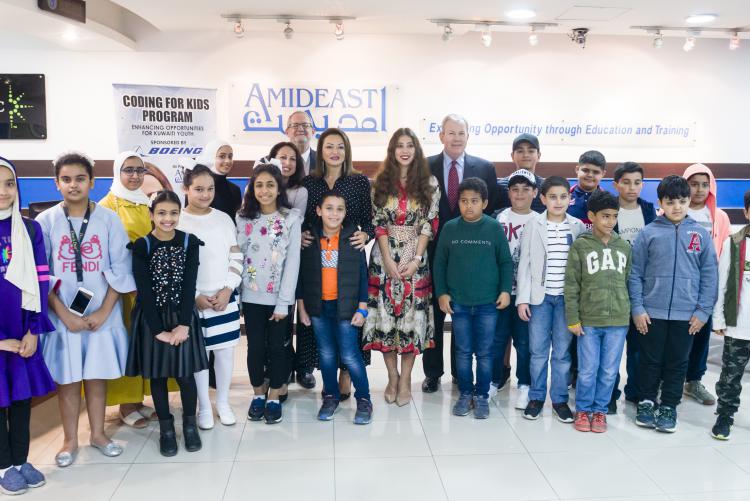 CODING AND ROBOTICS FOR KIDS
Experts advocate that children get an early start in STEM, and coding and robotics programs can be a great entry point for many related topics. In addition to learning concepts of robotics and programming, young learners also benefit from an interactive and collaborative learning environment that enhances their problem-solving, critical thinking, and teamwork skills. When taught in English, coding and robotics programs additionally prepare them for STEM training at higher levels.
AMIDEAST is joining this effort by introducing coding and robotics programs to help young learners develop STEM-related English proficiency. In 2017, it successfully piloted a Coding for Kids program in nearly 500 West Bank middle-school classrooms through the USAID-funded Leadership and Teacher Development (LTD) project, which AMIDEAST implemented. The program has since then been adopted by the Ministry of Education and Higher Education for inclusion in the formal curriculum.
Last year, AMIDEAST's Gaza office offered a Coding, Robotics, and Tech Summer Camp for teens and a winter break program for children that combined Legos and Robotics with English language and personal skills training.
Notably, elsewhere, our Kuwait office is partnering with the Boeing Company to offer a Coding for Kids program. The curriculum is designed to foster innovation and creativity, as well as demonstrate the value of STEM subjects to Kuwaiti youth in line with the 2035 target of the Kuwait National Development Plan.
"The Coding for Kids program will provide students with the opportunity to build their cognitive capacity in critical thinking, problem solving and creativity and to benefit from a unique training initiative that will have a long-term, positive impact on them," said Samar Khleif, AMIDEAST's country director in Kuwait.
And in Yemen, AMIDEAST sponsored a youth event for the 2018 Global Hour of Code and is teaching coding to participants in Nahdhat Shabab, a large U.S. Department of State-funded skills training and community development program that AMIDEAST is implementing.
APPLYING ESP PRINCIPLES TO STEM COURSES IN IRAQ
The link between English language proficiency and access to STEM fields was underscored recently by the Iraqi government's decision requiring that STEM fields at Iraqi universities be taught in English. To facilitate this transition, AMIDEAST partnered with the U.S. Embassy to arrange two 10-day training workshops for 48 STEM and English faculty representing six Iraqi cities, 18 universities, three high schools, and at least 23 academic disciplines.