Architect Basima Abdulrahman recently appeared on the global stage because of her efforts to introduce sustainable green architecture in her home country of Iraq. Basima, who completed her master's degree in structural engineering at Auburn University in 2014 while on the Fulbright Foreign Student Program, was included in the latest list of 100 Real Visionary Leaders. She was also invited to speak on two panels at the January 2018 World Economic Forum in Davos to share her perspectives on how fragile cities can be renewed and the outlook for the MENA region.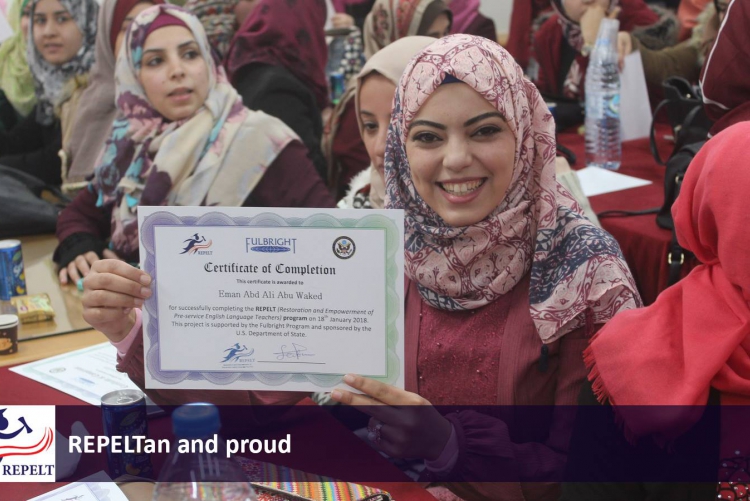 Basima exemplifies the impact that the outstanding young men and women selected for the Fulbright Program are having once they complete their studies and return home. One way that this prestigious program supports local impact is through Alumni Community Action Grants (ACAG), a special initiative sponsored by the U.S. Department of State's Bureau of Educational and Cultural Affairs (ECA) that encourages Fulbrighters to exercise their creativity and leadership skills to make an impact in their communities.
Society in Egypt — and the Middle East in general — needs to lay even more emphasis on the virtue of volunteering." — Andrew, a Fulbright student from Egypt
Since 2015, more than 40 alumni from Egypt, Iraq, Jordan, Lebanon, Libya, Morocco, Syria, and West Bank/Gaza have utilized the grants and their expertise to launch projects and activities in diverse areas such as public health, English language learning and teaching, urban planning, youth employability, and entrepreneurship. Alumni can apply for up to $5,000 USD towards implementing a community-based individual or group project that builds on the experience they gained during the Fulbright program. The fifth round of ACAGs will be open for competition starting on April 30, 2018. You can learn more about it on our website.
Flagship Exchange Program
The Fulbright program is the flagship exchange program of the U.S. Department of State, which also funds the ACAG program. In a typical year, more than 300 young men and women from the MENA region are pursuing graduate degrees and research at universities across the United States through the Fulbright Foreign Student Program. In addition to providing support for these students, AMIDEAST helps recruit and place more than 200 new students. Last year AMIDEAST worked with nominees from 10 MENA countries: Algeria, Bahrain, Egypt, Iraq, Jordan, Lebanon, Morocco, Tunisia, UAE, and the West Bank/Gaza. This year, the Libya program is also being restarted.
Only a select few of these students will be awarded an ACAG, but all are given the skills and direction needed to make a positive difference. AMIDEAST recently hosted 177 Fulbrighters for the reentry workshop, an annual event that helps prepare those completing their programs for their return home. During the workshop, as with during their Fulbright Enrichment Seminars, the students give back to the local community through community service. Judging by the energy the students brought to these activities, many more stories of Fulbright alumni engagement are yet to come.
"Volunteering takes me out of my shell and gets me to dedicate part of my time to other people in need, which feels great," observed Andrew, a Fulbrighter from Egypt, after volunteering at a Washington, D.C., soup kitchen during the reentry weekend.
Andrew, who will soon complete his master's degree in renewable energy engineering at Oregon Institute of Technology, went on to say that, although numerous NGOs and volunteering opportunities exist in Egypt, he feels that " society in Egypt — and the Middle East in general — needs to lay even more emphasis on the virtue of volunteering."