As part of our mission to empower women and youth, Amideast/Saudi Arabia was pleased to partner with a new Saudi NGO—Saudi Women's Stories—to offer an impactful training program for young Saudi women seeking to enter the job market and needing the right professional skills to succeed.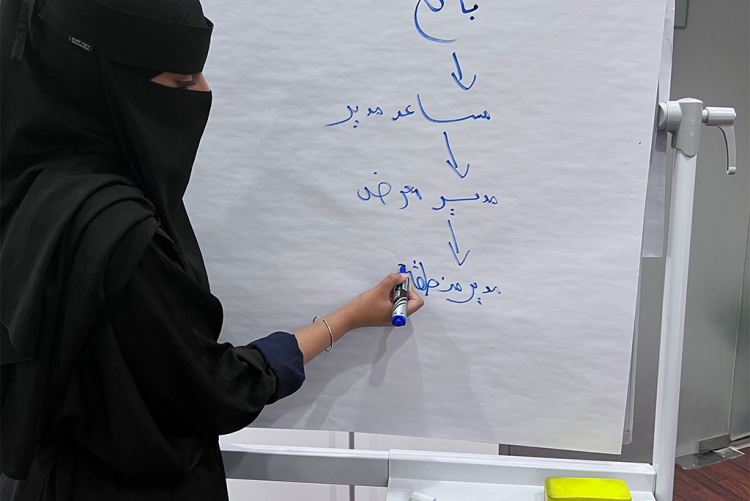 Forty recent university graduates between the ages of 19 and 26 completed the program, made possible through a grant from Citi Foundation as part of a broader initiative through which another 45 Saudi university graduates participated in Amideast's Skills for Success® program and 52 aspiring Egyptian entrepreneurs received training and support in developing and launching their own businesses. While most of the women were unemployed, some were working in entry-level jobs and aspiring for promotion or a career change. Many were also drawn to the program for help in overcoming the obstacles they confront in pursuing expanded opportunities for Saudi women both in securing a job and in navigating challenges in the workplace.
Saudi Women's Stories is a new startup that calls itself the "1st storytelling & women's empowerment platform in Saudi Arabia." As such, it was uniquely positioned to field Saudi women instructors who are experts in writing and communication, human resources, entrepreneurship, leadership, women empowerment, and customer service, and able to draw on their own experience to provide insights into women's potential in business and the private sector, Vision 2030, and Saudization of the labor force.
The three-week training program focused on building a series of skills, some of which are relevant for all job applicants (job search, application and interview skills), and others that addressed issues facing women in particular. Among the latter were sensitive topics such as harassment and other inappropriate behavior, women's rights and privileges in the workplace, and the challenges of working in a mixed-gender environment.
The opportunity afforded the participants to meet and hear directly from successful female professionals was a particularly impactful aspect of the program. "I have never thought that I could be a leader. I am so inspired by the instructors and their experiences…. I look at tasks now and organizing my life in different way," said participant Sheikha AlJaber.