Since 2020, Amideast has partnered with the International Labour Organization (ILO) on a program that is helping Jordanian and Syrian jobseekers across Jordan to develop critical soft skills and receive career counseling that will lead to employment.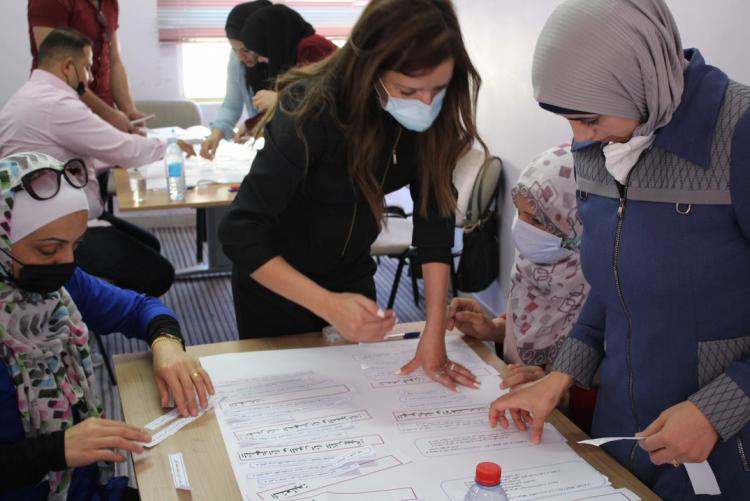 The Training-of-Trainers (TOT) Programme for Life and Employability Skills provided training for 30 ILO trainers from ILO employment centers across Jordan, including in Zaatari and Azraq refugee camps, as well as career guidance counselors from Jordan's Ministry of Labor and the Vocational Training Corporation.  
The training is enabling them to provide guidance counseling and training in employability and life skills to young Jordanian and Syrian jobseekers, helping them to overcome the mismatch of education and the skills required by the labor market that is considered a cause of the persistent high unemployment among this segment of the population.   
In the coming months, the trainers and counselors will work with up to 390 Jordanian and Syrian job seekers and youth to prepare them for employment in the industrial, garment, textile, and other sectors. 
"Programs such as this TOT with Amideast rest at the center of ILO's response strategy for Jordan, to improve the skills and long-term economic outlook of job-seeking youth in Jordan as we move beyond the pandemic and look forward to recovery," said ILO Coordinator to the Crisis Response Thair Shraideh. 
The program comes as Jordan has experienced a rise in its unemployment rate in recent years due to the Covid-19 crisis and worsening regional economy, with its youth unemployment rate reaching above 38 percent in 2019, according to ILO statistics, and soaring to over 50 percent by May 2021, as Jordan emerged from the pandemic.  
"There is no single solution to resolving the skills gap between youth seeking gainful work and employers looking for a set of skills to hire and develop," said Amideast/Jordan Country Director Nour Alrasheed, "but initiatives such as this place sustainable and long-term employment at the front of the issue, and make real steps towards bridging the skills and needs gaps between the private sector and the job market in Jordan."