Sixteen seniors in the Hope Fund program graduated with impressive academic and extracurricular accomplishments. Congratulations to these remarkable young men and women from Gaza, the West Bank, Jordan, and Lebanon.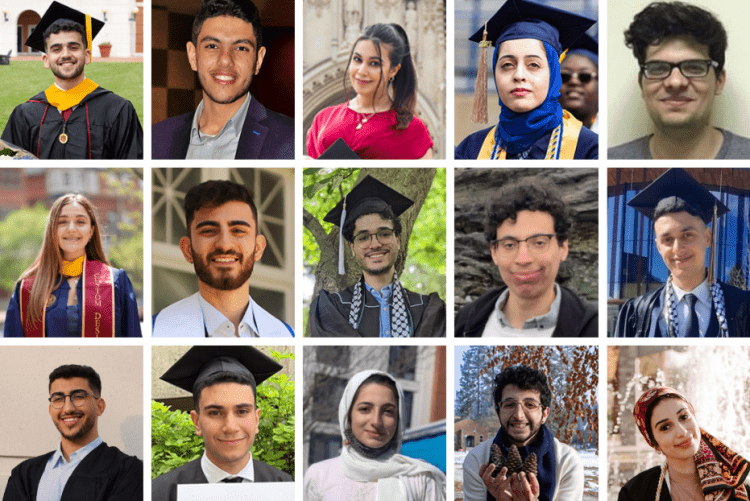 Farah Abdel-Jawad, Jordan, Drexel University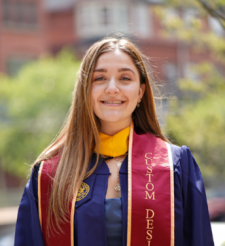 Farah graduated from Drexel University with a major in architectural engineering and a minor in global studies. At Drexel, she translated her passion for social issues into meaningful work as co-founder of the Middle Eastern and North African Club and Students for Justice in Palestine. Farah also stood out within her major and was selected to take part in several community development and healthcare research projects. She also studied abroad in Vienna, Austria, and landed three six-month-long internships as part of a co-op program that Drexel offers. For Farah, becoming a Hope Fund student was an "opportunity to re-invent myself (socially, academically, and professionally) [BM1] to embody a strong image of what a female Arab scholar can be and can achieve. Through my experience in the USA and with the support I got from AMIDEAST, I was able to freely and confidently explore my interests in the fields of research and professional development which gave me the skillsets, the knowledge, and the connections that I'm using to give back to my community." She is already giving back, having found a position in Jordan working with refugees and underserved communities to elevate their living standards and address some of the pressing issues they face. The Hope Fund was a game-changer in Farah's life. Calling it "the best experience" she has ever had, she adds that "Amideast is creating radical change in our communities by extending a helping hand to ambitious students who have the passion and dedication to create change but lack the resources."
Abdallah Abualkheir, Gaza, Whitworth University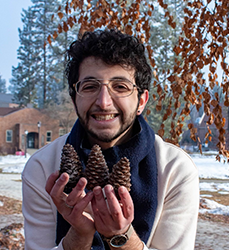 Abdullah graduated with a degree in computer science from Whitworth University. Reflecting on his experience at Whitworth, he expresses his appreciation of the opportunity to make connections with remarkable people who influenced his perspective on life and opened his eyes to the endless possibilities the world has to offer. "Words can't even begin to describe the impact it has on my person. I've become a happier more confident person," he adds. After graduation, Abdallah plans to pursue a master's degree in business administration.
Roulan Abunahla,

Gaza, Stillman College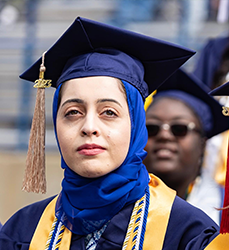 Roulan graduated with a degree in business administration, with a focus on accounting and cybersecurity from Stillman College, one of 105 historically black colleges and universities (HBCU) in the United States. She had an outstanding college experience filled with stellar achievements, not least of which was her selection as an HBCU White House Scholar during the Obama Administration. She also took advantage of opportunities to gain practical experience as a tax preparer and a cybersecurity intern at Kohler Company. Always eager to test her abilities, she participated in the HBCU Battle of the Brains Case Competition, engaged in sustainability research at Arizona State University, and co-founded a community-centered organization called The Pulse. Roulan is grateful to Amideast for the "huge role" it played in her life through the English Access Microscholarship (Access), Kennedy-Lugar Youth Exchange and Study (YES), and Hope Fund programs. "All these opportunities opened great doors for me and helped me on personal, educational, and professional levels. These opportunities and the experiences I had through these opportunities have contributed to the achievements I have accomplished up until this day."
Ahmed Abu Sultan, Gaza, Roanoke College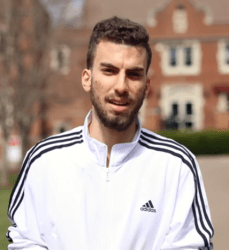 Ahmed graduated summa cum laude from Roanoke College with a B.S. in physics in December 2022. He is currently pursuing a Ph.D. in nuclear, plasma, and radiological engineering at the University of Illinois Urbana Champagne. 
Ismail Ajjawi, Lebanon, Harvard University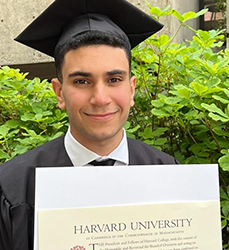 Ismail graduated with a degree in chemical and physical biology from Harvard University's prestigious Department of Molecular and Cellular Biology. Ismail made the news when he nearly missed the beginning of his program at Harvard due to a visa mix-up. Fortunately, he was able to join his class and engage in opportunities for teaching, research, and volunteering, three activities that he credits with laying the foundation for his intellectual and personal growth. He served as a teaching fellow for multiple courses, grading assignments, assisting students during sections, and holding office hours. He worked on three research projects spanning fields like radiation oncology, schizophrenia, and cancer cachexia. He volunteered time and energy to serve various communities in need: the Harvard Square Homeless Shelter, Harvard Medlife in his first two years, then traveled to Ecuador with MEDLIFE to provide medical care to underserved communities. Ismail also volunteered at a blood lab at Newton-Wellesley Hospital, blood donor drives with the Red Cross, and the emergency room of Tufts Medical Center, gaining invaluable firsthand experience in a medical setting. The experiences Ismail had during college, especially in volunteering and research, confirmed his desire to pursue a career in medicine and research, leading to the next step of his educational journey at Yale School of Medicine. He also wants to mentor other Palestinian students in the United States, especially those interested in applying to medical schools. Reflecting on his journey thus far, he observes, "Amideast and the Hope fund provided me with the connections and financial support that allowed me to focus on my studies and progress in my academic pursuits."
Rashed Alfarra, Gaza, Bridgewater College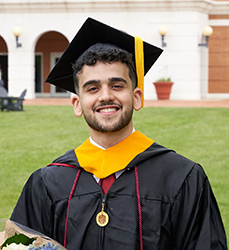 Rashed earned a degree in computer science from Bridgewater College. He took advantage of opportunities on campus, including serving as the president of the Muslim Student Association and gaining experience through internships in the IP security and technology departments at NBCUniversal and cybersecurity engineering at CSAA Insurance. After graduation, Rashed will work as a security architecture analyst at NBCU. An alumnus of the English Access Microscholarship (Access) Program at Amideast, he reflects, "Amideast and the Hope Fund have given me an incredible opportunity to pursue my education in the U.S. They also made it possible for me to grow in many ways throughout my college journey in the U.S. Both in a personal and professional level. I am forever grateful for all the support and help I received from Amideast and the Hope Fund and I hope I can give back in the future."
Ruslan Al-Jabari, Gaza, Stanford University
Ruslan graduated from Stanford University with a bachelor's degree in computer science. At Stanford, he was a Hadly Lab researcher, focusing on the San Francisco Peninsula's climate history. He also lent his many talents to several writing and editing roles, not least of which were writing for The Stanford Daily and editing for the Stanford Chapparal. Beyond academics, Ruslan has served as SDE at Expo for four months and is currently working on other projects. 
Nader Almadbooh, West Bank, Swarthmore College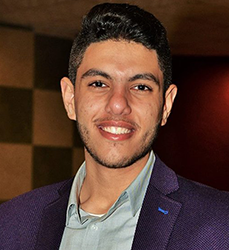 Nader graduated with a degree in computer science from Swarthmore College, where he cultivated skills in software development, cyber security, and data structures, among others. During his studies, he was involved in various projects that aimed to ease access to computer science education and empower communities through technology, not least of which was a free online computer science course he taught as part of the Chester Community Fellowship program. He also received the 2023 Newman Civic Fellowship in recognition of his ability to apply his knowledge to needs with keen insight, technological skills, and compassion. 
Amir Amer, West Bank

, Lehigh University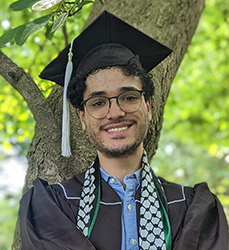 Amir completed his bachelor's degree in business information systems at Lehigh University, where he pursued his passion for data science at the College of Business. He enjoyed stimulating coursework, learned from dedicated professors, and engaged in insightful discussions that have enriched his academic journey. Beyond the classroom, Amir was an active member of the Middle Eastern Student Association, and he took part in an array of community service initiatives and field-study courses. He says he deeply values the sense of community he found at Lehigh, helping him forge lasting friendships and overcome the cultural differences he initially faced as an international student. He has also proudly represented his home country, Palestine, sharing his culture and personal stories with his faculty and peers. Looking ahead, Amir hopes to achieve financial stability and return to Palestine to help build its future. Determined to make a meaningful impact and use his resources for the benefit of others, he plans on engaging in initiatives that address the specific needs of his community, especially in the areas of socioeconomic development, education, and healthcare. "The Hope Fund instilled in me a profound sense of hope in my abilities," he reflects. "Their assistance has paved the way for my success, and I am deeply grateful. I hope to have the opportunity to pay it forward someday and make a positive impact on others, just as they have done for me."
Berge Hagopian, Jerusalem, Tufts University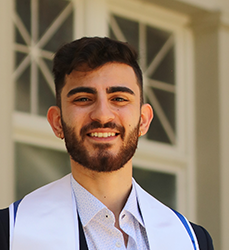 Berge graduated with a degree in molecular biology from Tufts University, where he had the opportunity to pursue "one of [his] biggest passions—research and its clinical applications." A mainstay of Tufts' science community, he lent his talents to several projects that kindled his interest in immunology and his desire to help others, including using plants to develop vaccines for infectious diseases and working with an interventional cardiologist in a hospital in Jerusalem. During the COVID pandemic, Berge took a semester off to obtain his emergency medical technician (EMT) license and volunteer in Palestine, his home country. An accomplished guitarist, he furthered his interest in music, particularly in composition and music production. Berge appreciates that his college experience has empowered him with independence, confidence, and a global perspective, teaching him to be malleable and open to change. He is currently working in a microbiology lab at Tufts School of Medicine, studying mycobacterium tuberculosis while deciding whether to apply for medical school or other graduate programs. Berge's life goal is to help people, be it through practicing medicine, contributing to medical research, or advancing public health. "Amideast and the Hope Fund provided the essential push that allowed me to cross the bridge and embark on my studies in the U.S. I will be forever grateful for their assistance and support," he reflects. 
Yousef Hanafi, Gaza, College of Idaho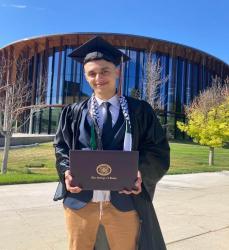 Yousef graduated from the College of Idaho with a degree in computer science and business administration. A pinnacle of his U.S. journey was witnessing the expanse of the ocean for the first time, which he describes as a truly "valuable moment." Now that he has graduated, Yousef is seeking a job in the software industry to gain experience that will enable him to independently build software that can help his community in Palestine. An alumnus of the English Access Microscholarship (Access) Program, he notes, "Amideast was the reason I started learning English with a passion, during the Access program. The Hope Fund helped me in the entire process of preparing for a U.S. college/university. In other words, without AMIDEAST and the Hope Fund, I would not have been where I am today."
Nour Kanaan, Lebanon, Duke University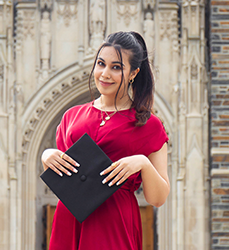 Nour earned a bachelor's degree in psychology from Duke University, where she demonstrated a remarkable aptitude and passion for her field. She says she feels privileged to have had access to Duke's rich and rare resources, which enabled her to work with top mental health researchers and spearhead her projects in social psychology and global mental health. She left her mark at Duke as a mental health peer coach and a member of the Muslim Student Association and the Arab Student Association. She cherishes the most about her college years is how they changed her as a person: that being at an American university taught her to appreciate our shared humanity and our diverse cultures and perspectives. Nour's next step is the University of Michigan, where she will coordinate research into the resilience of children of under-resourced groups. Nour hopes one day to give back to her community by tailoring and delivering culturally sensitive mental health interventions, as well as sharing her insights with younger students. "[Amideast and the Hope Fund] provided me with the guidance and resources I needed to navigate the college application process and ultimately attend Duke University. Even after graduation, their continued presence and belief in my potential gave me the confidence to overcome challenges and make the most of my time in the US. I am truly forever grateful for their genuine and unwavering support," she says. 
Lana Sabbah, Gaza, Smith College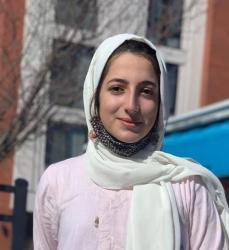 Lana graduated from Smith College with a major in psychology and a minor in biology. She describes her experience at the liberal arts women's college as "exceptionally unique and empowering," noting that "being surrounded by women who have made substantial changes in various fields inspired [her] to believe that [she] too can be a change-maker." Lana's involvement in a health psychology lab as a research assistant sparked her passion for public mental health. There, she received focused mentorship from her professor, who also connected her with Palestinian researchers in the mental health field. This fueled Lana's determination to take part in improving local nonprofit health organizations, empowering researchers in the region, and building the infrastructure of psychiatric epidemiology research in Gaza. Lana's goal is to give back to the community by sharing her scientific research skills with young psychologists in Gaza, enabling them to collect data and translate it into practical systemic solutions. She will soon pursue a master's degree at the Bloomberg School of Public Health at Johns Hopkins University. Her research will focus on investigating the correlation between war-based PTSD and cognitive function among youths in Gaza City. Through this research, she hopes to contribute to the understanding of mental health challenges in conflict-affected areas. 
Belal Shaheen, Gaza, Hamilton College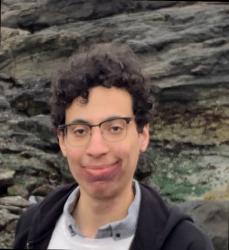 Belal graduated from Hamilton College with a degree in mathematics, computer science, and art history. Throughout his studies, he took on several internships and part-time roles as a software engineer, including at Pluggable Technologies and Center Pixel. Belal was also the recipient of The Leonard E. and Sue J. Kingsley Prize Scholarship, which is awarded to members of the sophomore or junior class for academic achievement and community leadership. 
Salim Solayman, Lebanon, Bridgewater College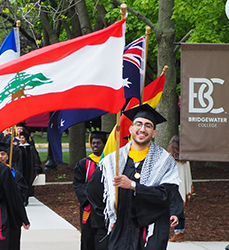 Salim earned his degree in applied physics with a minor in mathematics from Bridgewater College. A challenge-seeker, he built a pump system for a fluid dynamics class that will benefit Bridgewater's incoming engineering students. During his four years of college, Salim grew in ways he never imagined. He says he faced many challenges but learned to overcome them with resilience and independence. Recently, he secured a position as a project engineer at Timmons Group in Richmond. Beyond his professional pursuits, he wants to mentor students who are navigating their post-secondary education. Salim says he hopes to be able to financially support international students one day, following the example of Amideast, which helped him thrive in the United States. "[Amideast] believed in our potential and gave us the push to achieve our dreams and goals in life," he reflects. 
Farah Suboh, Jordan, Coe College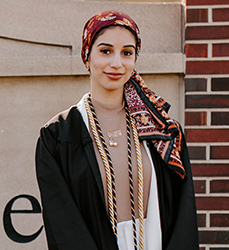 Farah completed her bachelor's degree at Coe College, where she majored in biology and minored in chemistry. As the founder and president of the Muslim Student Association (MSA) on campus, she created a space for Muslims to network and connect and worked to foster interfaith dialogue and understanding. She also helmed numerous inclusive activities and projects on campus during her two-year tenure as an executive board member of her school's International Club. Her efforts were twice recognized: when she received the Global Leader Award, and the MSA was voted Organization of the Year in 2022. Later, as a senior, Farah was inducted into the Mortar Board, a national honor society that recognizes excellence in scholarship, leadership, and service. She also worked as an executive function coach with the learning commons on her campus, helping other students improve their academic performance. One of her most memorable experiences was conducting turtle research with her biology professor over the summer. She spent hours on the field, observing and collecting data on these fascinating little creatures, which she later presented at the Kansas Herpetology Conference. Today, Farah is applying for teaching positions at international schools. Her next goal is to pursue a master's in public health.