Fifteen seniors in our DKSSF program graduated in spring 2022 with impressive academic and extracurricular accomplishments. Congratulations to these remarkable young men and women from Egypt, Lebanon, and Tunisia!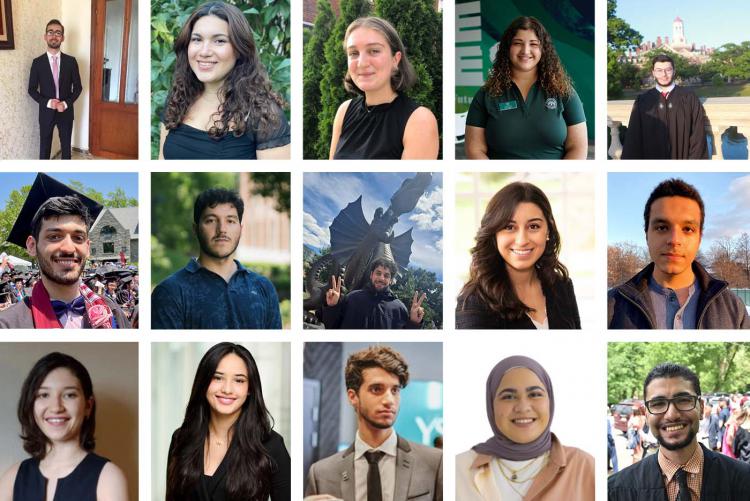 EGYPT
---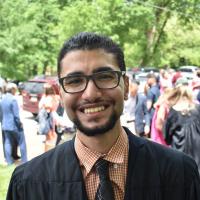 Alaa Adel Abdelhamid graduated from Sewanee: The University of the South with a bachelor's degree in physics. Alaa, who hails from Cairo, excelled at academics and was a physics tutor, which catalyzed his passion for teaching. Since his first semester at the small liberal arts college, he knew that a career in research and academia was a perfect fit. Alaa hopes to give back to his community by demonstrating to others the interconnected relationship between science and humanities because, as he reflects, "Such knowledge is extremely important for people in STEM, as we cannot let our beliefs or ideologies impact our scientific work. Being human beings, it is impossible to do so perfectly, but we have to do our best." Alaa cites Amideast as the reason he became interested in—and was able to—study in the United States. He notes that "It has been my honor and privilege to be a DKSSF scholar, and now it is my honor and privilege to be a DKSSF alumnus." This August, Alaa started a doctorate program in physics at the University of Tennessee-Knoxville, with a focus on elementary particle physics.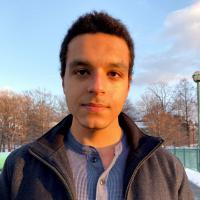 Yahia Ali graduated from the University of Rochester with a bachelor's degree in chemistry and  awards in recognition of his achievements in organic chemistry, teaching, and his high academic and scientific standards and the personal dedication to his field of study. At UoR, Yahia thrived and used his academic prowess to help fellow students, gaining teaching experience as a workshop leader for organic chemistry. He loved helping others understand and appreciate the field and felt rewarded by seeing his students grow and improve. One of the things he appreciates most about UoR is the tight-knit group of professors, students, and alumni that he found in the chemistry department. Yahia is grateful for Amideast for enabling him to discover a community of like-minded people. As he reflects, "[Amideast] enriched my experience at UR tremendously, and so the credit for that belongs to DKSSF." Yahia hopes that his future research will address some of the problems affected by his community, and people across the globe. As he puts it, "Essentially, I plan to serve the world as a chemist, in whichever way I can." Yahia is currently pursuing a PhD in chemistry at the University of Chicago.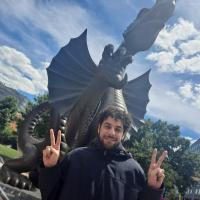 Saif Elkhamry graduated from Drexel University with a degree in graphic design and a minor in interactive digital media and fine arts. Saif was active on campus and was a member of MENA and Egyptian student groups, a philosophy clubs, and basketball team. He further used his graphic design skills to market for  basketball games. Saif deeply values his time at Drexel and is especially thankful for the knowledge and sense of belonging he felt from his teachers and peers. Saif was determined to use his college experience to challenge his mindset—no small feat—ultimately learning about different mentalities, ways of life, and viewpoints. Through these diverse lenses, he was able to build on his major and learned the value of different forms of communication. Saif hopes to bring what he has learned about verbal, non-verbal, and design-based communications back to his community to help build the capacity of businesses and organizations. Grateful to Amideast for helping him find his second home, Drexel, he notes, "Amideast and DKSSF allowed me to experience the outside world in a way that I wouldn't be able to without them. I have met people that I wouldn't have met and learned skills that I wouldn't have learned were it not for Amideast's and DKSSF's continuous support and contributions." 
LEBANON
---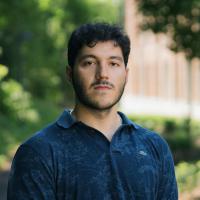 Shadi Ali Ahmad graduated from Dartmouth College with a degree in physics and mathematics. During his undergraduate career, Shadi pursued research and teaching opportunities. He co-authored three publications in mathematical and theoretical physics and was a tutor and teaching assistant for advanced mathematics and physics classes. Shadi won the 2022 Gazzaniga Family Science Award, which recognizes the scientific accomplishments of a graduating senior in the sciences. In addition, he is a recipient of the Physics and Astronomy Chair's Prize. He hopes to give back to his community by promoting research in more 'abstract' disciplines in Lebanon, as most of the research conducted there is industrial and 'applied' physics. Shadi is thankful for the opportunity to pursue his passions, reflecting, "Amideast and DKSSF provided me with the means to study abroad and get an education at an Ivy League institute." Currently, he is a research fellow based at Dartmouth, where he will work for the coming year as he applies to graduate school in physics.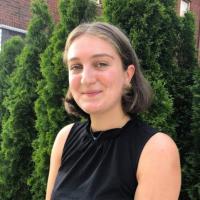 Jade Akhras graduated from the University of Pennsylvania with a dual degree in political science and economics. Jade, who is interested in the interplay between the international political economy and global health equity, excelled academically, earning a cumulative GPA of 3.8. She was active on campus, serving as the treasurer for Zeta Tau Alpha, head of supervision for Colleges Against Cancer, a peer advisor, and a props designer. She furthermore enjoyed the opportunity to work with world-renowned professors in their fields and conduct primary research in a pulmonary biology lab. Jade is grateful to Amideast and DKSSF for helping her gain an education in the United States, which, as she reflects, gave her "the flexibility and freedom to explore and figure out who I am and what I want to do with my life." Jade is currently an analyst at Deloitte Consulting, an international professional services network.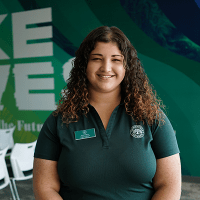 Jana Alghoul graduated from the University of Jacksonville with a degree in mechanical engineering and has a job lined up as an automation and control engineer with Rivian, which recently released the market's first electric pickup truck. An outstanding student, she graduated summa cum laude at the top of her class, with a 3.95 GPA, and won the Florida institution's Student of the Year award for engineering. Her achievements outside the classroom were just as noteworthy. She was president of the Honors Student Association, International Student Association and the Green Key Honor Society, which represents the top one percent of the school's students.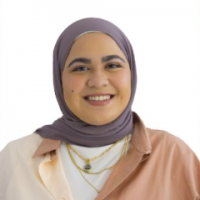 Haya Ghandour graduated from Columbia University with a Bachelor of Science degree in civil engineering, with a focus on structural engineering, and soon after landed a job as a staff engineer at WDP Consulting Engineers, PC, in New York. A young woman with high energy and multiple interests, she also minored in Columbia's Middle Eastern, South Asian, and African Studies (MESAAS) program and was active on campus and in the community. For nearly three years until August 2022, she worked as a freelance Arabic interpreter and translator assisting asylum seekers, served as the co-chair of the Global Recruitment Committee in New York City, and contributed to the campus newspaper, the Columbia Daily Spectator. She also worked as a student consultant on a university initiative that she valued as a way to "advocate for more inclusive learning spaces…and become more educated on inclusive and accessible learning."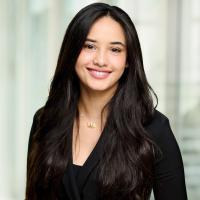 Tatiana Houhou graduated from New York University, Abu Dhabi, with a bachelor's degree in biology. Tatiana, who is pursuing the premedical track, is primarily interested in research translating fundamental science into better health. She was active during her undergraduate career, serving as the Arab Cultural Club president, a science teaching assistant, and a member of the Senior Year Experience Committee. In addition, she worked as an undergraduate research assistant at the Magzoub lab, where she reinforced her quantitative research and data analytical skills. During her semester abroad, Tatiana studied at NYU's Manhattan campus, where she took courses ranging from medical anthropology to health politics.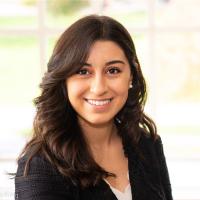 Soha Kawtharani graduated from Hamilton College with a dual degree in mathematics & statistics and psychology. She was active on campus, serving as an Arabic teaching assistant at Hamilton's Arabic Department, a research assistant for the Department of Mathematics and Statistics, a research fellow for the Emerson Foundation Research, and then a development fellow for the Institute for the Quantitative Study of Inclusion, Diversity, and Equity. In addition, Soha received a grant through Hamilton to conduct a cross-cultural psychology study of Syrian refugees in Lebanon, after which she gave a campus-wide presentation last April. Since graduation, she has been working full-time as a research assistant at KS&R, a strategic consultancy and marketing research firm.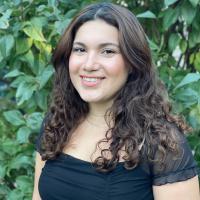 Danielle Marouni graduated this spring from the University of Rochester with a Bachelor of Science degree in biomedical engineering, with a concentration in biomechanics, and a minor in clinical psychology. Although Lebanese, Danielle grew up in Tripoli, Libya. She is thankful for the opportunity to expand her knowledge and experience in the United States. One of the main highlights of her education was the opportunity to participate in research—including leading her own research projects on neurorehabilitation! She also dedicated her time to becoming a certified emergency medical technician (EMT) volunteer to better help those around her. She hopes to give back to her home community yet is aware of the global restraints facing the safe and ethical expansion of the biotech industry. Nevertheless, she is determined to contribute by using her skills and knowledge to change people's lives for the better. She is grateful for the support of Amideast and the DKSSF for "open[ing] so many doors for me that would have otherwise stood in my way towards achieving my goals. Who I am today as an engineer, a scientist, a medic, and a person is shaped by the experiences made possible by their support."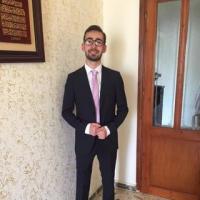 Alaa Narch earned his degree in molecular biology and biochemistry, with a minor in chemistry, from Wesleyan University. His time at the liberal arts college greatly affected his viewpoint by allowing him to expand his knowledge beyond traditional education. He notes, "My U.S. education allowed me to hone my critical thinking skills and gain practical experience. But, most importantly it helped me become an independent thinker and a global citizen." He is especially grateful for being selected to conduct lab research during his sophomore year, which shaped how he thinks about the natural sciences. Grateful to Amideast for this opportunity, he reflects, "It has allowed me to dream big and not be held back by the corruption in Lebanon."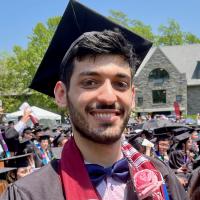 Omar Saleh graduated from Swarthmore College with a dual degree in chemistry and dance. Already in his freshman year, he conducted research in inorganic chemistry, and an independent project that he worked on will soon be published. He also secured a teaching assistant position for an upper-level chemistry course that he had not yet taken. Simultaneous with his scientific endeavors, he was able to explore his passion for dance, delving into its theory, history, and choreography. Omar is grateful to Amideast, the EducationUSA Competitive College Club, and the DKSSF for enabling him to attend a college where was able to "become more aware of different social issues, especially those pertaining to marginalized identities." He hopes to use his knowledge to raise awareness about issues in Lebanon such as women's and LGBTQ rights and anti-racial movements and shed light on the importance of the arts in Lebanese education. Since graduating, Omar has continued to build on his academic and artistic passions. He is working as a medical chemistry research technician in San Diego and plans to apply to a PhD program in chemistry.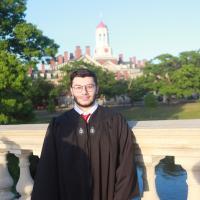 Mahdy Yassine graduated from Harvard University with a bachelor's degree in chemical and physical biology with a minor in computer science. Mahdy valued the wide variety of resources available to him at college, whether it be career services or mental health. He also appreciated the freedom he had to shape his own path. Through his research, he hopes to work to advance certain areas of biology and therapeutics and to help others who come from similar backgrounds achieve their goals. He is thankful for Amideast and DKSSF, noting that they "helped me reach this stage in my life and provide me with an opportunity to pursue my education." Mahdy plans to work in the United States for a few years before pursuing a graduate degree.
TUNISIA
---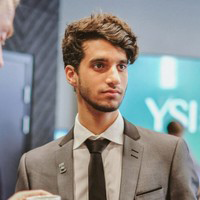 Ahmed Farah graduated from Princeton University with a degree in mathematics and certificates in computer science, statistics, and machine learning. An outstanding student, he used his skills to help fellow students succeed by becoming a part-time academic tutor in multivariable calculus and linear algebra.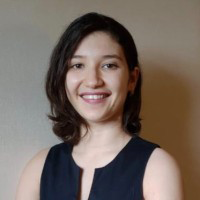 Syrine Matoussi earned a dual degree in computer science and statistical and data sciences from Smith College. Syrine is passionate about math and coding and thankful for her time at Smith, which she notes, "broadened my perspective on social issues, technical knowledge, and different cultures. It helped me discover my passion for computer science and plan to pursue a career in the tech field." She is further grateful for Amideast and the DKSSF, reflecting that they "changed my life by providing me with resources and assistance in the college application process, preparing for college, navigating the educational system, and setting future goals." Syrine plans to work as a software engineer and hopes to give back to her community by volunteering to mentor students, teach youth how to code, and raise awareness about global environmental issues.