Meet our newest Hope Fund alumni — 13 young Palestinian scholars who completed their undergraduate programs during the 2021–22 academic year! We congratulate them on their accomplishments and look forward to hearing of their continuing success!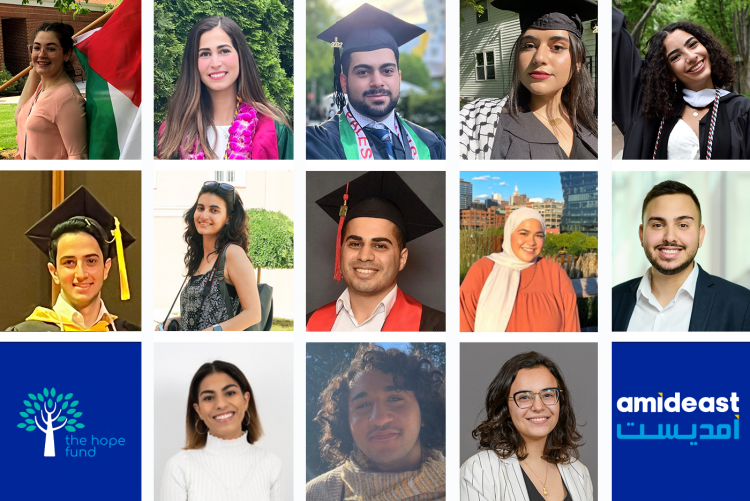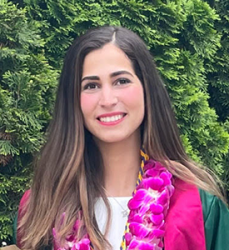 Noor Abu Rabie, from the West Bank city of Nablus, graduated from the University of Oregon School of Journalism and Communication with a double major in journalism and cinema studies and a minor in legal studies. Noor joined the honor's program of the School of Journalism and Communications, which she says helped her develop analytical, critical thinking, writing, and research skills. Another highlight of her undergraduate program was attending workshops offered by the Oxford Consortium for Human Rights on the role that activism plays in the field of human rights. Noor excelled academically, earning numerous certificates and, by graduating in the top 10 percent of her class, receiving an invitation to join Kappa Tau Alpha, the journalism honors society. Noor is eager to use her degree to serve her community by producing short films to uplift their voices, thereby shining light on their stories and the issues they face. Grateful for the support of Amideast and the Hope Fund for enabling her to follow her dreams, she reflects, "it was like a glimmer of light at the end of the tunnel."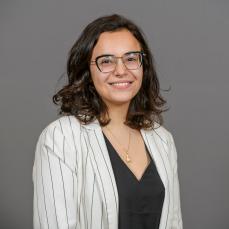 Malak Abusoud, ffrom Jerusalem, graduated from Georgetown University's School of Foreign Service with a major in international economics and a minor in international development. In addition to her academic achievements, she served on the Georgetown Center for Social Justice Advisory Board of Student Organizations, was a senior fundraiser at the Georgetown Alumni House, and was an associate to the university's Financial Technology Club. She was also invited to brief the United Nations Security Council on the complex issues youth in the Middle East face. She has taken a position as an account executive with Luminance, based in New York.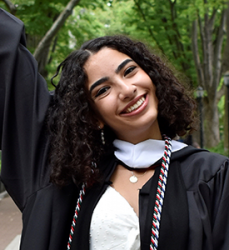 Lora Assi graduated from the University of Pennsylvania on the pre-med track with a major in neuroscience and double minor in chemistry and healthcare management. Originally from Ramallah, Lora is fascinated by the intersections between neuroscience, psychology, and the human condition. She is passionate about making medical care affordable for underserved communities in Palestine and around the world. During her undergraduate career, Lora served as president of the Penn Arab Student Society, an undergraduate coordinator at the United Community Clinic, and a research assistant at the neuroscience lab. She was also active on campus as a spoken word poet. Lora plans to remain in Philadelphia to work in neuroscience-related research before returning to graduate school. "Without the support of the Amideast, I would have never been able to accomplish what I did because finances would have been a barrier for me. Amideast helped me focus on my goals and truly flourish during college." 
Nicole Alkhouri, who is from Gaza, graduated from Smith College with a B.A. in neuroscience and a minor in chemistry. Nicole, who is interested in scientific research, drug discovery and delivery, medicine, health equity, and public health, is excited to continue her studies as an M.S. candidate in environmental health at the Harvard T. H. Chan School of Public Health. An outstanding student, Nicole graduated Summa Cum Laude, was inducted into the Phi Beta Kappa honor society, and was nominated for membership in the Sigma Xi honor society. Nicole notes that she "never imagined that I would be able to get my undergraduate degree from a prestigious college in the United States," and is grateful for "the continuous support and generous funds of Amideast and [the] Hope Fund… the mentorship I've received as a Hope Fund student has been pivotal to my success." Nicole will be interning at the Boston Children's Hospital in the Neuroepidemiology Department before attending Harvard, where she hopes to conduct public health research that focuses on Palestinian communities.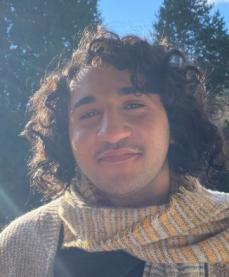 Diaa Alsersawi, from Gaza, graduated from Pacific Seattle University with a double major in English literature and cultural studies. During his undergraduate studies, he gained professional experience in coordinating academic programs, editing, teaching, and researching. As a studio assistant, he researched a year-long project on translingualism and the pedagogical issues related to the hyper-focus on teaching writing in Standard English to multilingual students, as well as the relationship between power and language. During his last three years, he took on responsibilities as an MFA program assistant.  Currently he is a first-year Ph.D. student in Comparative Literature at UCLA. His areas of interest include Arab literature (with a focus on Palestinian texts), anti-colonial theories and praxes, and gender studies.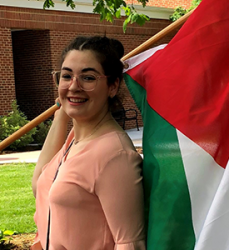 Dareen Awwad, who hails from the West Bank village of Jefna, earned her degree in applied physics with a minor in mathematics from Bridgewater College. The physics club stands out as a highlight in her college career for allowing her to perform experiments, have fun, and learn that physics is not just in the classroom but a part of our everyday lives. Dareen plans to work as a machine learning engineer for three years and save up money to pursue a master's degree in machine learning or artificial intelligence.  Looking further ahead, she hopes that, through her work, she can encourage women in the Middle East to pursue tech and STEM degrees by holding coding boot camps or college fairs to show the many opportunities that path offers. "Without Amideast and the Hope Fund program I would not have been able to study in the U.S. and discover what I wanted to do with my career. The program has made me an independent, educated, and hardworking woman with plenty more dreams and goals to achieve."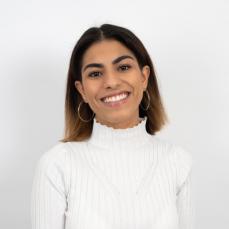 Luna Besaiso, from Gaza, graduated from Gustavos Adolphus College with a bachelor's degree in business administration and management. In addition to the Hope Fund, she received scholarship assistance from the Amjad and Suha Bseisu Foundation and was a recipient of Gustavos Adolphus's Count Folke Bernadotte International Student Scholarship. Since graduating, she has been a marketing/communications intern for the Bseisu Foundation, based in London.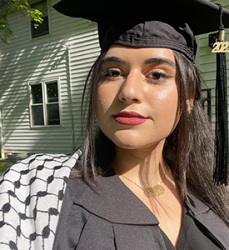 Hanaa Ibrahim, from Gaza City, graduated in December 2021 from Kenyon College, where she majored in psychology and minored in Spanish. Hanaa was active on campus, receiving the MLK Jr. Humanitarian Award for promoting social justice on campus and was the first undergraduate student invited to publish a book review in the Kenyon Review. She is thankful for the Hope Fund, which she considers "an opportunity of a lifetime," and is appreciative of the openness, strength, and resilience it fostered in her as a young Palestinian woman, which "has allowed me to dream big—even bigger than I thought I could." Currently, Hanaa is a clinical research coordinator at the GW Transplant Institute in the Surgery Department. She hopes to pursue a Ph.D. in clinical psychology to help women in Gaza by providing a safe space to support mental health conversations and awareness.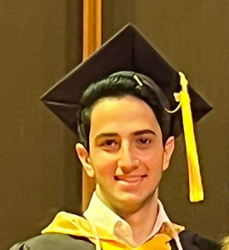 George Kassis, who comes from Beit Jala in the West Bank, graduated from the University of Rochester with a dual degree in neuroscience and electrical and computer engineering. He appreciates the mentorship he received during his undergraduate studies from renowned scientists and the opportunities he had to conduct research that was published in international scientific journals and co-found a brain-computer interface team that worked to develop affordable, unbiased, medical tools. George hopes to use his education to inform and support communities to help people reach their potential beyond the confines of physical differences, and to depoliticize his field so that "human life trumps political ploys."  He plans to undertake an MD-PhD program to pursue both medicine and research. George is grateful to Amideast and the Hope Fund, noting that "They helped me develop into a person who is dedicated to supporting others to similarly reach their potential while at the same time using my knowledge and skills to build a better world."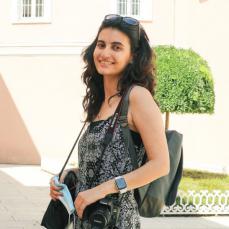 Salma Khalaf, from Lebanon graduated from Earlham College in December 2021 with a degree in international relations. During her undergraduate career, she pursued her passion for the field of human rights, with a focus on women and children. She also served as a math tutor, student supervisor for the Alumni Engagement Ambassador office, and a Student Faculty Affairs Committee member. In 2020, Salma founded—and is currently leading—the Palestinian chapter of the UN Foundation's Girl Up initiative that empowers girls through advocacy, education, leadership, and fundraising. Recently, Salma was selected for the prestigious Thomas J. Watson Fellowship, which is enabling her to conduct a year-long independent-research project. Entitled "What is the Future of Palestinians and Palestine?," her project seeks to answer this question through the "eyes and voices of Palestinians and others, who have aspirations for a future Palestine." She is currently travelling in Jordan, Egypt, Qatar, Algeria, the United Kingdom, and Chile to conduct her research.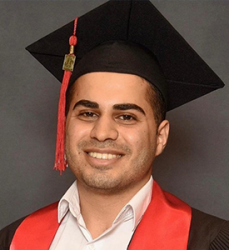 Akram Sbaih, graduated from Stanford University with a bachelor 's degree in computer science. A model student at Stanford, Akram earned a 4.0 GPA and was active on campus, serving first as a Language Conversation Tutor and then a Computer Science Teaching Assistant for three years. He also spent over two summers interning at Stanford Artificial Intelligence Laboratory (SAIL), one of the foremost research labs in the field. Reflecting on his experience with the Hope Fund, Akram says," If I valued one thing most through this education it would be the confidence in myself and others I acquired through the challenges here. I realize the potential in myself and in others more clearly now and I am always excited to apply it [to] the right causes." Akram further notes that Amideast "supported me through the application process back in high school when nobody else did... Their support continued throughout my education financially, logistically, and by frequent communications. This support is ongoing, and I am grateful." Currently, Akram is pursuing his master's degree in computer science.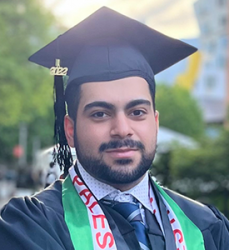 Khaled Shehada graduated from the Massachusetts Institute of Technology (MIT) with a degree in computer science and engineering. Khaled, who grew up in the Jabalia refugee camp in Gaza, has enjoyed programming from a young age. At MIT he worked on several impactful research projects, was a teaching assistant for multiple classes, and tutored students in algorithms and data structures. Khaled was active on campus, where he sat on the executive board of the Arab Student Organization and served as president of the Palestine@MIT student club. He plans to leverage the technical and personal skillsets he developed at MIT to make a positive impact on his community. By sharing his knowledge with Palestinian students and young professionals, he hopes to establish a portal that facilitates collaborations between U.S.-based tech corporations and Palestinian tech professionals.  He is thankful for Amideast, which he cites as being an important part of his life from an early age, reflecting, "I am grateful to Amideast and the Hope Fund for facilitating the opportunity to study in the United States and for continuing to support students from low-income backgrounds." Khaled has joined the Master of Engineering program at MIT in computer science and engineering for the coming academic year, where he plans to investigate the bridges between natural and artificial intelligence and develop cutting-edge AI models. 
Saad Teeti, from the West Bank city of Nablus, graduated from New York University Abu Dhabi with a B.S. in computer science and joined Procter & Gamble in Dubai in August as an analytics and insights manager. He supplemented his classwork as a student researcher in machine learning for the computer science department and served as a web development and IT intern.