Meet our newest alumni — 17 DKSSF scholars who graduated this spring! We congratulate them on their accomplishments and look forward to hearing of their continuing success!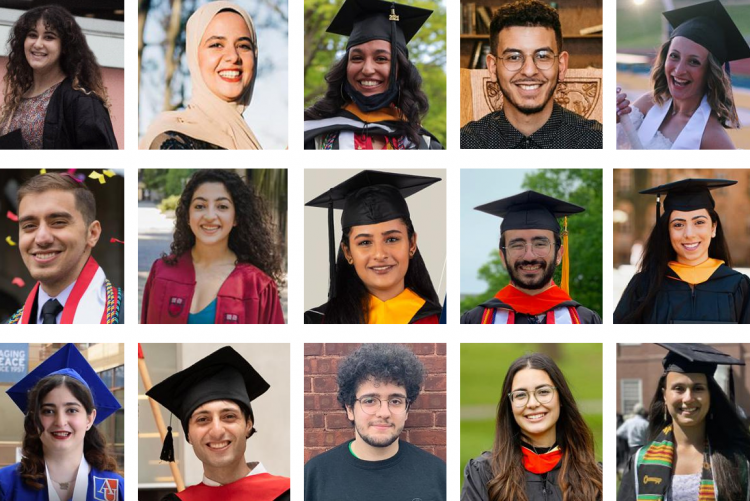 EGYPT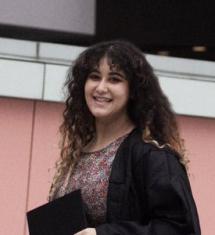 Shahinda Ahmed graduated from the University of Cincinnati with a degree in architecture. A fervent believer in the need for greater historical preservation of important and culturally significant buildings in her hometown of Alexandria, Egypt, she says, "There is nothing that can tell the story of a culture quite like their art and how it's reflected in their built environment. It's incredibly heart-breaking to see the erasure of the identity of Alexandria in real-time during the 2010s. I hope to, one day, be able to contribute to the preservation of our unique identity in the midst of the numerous corporations that seek to destroy it." Shahinda learned about the U.S. college application process after she joined the Competitive College Club (CCC) at the EducationUSA center operated by Amideast in Alexandria. If she hadn't joined the CCC, she adds, "I would have never had the resources to study at my chosen college without the contributions and support of the DKSSF. Simply put, I don't know who I would have been today, if it weren't for Amideast and DKSSF."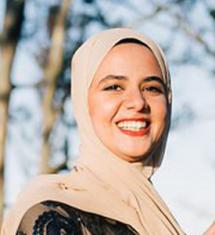 Nour Elkhalawy completed double majors in business and computational science at the Minerva Schools at KGI in California. She appreciated her program at KGI for the opportunities it gave her to live and work with companies in nearby San Francisco and around the world, including in Berlin, Buenos Aires, Hyderabad, London, Seoul, and Taipei. Through this experience, she says, "I became resilient to the fear of change and unknown because I was able to navigate through life in places I never thought was possible for me to navigate and live in." Nour hopes to use her computer skills to develop computer applications that will make it easier for Arabic speakers to interact with their smart devices in their native dialects. Nour's exciting future plans have been made possible with the support from Amideast and the DKSSF that, Nour says, enabled her to explore "Minerva's amazing experience—and I am grateful for that!"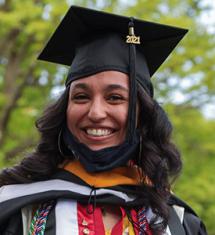 Maryam Haytham Esmat graduated from Lycoming College with a B.S. in astrophysics, a B.A. in creative writing, and a minor in mathematics. She is grateful to the college for giving her "room to be myself and expand on my vision of becoming a well-rounded individual" and realizing her "vision to be both an artist and a scientist simultaneously." This fall she is beginning her Ph.D. in astronomy and astrophysics at Johns Hopkins University, but her interest in writing remains strong, and she plans to pursue her M.A. in writing. Committed to giving back to her home community in Egypt, she will continue to serve as the Science Mission Lead at the Moon Village Association's Egypt chapter, which is putting together a roadmap for Egypt to take part in the future of space sciences. She also guides undergraduate Arab students through the U.S. university application process. "I would like to be an example of an Egyptian/Arab/Muslim astrophysicist to encourage more Egyptians/Arabs/Muslims to pursue space sciences," she says, adding that she is "very thankful for the endless emotional and financial support" provided by Amideast and the DKSSF that enabled her to complete her degrees.
Nada Ahmed Selim graduated with a B.S. degree in biochemistry from Mississippi College, where she was awarded the Eldrige Award in recognition of her "outstanding undergraduate research [and] overall scientific potential" in light of research she conducted into the metastasis of prostate cancer and her efforts during a pharmacology research internship at the Medical College of Georgia. She also presented her organic synthesis research at national conferences. Nada's scientific achievements weren't the only way she stood out; she competed as a pole vaulter on the university's track team. "Being able to be on the two opposite sides of the spectrum and the boundless of opportunities in the United States has been the most invaluable facet of my college experience," says Nada, who is beginning a Ph.D. program in cellular pharmacology and physiology at the University of Rochester (UoR) Medical Center this fall. Looking back, Nada appreciates the role Amideast played in helping her recognize her "true potential" and supporting her with opportunities and guidance when she decided not to follow the normal path to higher education for youth in Egypt. "DKSSF was the first one to believe in me by supporting me during the application process. Amideast has literally changed my life and for that, I will be forever grateful," she says.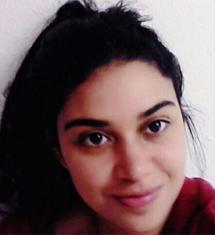 Maria Shehata graduated from the New College of Florida with a degree in computer science. She had ample opportunity to strengthen her computer skills—by participating in the computer science club, working as a python coding language teacher assistant, participating in the SwampHacks hackathon, volunteering at the Grace Hopper Conference, the largest computer science conference for women, and helping her professors develop a new software program—in sum, diverse experiences that helped her evolve from a "quiet person to leading academic workshops [and gaining] more confidence in myself that I can contribute and help others with what I am learning. It is a great feeling to see that I can help others." In addition, the diversity of her university was, in her words, "AMAZING" because it taught her "how to think from different perspectives [and] how valuable it is to have a diverse community." Passionate about technology and its applications, Maria hopes to find ways to apply "technology [to] the education field to help others find about their talents and gifts." She says, "I am very thankful and grateful for Amideast and the DKSSF. Without your support I would not be able to achieve my goals. Your support helped me focus on my studies and have the time to explore my options and discover what I am interested in, so I can invest my skills and be a productive member in the community."
LEBANON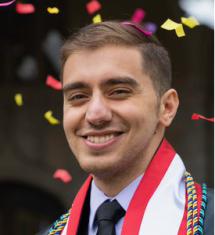 Loay Alarab graduated from the University of Toledo with a degree in political science and economics. As a freshman, he cofounded and served as the president of a Middle Eastern and North African Association, creating a community for people from the MENA region to "come together, connect more deeply with their cultural heritage, and discuss social and political issues related to the region." Loay also served as a tutor with Toledo's Family Education Program, helping Arabic-speaking refugee children with their schoolwork. Beginning in his sophomore year, Loay engaged in extensive undergraduate research, receiving multiple grants for his independent research, working with a research team organized by one of his professors, and presenting at the Midwestern Political Science Association Conference. These experiences prepared him to begin a Ph.D. program at the University of Michigan-Ann Arbor this fall. "My research has been and will continue to be focused on the rich political thought that comes from the Arab world, Southwest Asia, and North Africa. My research will always be grounded in working with and thinking alongside my community about the new future that we want to build." He is grateful to Amideast and the DKSSF for the financial support that made it possible for me to go to college and "follow my academic passions."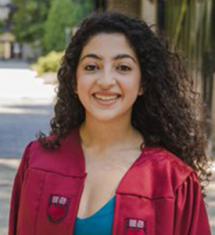 Tala Azzam earned a degree in biochemistry with a minor in linguistics at the University of Chicago. She was able to work in a lab for four years doing structural and biochemical research on immunological proteins. In addition, she volunteered as a health educator at a local public high school, served as the editor-in-chief of the campus Arabic magazine, and joined the crew team. She hopes someday to introduce young Lebanese students to "branches of scientific research not commonly discussed in the Lebanese curriculum but that are an essential part of various scientific fields today." This fall, Tala is beginning her Ph.D. in immunology and molecular pathogenesis at Emory University. She shares, "None of this would have been possible without the financial, academic, and logistical support provided by Amideast and the DKSSF program. Not only did this program allow me to pursue my undergraduate studies at a competitive university in the United States, but it also provided me with skills, knowledge, and tools I was able to use during my application process to graduate schools."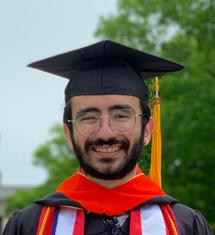 Marc Haddad graduated from the University of Rochester with a bachelor of science degree in engineering. In his first three years at UoR, he accomplished a great deal, including cofounding Fourty-Two, a tutoring platform to reshape education in the MENA region; conducting research at the Laboratory for Laser Energetics; and participating in the regional finals of the prestigious Hult Competition. He was also elected vice president of the university's student association, successfully running his campaign despite the quarantine in place because of the Covid-19 pandemic. Marc is staying on at UoR for another year to further his goal of learning everything he could by studying in the United States to address the challenges facing his country. "My thoughts of giving back to my community have only grown since I left Lebanon. I have learned the technical skills needed to help my country in so many different ways over the past years. Over the next year, I will be delving deeper into entrepreneurship, management, and politics to understand how to best present those technical skills to Lebanon."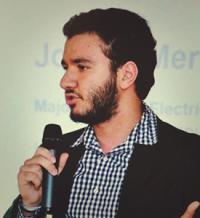 Originally from Jezzine in southern Lebanon, Joseph Merhi completed a bachelor of science degree in Operations, Research and Information Engineering at Cornell University. He is staying on in Upstate New York as a technical consultant and software developer at the university's College of Agriculture and Life Sciences. During his undergraduate program, he served as a teaching assistant in mathematics and engineering and as a research intern at New York State Water Resources Institute.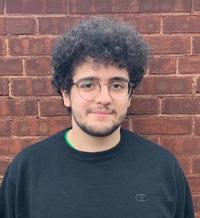 For Mohamad Safadieh, a year living in Arizona on the Kennedy-Lugar Youth Exchange and Study (YES) program awakened a desire to study in the United States. That led him to the Competitive College Club (CCC) at Amideast, which in turn led to a scholarship from Vassar College, where he graduated with a B.A. in computer science. Mohamad plans to continue working in the software engineering field, and so far, he is on track as a build engineer at Apple. As he looks back, he is grateful to Amideast and the DKSSF for "provid[ing] the financial support necessary to get to where I am."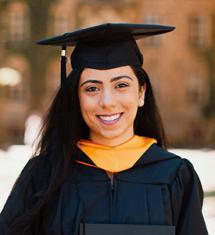 Jana Sebaali graduated from Princeton University with a degree in electrical engineering and minors in statistics and machine learning. While at Princeton, she worked as an undergraduate teaching assistant for both introductory computer science courses and upper-level engineering courses. Jana also interned with Microsoft for two summers, gaining experience about the U.S. workplace and working on "projects that would ship to millions of users." Her hard work in her internships paid off as she has accepted a full-time position as a software engineer with Microsoft. Jana says that she hopes to "pursue a career in the tech field and work on technologies that improve people's lives and are accessible and unbiased," adding that, "without Amideast and DKSSF, studying in the United States might not have been possible. They helped me reach my goal of getting an engineering degree from a top U.S. college. They opened one door that led to many great experiences and opportunities to learn and grow as a U.S. college student."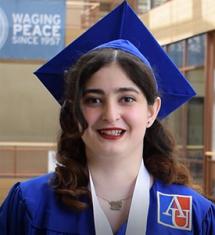 Lori Younissess earned bachelor degrees in international studies and in law and society at American University (AU). Having come to AU on its prestigious Emerging Global Leaders scholarship, it is of little surprise that she was honored as one of AU's 10 most active, engaged, and high-achieving students in her final year, receiving the Bruce Hughes Award for the depth of her leadership in a wide range of service to the university community, including serving as a teaching assistant for 11 classes, organizing conferences, serving as the managing editor of AU's undergraduate research journal Clock and Clouds, tutoring in Arabic, rowing crew, and playing violin in the university orchestra. In addition, Lori was selected as a fellow for the Junior Summer Institute at Princeton's School of Public and was AU's International Affairs and the School of International Service's Undergraduate Commencement Speaker. Lori plans to continue in academia, focusing on research into identity, human rights, justice, and similar issues and hoping to "contribute to the increased representation of Middle Eastern women in academia." Lori notes, "Without the guidance of Amideast/DKSSF, the support of generous donors, and the friendships I built during my time at CCC, I could not have been able to get a prestigious full-ride scholarship to American University which opened so many doors for me professionally and personally."
TUNISIA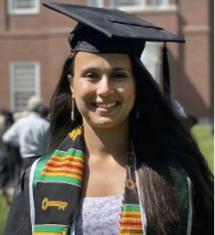 Nour Benmohamed graduated from Dartmouth College with a bachelor's degree in computer science. She worked as a teaching assistant for the computer science department and served as president of the Women in Computer Science Club, a position she used to encourage more women and people of color to study computer science, a field that is still not as diverse as it should be. Nour was also active in the Dartmouth Outing Club (DOC), taking advantage of opportunities to explore the United States and participate in activities such as rock climbing on Mount Lemmon in Arizona. Even within this club, she found a way to advocate for diversity by serving as the president of a DOC subgroup called People of Color Outdoors. Nour's next step is Seattle, Washington, where she will work as a software engineer at Facebook. She shares, "I am immensely grateful to DKSSF for making it possible for me to achieve my goals and realize my full potential and to Amideast for accepting me into programs like the Youth Exchange and Study (YES) program a few years before college, which boosted my confidence and helped me see that I have more potential than I thought."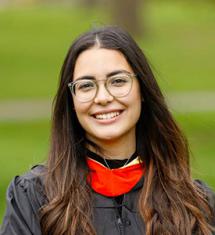 Cherine Ghazouani earned a degree in optical engineering from the University of Rochester, enabled by the school's prestigious Handler Scholarship to attend one of the leading institutes of optics in the United States. Cherine reports that the most valuable part of her college experience was the diversity of the university's students and faculty. "I believe that it has changed my perspective and helped me grow as a person by learning from others and opening up to different ways of thinking and living," she asserts. Drawn to engineering because it involves "the satisfaction of problem solving," Cherine explains that, "to me, it is like playing a puzzle game, where you use your tools and strategy to solve it and finally, when all the pieces fit together, you get to create a beautiful masterpiece." She plans to gain practical experience in her field by working as an optical design engineer at ASML in Connecticut. As she does, she hopes to share her love for engineering by "pay[ing] it forward by being a mentor and a resource for other minorities interested in engineering," helping them just as she was helped through Amideast and the DKSSF to become "part of a community of peers who motivate each other to achieve our respective goals and encourage others to take advantage of the opportunities presented."
SYRIA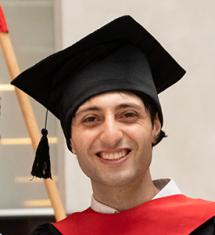 Ali Suleiman graduated from the American University in Central Asia with degrees in international and comparative politics and in television, cinema, and media arts. For his senior thesis, he analyzed the Voice of America Facebook page during the Trump era using advanced social-media analytics and data-scraping tools. Another highlight of his experience was a semester in Germany, where he helped market and manage a film festival. After meeting many Syrians living in Germany, he also became inspired to work on "improving the life and integration process of the Syrian diaspora in Germany, both culturally and politically" — an experience that he wants to utilize to start civic engagement initiatives inside Syria. He plans to pursue an MA in political communication in Germany. "When DKSSF and Amideast first noticed me, I was just an ambitious college student in the turmoiled countryside of Syria with very little access to any safe and proper education opportunities," he observes. "Now, I learned to speak Russian and German, I managed to work in international organizations and film festivals and my academic work is receiving best awards from my home university."
LIBYA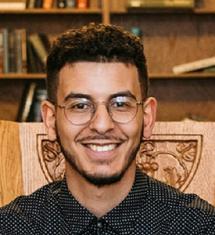 Abdulrahman Ayad graduated from the University of Denver with degrees in computer science and mathematics. During his time at university, he held many leadership positions, opportunities that he credits with boosting his self-confidence and teaching him leadership and management skills. He also participated in intramural and club sports, which helped him stay in shape and — he adds — "fuel my competitive nature." He also appreciated the strong community of international students that he found at the University of Denver and values the connections and community he created there. Abdulrahman has begun a master's program in computer science at the University of Denver and is a graduate teaching assistant. Looking back, he notes, "this program has given me an opportunity to receive a good education that can be used for a better future and also helped build a strong foundation for my future. Without Amideast and DKSSF, I wouldn't be in the position that I am currently in."
YEMEN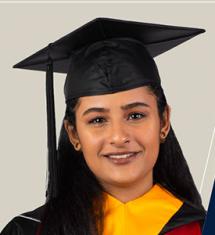 Mona Saif graduated from Georgetown University in Qatar with a bachelor's degree in international politics and minors in Arabic and economics. Mona contributed to campus life in many ways, including through leadership roles in the Social Justice and Development club and the Arabic Language club. She also mentored high school students through GU-Q Model United Nations and was an institutional representative for Charity Week. In addition, she took advantage of off-campus opportunities such as internships with the Brookings Institution, Education Above All, and the Qatar Career Development Center.