A new Amideast Education Abroad program—Community, Activism, and Social Entrepreneurship (CASE)—provided a transformative journey for a group of American community college students, introducing them to advocacy, civil society organizations, and critical global justice issues through a Tunisian lens.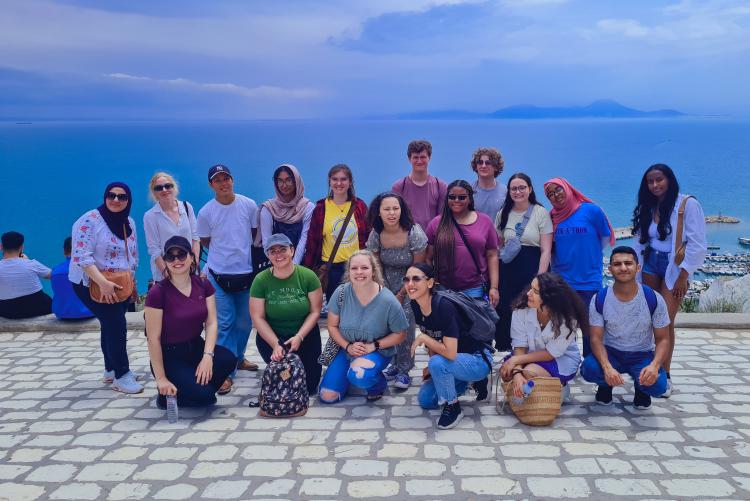 The CASE program seeks to address current inequities in traditional American study abroad offerings that, based on cost, format, and academic focus, are either inaccessible or irrelevant to students in community colleges and other two-year programs. Through CASE, Amideast seeks to provide community college students with authentic cross-cultural exchange experiences that would allow them to reap the professional and personal benefits of study abroad.
The first iteration of the CASE program took place in June 2023 in Tunisia. With full scholarships form Amideast, 14 community college students traveled to Tunis for a week. Beyond the classroom, the program allowed space for meaningful engagement with civil society organizations and vulnerable communities in Tunisia. Participants actively contributed to locally led social initiatives in support of sub-Saharan refugees and learned about the critical role played by local organizations in reshaping the global narrative about migration.
Throughout all program activities, Tunisian peers encouraged thought-provoking questions and facilitated the interactions between participants and their interlocutors within the community. Tunisian peers Mayssem, Kacem, and Ghada were integral to the program's success. Their presence provided a supportive and inclusive environment that ensured all CASE participants felt welcomed to interact and engage in critical discussions throughout their journey. These exceptional Tunisian youth also played a pivotal role in fostering meaningful personal connections and creating unforgettable experiences for the participants.
"The peers were one of the best parts of this experience for me," observed one of the American participants. "Having people who grew up here and lived in the places we were learning about, who were going through schooling just like us to study similar topics to us, gave us a friend on the inside, so to say."
By the close of the program, participants had formed strong bonds with their Tunisian peers. As one noted, "Meeting Tunisian peers was a wonderful experience that provided valuable insights from their perspective. Their unwavering love and profound connection to their country made a lasting impression on me. They were also kind, helpful, and friendly, and we had a great time together."
The experience was meaningful for the Tunisian youth as well. "Being part of the CASE Program was an incredible opportunity to represent Tunisian culture and foster cross-cultural understanding," Mayssem reflected. "It was rewarding to witness the students' growing appreciation for Tunisia and their eagerness to learn about our history, social issues, and vibrant communities."
CASE fosters the horizontal exchange of ideas between American participants and their host communities, allowing them to develop a shared understanding of global issues and bridge cultural differences and barriers. Through an intense immersive experience, CASE aims at providing community college students with the intercultural, adaptability, and critical thinking skills that are increasingly sought by employers, giving them a career advantage that they otherwise would have lacked. As in all other Amideast education abroad programs, CASE also integrates concepts of justice, equity, diversity, and inclusion as key core themes.