Since September 2020, Amideast has been working with the government of Morocco's Rhamna province to provide a rich and diversified program that is expanding economic opportunity for the province's youth, developing its entrepreneurial potential, and promoting local culture.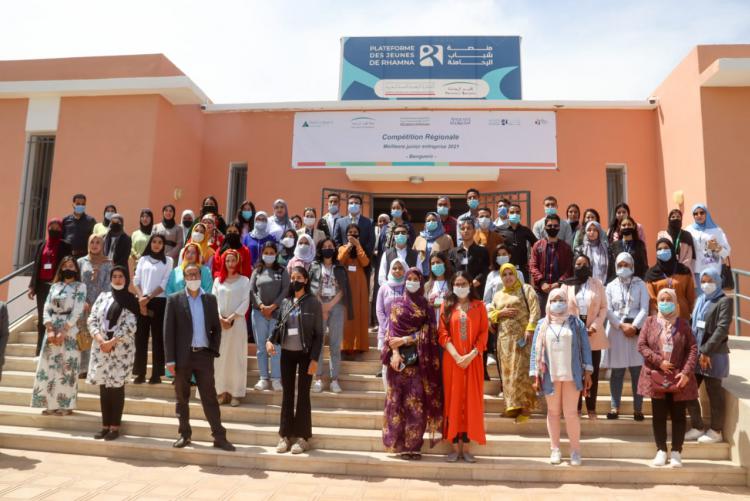 Aptly called Skills Building of Rhamna Youth, the program integrates social innovation and "Learning by Doing" into its approach. 
During its first year, all 218 youth selected to participate—nearly two-thirds of whom were women—had opportunities to receive training in soft and life skills, English and French used in the workplace, digital literacy, and job-search skills. 
In addition, through targeted training, workshops, bootcamps, and awareness presentations, 52 new and aspiring entrepreneurs learned the basic business skills they would need and how to pitch their concepts to financial institutions in order to realize their entrepreneurial dreams. 
As a result, more than half of the projects—31—were approved to receive funding of between 20,000 and 100,000 dirhams (around US$2,200-10,900). 
Further underscoring the importance of investing in youth entrepreneurship, Amideast collaborated with Injaz Maroc to stage a local junior enterprise competition. Five teams were tasked with developing a business concept that would address a social or economic challenge facing local inhabitants in one of three sectors: health, the environment, and art and culture. The winning team advanced to the national competition with their app, Tefly Finder, that helps parents control their children's online activities.
The Rhamna program had other positive impacts—most important that, already before the end of the program, nearly 170 participants were hired for jobs or internships or had decided to continue their studies or pursue entrepreneurship. 
In light of these successes, the provincial authorities decided to renew the program because of its success and popularity. With a waiting list of nearly 600, the second year is off to a strong start.