Amideast has launched AMAL@Amideast, an empowering new initiative that is bringing hope to women across Yemen. The fully online program, delivered by Amideast instructors in Aden with funding from the Yemen Affairs Unit's Public Affairs Section, is reaching women living in many of Yemen's 22 governorates, providing 390 contact hours of English language instruction over the coming year.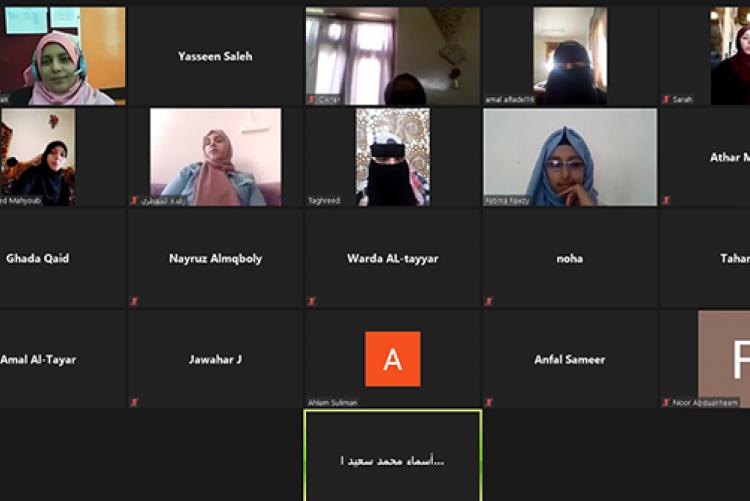 For these women, who had little or no prior knowledge of English, AMAL — which means "hope" in Arabic — is an apt name for a program that represents an opportunity to receive quality language instruction, of which they were only able to dream in the past, whether because of where they lived or societal restrictions on their ability to commute to or attend in-person classes.
Not surprisingly, interest in the program was high. Nearly 700 women applied, with over 400 meeting basic eligibility criteria. Those with the most compelling reasons to study were selected for interviews, and 20 finalists and eight alternates were then chosen.
Finalists include women like Raghda Abdullah, a lawyer from the city of Taiz, who works with the Yemeni Women's Union to defend battered women and street children. She sees greater opportunities for the women she serves by improving her English, as this would enable her to communicate directly with the international NGOs that fund so many projects in Yemen and apply for new grants to provide battered women with professional training and a safer environment.
The online format is achieving more than just language instruction. It is forging new networks and relationships among women living in places as diverse as Abyan, Al-Baida'a, Aden, Lahej, Taiz, Hadhramaut, Al-Mahra, Al-Hudaydah, and Al-Dhalea. "This scholarship has allowed me to get to know young women from different regions and cultures in our beloved Yemen," trainee Sara Ali from Zinjibar, a city in Abyan Governorate, said. "It is a window of new hope for me."
Despite the daily challenges they face because of ongoing conflict, fuel shortages, rolling blackouts, and at times unreliable Internet connections, the women recently completed their first session. Nisha Khaldoon, their teacher, is proud of having had the chance to educate this group of young women.
"The trainees started the course with almost no experience using cloud applications, and their English was at a basic level. However, in the past seven weeks, they learned to use Zoom, Google Classroom, Google Forms, and Google Docs to improve their English, take tests, and complete their homework. Watching them progress so well has made me feel proud," she said.