"In a time where everything is going backwards, Amideast gave me the chance to move forward," says Joelle Samaha, a recently certified Google UX designer. Joelle and over 400 other young Lebanese have gained experience in fields needed in today's market thanks to Amideast's collaboration with "Grow Stronger with Google," a program by Google that aims to equip people and businesses with digital skills.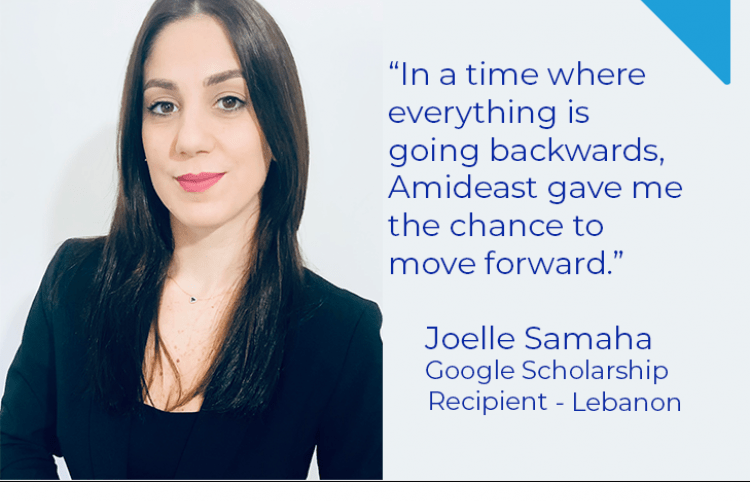 Since the introduction of the program last March, 120 young Lebanese professionals have already completed Google Career Certificates on Coursera in five critical fields: Project Management, UX Design, IT Support, IT Automation, and Data Analytics. Over 300 more are on their way to certification, enrolled in online courses presented by Google experts that offer upskilling into the new global economy. 
The scholarships also offer exposure to new industries and experience in new-age skills that are hard to come by for Amideast alumni and other youth living in one of the world's most disrupted economies. The struggle Lebanese youth have faced over the past few years is no secret, with opportunity becoming scarcer every day, and education becoming a luxury. Too many young professionals are choosing to take their skills and experience abroad, depleting Lebanon of the talent it needs to recover and rebuild.  
For young professionals choosing to stay, this scholarship program has been a breath of fresh air, presenting them with an opportunity to gain new employment or work remotely for companies overseas while remaining in their home country. The program also represents opportunity for local companies to benefit from skilled professionals in these fields. Similarly, the Amideast-Google collaboration is developing a pool of talent in high-demand fields that can be tapped to meet the regionwide growing demand for professionals certified in these fields. 
"With such a high demand for data analysts all over the world, this certificate will definitely help me throughout my career," said Souhaib Moussa, who predicts that the certification he earned in data analytics will help him meet the challenges of data management and analysis in his current work as an information management associate in the humanitarian sector.   
"Amideast has been my family since 2009," he adds. "[It has] never failed to provide life-changing educational experiences to anyone looking for them. That's how important Amideast is to education in Lebanon, and it is still going strong even with all the difficulties faced in this country."