The COP27 Conference in Sharm El Sheikh, Egypt, was an opportunity for Amideast to showcase partnerships that are preparing Egyptian youth to address sustainability issues at home.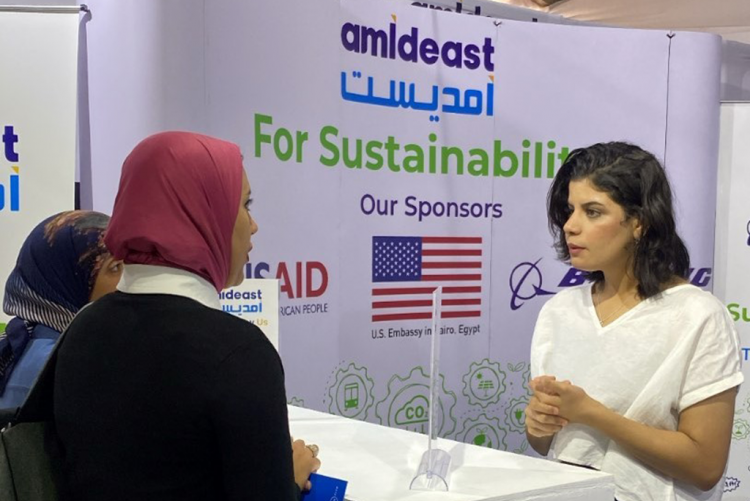 The Boeing-supported STEM Center at Amideast/Egypt is introducing innovative programs that foster creativity and critical thinking skills, as well as knowledge of science, technology, engineering, and mathematics (STEM). Since it was established a year ago, the STEM Center has engaged more than 180 children and youth in diverse STEM-learning activities that include robotics, graphic design and animation, 3D printing, coding and web development made possible through program support from Boeing. We also benefited an additional 105 youth in an innovative "Reduce, Reuse, and Recycle" program, made possible in partnership with the U.S. Embassy, that is enabling students and teachers to develop a deeper understanding of environmental issues and ways to address them.
This is just the start. Amideast and Boeing have announced an expansion of their partnership into new areas, including climate sustainability and an entrepreneurship competition.
"Through this renewed collaboration, Amideast is pleased to add to its portfolio of work supporting Egypt's future generation to contribute to, and compete at, a global level to find solutions for complex national, regional, and global challenges," says Shahinaz Ahmed, country director of Amideast/Egypt. "We believe the time is right to leverage Egypt's commitment to climate change through expanded STEM education and training among youth."
Amideast is also preparing young Egyptians for careers in fields related to sustainability through the USAID-funded U.S.-Egypt Higher Education Initiative (HEI). Nearly 800 Public University Scholarship recipients are completing undergraduate degree programs in fields that will contribute to Egypt's economic development. In addition to coursework, the program's emphasis on community service and study abroad is imprinting in these future leaders the importance of engaging in activities that raise awareness of climate change and promote environmental sustainability. Alumni have gone on to work in related fields including solar energy and water management.
To learn more, visit "Amideast for Sustainability" on our website.