During the past year, AMIDEAST has been building the capacity and operations of Tunisian civil society organizations (CSOs) that work with communities characterized by social exclusion, marginalization, poverty, and perceived lack of opportunity.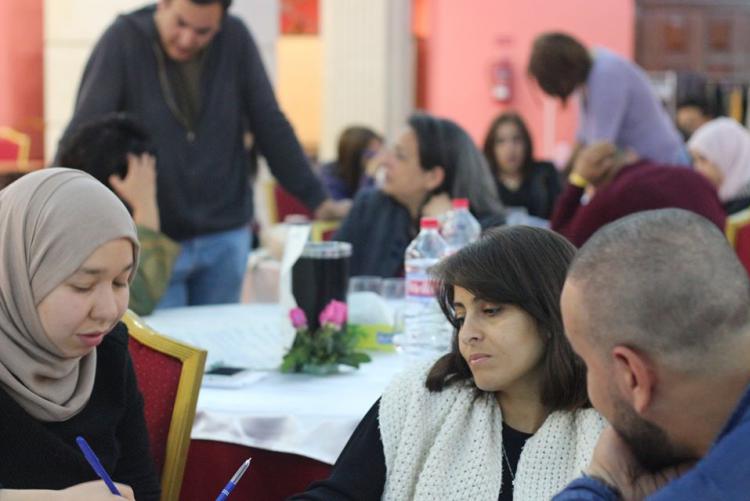 BLADI — short for Building Local Associations for Development and Innovation — is a training and institutional strengthening program that is enabling CSOs to provide services that offset the vulnerability of individuals in these communities. While an important goal is to reduce the risks that the CSOs' beneficiaries will become sympathizers and supporters of violent extremism, the primary goal is to strengthen governance and operational structures of the CSOs to enable them to effectively design and implement impactful projects in their communities.
AMIDEAST is working closely with two local Tunisian associations — Jamaity and Shanti — to carry out the two-year project, which is funded by the U.S. Department of State. They were selected because of their solid track records of engaging and supporting other local CSOs.­­­­
Interest in BLADI among Tunisian CSOs was high from the start. More than 250 officially registered CSOs from all 24 governorates applied to participate in the project following its launch in December 2018.
Out of that large pool, 20 organizations were selected to participate in a four-month "incubation" period of technical assistance and coaching designed to strengthen their capacities. Since September, 11 of these organizations have received funding to implement their projects.
The CSOs are introducing activities that are much needed. Some are creating after-school art, drama, and music clubs in public schools in marginalized and underserved areas. Others are intervening through ­­­­­­youth centers in difficult neighborhoods, trying to address issues of social exclusion, illegal immigration, and drug use. A few are assisting young adults in juvenile correction or rehab centers who suffer from exclusion and lack of opportunity.
Agnes Daugreilh and Omar Drira, founders of association "Graine d'Espoir" (Seed of Hope), in the region of Sfax, are working with young adults at rehab centers to provide them with work opportunities. ''The BLADI project represents a great chance for our association to develop, progress, and extend in order to make more efficient interventions within rehab centers by facilitating social integration and job search after individuals complete rehab programs," they said.
Participating CSOs and their locations:
ACEC Kebbaria – from Tunis
Kon Sadiki Sijoumi – Tunis
Khotwa Khaznadar – Tunis
ARA Amdoun – Beja
Grain d'Espoir – Sfax
ATTEJ – Sfax
SOUTKOM – Gabes
AFEK – Kebili
Commeçants – Ben Guerdene
Horizon d'Enfance in Gabes/Medenine
Mashhed in Gafsa