Despite growing up amidst conflict and an uncertain future, Palestinian children, both girls and boys, have one of the region's highest literacy rates — evidence of the value that Palestinians place on education. This success with literacy has not, however, historically extended to other subject areas — science, math, and foreign language instruction, for instance.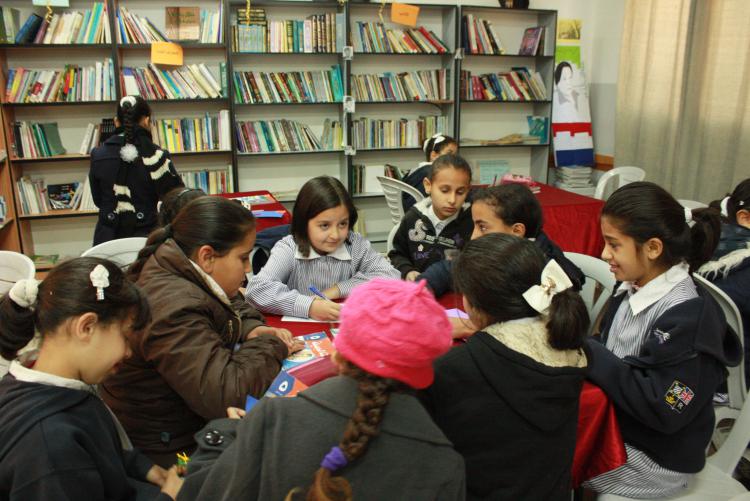 What students needed, Palestinian leaders recognized in the mid-2000s, were schools for the 21st century. Since 2007, AMIDEAST has responded, working in partnership with the Palestinian Ministry of Education and Higher Education (MoEHE), to implement three USAID-projects that have brought much-needed support for and investment in basic education in the West Bank.
Model Schools Network
In 2007, with the launch of the Model Schools Network (MSN) Program, AMIDEAST began to introduce measures to strengthen teaching, administration, community engagement, and the use of technology in 72 public and private schools in the West Bank and Gaza.
By introducing models of best practice for professional development, school-based management, and project-based learning, the program created a network of schools that would serve as "models" for reform in additional schools in the future. 
System-Wide Strategy
Through two subsequent USAID-funded projects, AMIDEAST continued to refine these models as we strengthened the capacity of Palestinian schools to deliver effective, learner-centered education.
Beginning in 2012, the Leadership and Teacher Development (LTD) Projectfocused on creating a national cadre of teachers, principals, and other educators who would be able to implement the ministry's 21st-century learning standards.
The project supported the development and strengthening of the in-service professional development diploma programs that the National Institute for Education and Training (NIET) now provides to thousands of educators, raising the level of leadership, supervision, and teaching practice. Working with 454 schools, LTD directly benefited 150,000 students in grades five through ten, engendering new teaching practices that will continue to influence students long after LTD's conclusion.
LTD also supported national efforts to increase the effective use of technology in teaching and learning. This culminated in the introduction of a Coding in Classrooms program across the West Bank, providing students with lessons on programming languages that also strengthen their critical thinking, problem solving skills, and creativity.
Since 2013, AMIDEAST has also implemented the School Support Program (SSP), which has taken a holistic approach to improving the quality of education available to children in 50 public schools located in marginalized areas of East Jerusalem and the West Bank.
Implemented in partnership with Save the Children International, SSP has improved the schools' learning environments by installing modern science labs, libraries, and computer labs, and linking schools to the Internet. Recognizing the important role that communities and parents play in the education process, SSP made school-community engagement a cornerstone of its strategy.
Additionally SSP encouraged schools to adopt new benchmarking strategies for school improvement planning and offer career development and extracurricular activities designed to build the self-confidence of the nearly 19,000 youth in these schools and enable them to identify and pursue longer-range career paths.
As both programs draw to a close this year, we are looking back on 12 years of fruitful partnerships that have contributed to improvements in Palestinian basic education that will impact hundreds of thousands of students for years to come.