We're excited to welcome 18 new scholars this year into the Diana Kamal Scholarship Search Fund (DKSSF) program.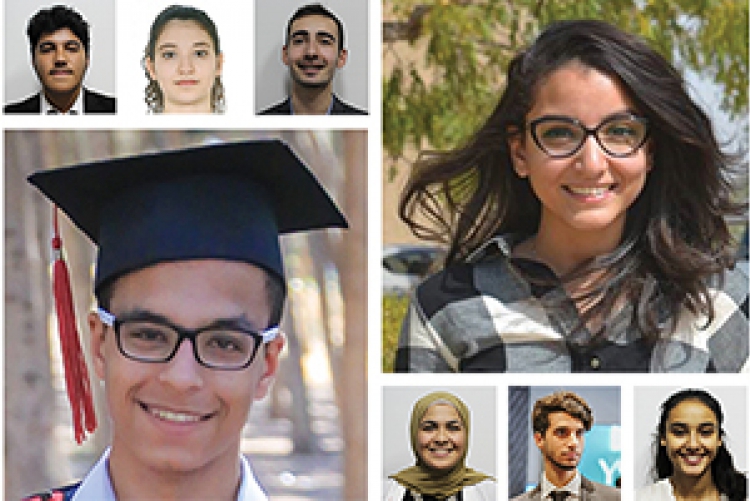 The 10 men and eight women from Egypt, Lebanon, Tunisia, and Yemen are beginning their undergraduate studies on scholarships earned with the support of the DKSSF from Dartmouth, Smith, and Swarthmore Colleges; Columbia, Drexel, Harvard, Jacksonville, Princeton, and Wesleyan Universities; the Universities of Pennsylvania and Rochester; Hult International Business School; Sewanee: The University of the South; and NYU Abu Dhabi and Yale-National University of Singapore (NUS).
egypt
| | |
| --- | --- |
| Alaa Adel Abdelhamid is driven by his passion for the sciences. During his senior year at the STEM High School for Boys, he created a YouTube channel about science, which he manages and writes scripts for, and cofounded the physics group at his school. He is also an avid blogger about science and participated in multiple science fairs and competitions, including the Intel ISEF Science Fair and Ibn al-Haytham National Science Fair. He also travelled to Germany on the "Deutschland Plus" exchange program. While living in Giza, Alaa joined the EducationUSA Competitive College Club at AMIDEAST/Cairo and maintained an excellent academic performance including a 4.0 GPA, a perfect score on the Physics SAT Subject Test, and a 107 on the TOEFL test. Alaa's outstanding academics and extracurriculars earned him an International Honors Scholarship from Sewanee: The University of the South, which will help support his degree program in physics and philosophy.  | |
| Yahia Ali has high aspirations and a passion for biochemistry. Throughout his high school studies, he excelled in the academically rigorous Cambridge Advanced International Certificate of Education (AICE) program, achieving the highest scores in his advanced level chemistry course on a national level. He also earned top scores on the chemistry, physics, and biology SAT subject tests, scoring 800, 800, and 790, respectively. Alongside his academic studies, Ali was active in the EducationUSA Competitive College Club at AMIDEAST/Alexandria, generously supporting his peers in their examinations and college applications, volunteering in college fairs, and serving as CCC president in 2018. Yahia chose to take a gap year ahead of college in order to indulge in his interests, among them playing the violin and reading. He is excited to attend the University of Rochester, where he plans to study biochemistry.  | |
| Farah Essam Fathy Mohamed is an ambitious young woman who has always strived to chase her dreams. Growing up in Cairo with a passion for STEM subjects, she has continuously participated in various STEM-related competitions. Most recently, in late 2017, she attended the Minesweepers International Competition in Malaysia, where she won third place for the best mechanical robotic design. Alongside her academic achievements, Farah is a proactive member of her community as she constantly volunteers in Egypt's renowned 57357 Children Cancer Hospital. As if that weren't enough, she is also an athlete who focuses on both swimming and cycling. Thanks to a scholarship from the Hult International Business School in Cambridge, Massachusetts, Farah is happy that her dream of study abroad not only came true; "I'm studying in one of the best business schools in one of the the best American cities." | |
| Saif Elkhamry is driven by a deep interest in STEM subjects. He is also a creative individual who seeks to translate his other passion—the media and digital arts—into developing ways to link art, human perception, and brain processing. Born and raised in Giza city, he excelled in his studies at the competitive STEM High School for Boys. In addition, he managed to find time to head the media committees of eight clubs and organizations, including TEDx, started his own media agency, and recently won the Youngest Designer Prize for a printing company. Saif is looking forward to his studies at Drexel University, where he plans to major in graphic design and continue to discover new ways to link the arts and science. "I don't just love sciences and arts I also love how they can be linked together," he asserts, adding that his studies at the STEM 6th of October high school taught him that "arts has a bigger influence to humanity than we think." | |
lebanon
| | |
| --- | --- |
| Usually Shadi Ahmad is not satisfied with the material presented at school, so when he goes back home, he researches for more information about the things that interest him, such as physics, mathematics, and genetics. He always feels compelled to learn new things, while improving other hobbies and interests. As a leader and founder of the STEM Club at his school, Shadi has never run out of new things to learn. A freshman at Dartmouth College, he hopes to major in biophysics because these two subjects have been his passions throughout his school years.  | |
| Jade Akhras is the product of an American upbringing within Lebanese culture. She was born in New Jersey but currently lives in Beit El Kiko. Her father is a part-time professor, and her mother a full-time professor, at NDU. Her parents help take care of her grandmother and are also financially supporting her older sister, who started her master's degree in spring 2018. Forever passionate about medicine, Jade is excited to major in biology at the University of Pennsylvania and hopes to grow as a person, as well as one day be an up-and-coming entrepreneur in the field of medicine. | |
| Jana Alghoul plans to pursue a career in aerospace engineering. The universe, space, and cosmos have always interested her, eventually becoming a passion that is driving her dream to become an aerospace engineer. Jana comes from a family that struggles financially, but she has always felt pride knowing how hard her parents work for her and her brother. If there is one thing they have taught her, it is to never give up and always keep working towards your goals because everything can be achieved once you set yourself to it — an attitude that will serve her well as she pursues her studies in mechanical engineering at Jacksonville University. | |
| In sixth grade, Haya Ghandour switched to the American Community School in Beirut after receiving a full scholarship. She comes from a family of six; her mom is a part-time history teacher at a public school, and her dad runs a family-owned business. Haya loves community service, whether for a school in Burj Al-Barajneh or just helping with office work at an NGO. Haya takes pride in wearing the hijab, being female, being Lebanese, and having Palestinian origins. Now a freshman at Columbia University, she wants to pursue both mechanical engineering, because she wishes to be able to create things that can improve people's lives in whatever way possible, and political science, because she wishes to continue having discussions in the social sciences field and further develop her way of thinking through issues. | |
| Tatiana Houhou loves biology, especially cellular biology and genetics. She is planning to become a doctor (a neurosurgeon) or a genetic engineer. Tatiana is proud that she won the Brevet Award, recognizing her top ranking on the Brevet official exams in the Beirut district. She has participated in many activities, including visiting the elderly and distributing clothes for the underprivileged. She joined the Lebanese Red Cross as well. Basketball is a crucial part of her life; for the past four years, she has been on the school's junior and senior varsity teams and was an assistant coach. She is majoring in biology at NYU Abu Dhabi. | |
| Danielle Marouni has lived in Tripoli her entire life, where she attended Tripoli Evangelical School. Her father is retired from the army and has opened a car accessory shop, while her mother is a biology teacher.  For as long as Danielle can remember, she has been interested in biology, chemistry, physics, and math, to the extent that the first toy she remembers asking for was a microscope. Danielle is attending the University of Rochester, where she has decided to major in either biomedical engineering or general biology since both majors would allow her to pursue similar paths in graduate school. After completing her education, she hopes to engage in research, focusing on innovative ways to improve health care with the help of technology, something that has been her goal ever since she was young. | |
| Alaa Naarch comes from a family of five; his father works as a sales supervisor of Redbull at FDC in Choueifat and his mom is a housewife. As a senior in the life science department at Baakleen Official Secondary School, he participated in student government, tutoring English, and conducting presentations about the year he spent in the United States on the YES program. His passion is video games: When he plays a game, he memorizes the conversations that the characters had and often repeats the game at least three times. He also researches how the game was made and how the idea started. Alaa is a freshman at Wesleyan University, where he is majoring in molecular biology. | |
| Omar Saleh comes from Bchamoun, where he graduated from Hussein Massoud School, a public school. His family has a small housewares and gift shop, although Omar's father passed away in early 2017, leaving him, his three siblings, and mother.  While passionate about dance,  theater, and singing, he has also participated in a range of activities including Model UN, a robotics competition, Science Olympiad, choir, and volunteer work. He also spent a year of high school in the United States on the YES program and, with the help of the YES program, worked on an Instagram page to help promote community service organizations in Lebanon. As an incoming freshman at Swarthmore, Omar is thinking about double majoring in both biochemistry and dance.  | |
| Born in Beirut, Ali Yaacoub comes from a family of six; his father is a security officer and his mother a housewife. Ali studied at Riad El Solh public high school. Because of his family's limited finances, he also had to get a part time job, at least to cover his own expenses and be a bit more independent, which benefited him in many ways. Ali loves volunteering and community service. He is a good soccer player and a huge fan, as he always tries his best not to skip any international games. Since Ali enjoys math and physics, he is interested in technology and plans to study computer and electrical engineering at the University of Toledo. | |
| Mahdy Yassine graduated from the American Community School in Beirut, which he attended on a full scholarship due to his family's limited financial situation. His mother is a teacher at the Lycée de la Finesse in Beirut, but whenever possible, he returned to Marjayoun to spend time at his father's garage to help him. Mahdy has participated in many extracurricular activities and sports including the track and cross-country varsity teams. He also served as a volunteer in the Lebanese Red Cross Emergency Medical Services. Mahdy is attending Harvard University, planning to major in biochemistry in preparation to become a renewable energy engineer.  | |
tunisia
| | |
| --- | --- |
| Ahmed Farah grew up in the coastal city of Gabes and completed the International Baccalaureate program at the American Cooperative School of Tunis. An avid reader and passionate learner since he was young, he created a "mini chemistry lab" in his father's garage and later became an instructor at his school's STEM club and a Science Expo curator, as he realized the importance of sharing his fascination with the physical world with his peers. He also became involved in debate in Tunisia and abroad and spent a year of high school in Georgia on the YES program. At Princeton University, he plans to focus his studies on engineering, technology, and entrepreneurship. Looking to the future, he adds, "From here, I hope to put myself on an academic and professional path that would allow me to make the world a better place."  | |
| Ahmed (Fedi) Lassoued grew up in Gabes and completed two years in the International Baccalaureate program at the American Cooperative School of Tunis.  He also took part in exchange programs, notably spending a year in the United States on the YES program – experiences that, he says, "opened my eyes to the possibilities outside of one's comfort zone and how important it is to do hands-on work in the field."  Not surprisingly, he is excited to begin his studies at Yale-National University of Singapore (NUS), where he is already active in the Centre For International & Professional Experience (CIPE) as a member of the student advisory committee. Fedi — the name he goes by — has many interests, including music, mixed martial arts, and "improv" as a form of theater, and he is open to exploring activities he has never tried before, such as ballroom dance. He envisions majoring in mathematical, computational, and statistical sciences. | |
| Syrine Matoussi grew up in Ariana, where she graduated from the Pioneer School. The daughter of professors of finance and economy, she spent a year of high school in Massachusetts on the YES program and joined the EducationUSA Competitive College Club to improve her chances of returning to the United States for college. Her hobbies include gymnastics, playing the violin, and public speaking. A passion for debate, in fact, took her to debate competitions in the United States. She also served as the under secretary general for the international court of justice in a major Model UN event in Tunisia. Syrine is excited to be at Smith College, where she intends to study computer science, engineering, or economics.  | |
yemen
| | |
| --- | --- |
| Despite the challenges of living through Yemen's ongoing civil war, Hana Ba-Sabaa has excelled academically and has proven to be a resilient and strong young woman. She was the top student in her class at the Noori English School in Aden, consistently ranked among the top 10 students on exams at the state, regional, and national levels, and excelled in debate and public-speaking competitions. Despite experiencing her own hardships related to the war, her compassionate and resourceful nature compelled her to help others through fundraisers, volunteering, and tutoring.  Moreover, having grown up in a multicultural community and being proficient in three languages — Arabic, English, and French — Hana has worked to foster crosscultural relationships within her community, organizing events in all three languages at the Cultural French Center of Aden.  Hana is excited to attend Dartmouth as a King Scholar, using her four-year fully-funded scholarship to study engineering sciences. | |
---
About the DKSSF
The Diana Kamal Scholarship Search Fund (DKSSF) provides opportunities for bright and promising, but economically underprivileged, students from the Middle East and North Africa to pursue their undergraduate education in the United States.  Since its establishment by AMIDEAST in 2006, it has prepared more than 125 deserving young men and women from Egypt, Jordan, Lebanon, Libya, Morocco, Palestine, Tunisia, and Yemen to qualify for four-year scholarships at institutions of higher education across the United States. To learn more about this important AMIDEAST initiative, please visit the DKSSF page on our website.