Join us in welcoming our largest class ever of scholars in the MENA Scholarship Support Fund (MSSF) – 28 bright, deserving students from Egypt, Lebanon, Libya, and Tunisia who are beginning their undergraduate studies in 2022-23 at schools across the United States and in the MENA region.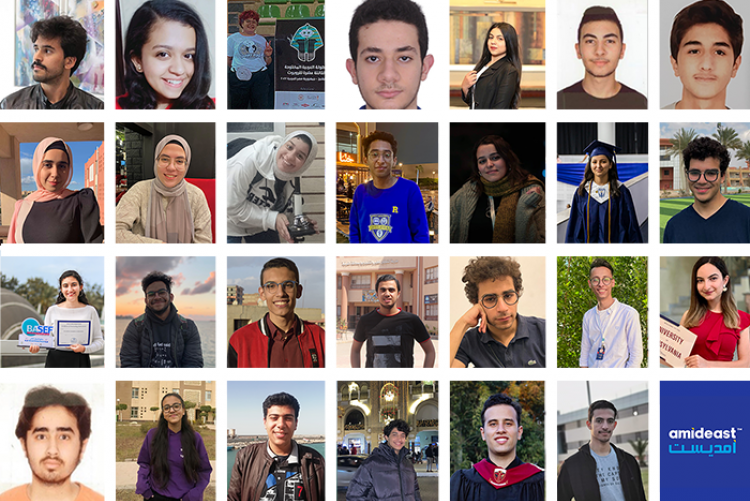 EGYPT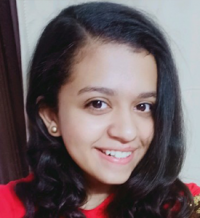 Mariam Abdelatef founded her own jewelry brand at the age of 12 and, in 2018, was the youngest entrepreneur at the She Can Summit. At Elmobtadian Language School, she continued to develop the skills that will help her realize her goals of becoming a social entrepreneur and women's activist. Moreover, believing that women need to become financially independent as well as pursue their passions, she became an entrepreneurship instructor and enrolled in summer programs, such as Women2Women and Launch X, to cultivate her leadership skills and learn from colleagues of different nationalities and backgrounds. Mariam is excited to study business administration at Carnegie Mellon University in Qatar.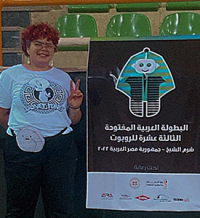 Nizak Abdou excelled at Nile Egyptian School in Port Said. Intrigued by robotics, they participated in various robot-related activities and competitions, winning the Arab Robotics Championship for three consecutive years and representing Egypt internationally on multiple occasions. Moreover, they gave back to the community by hosting robotics workshops, coaching teams, and volunteering to teach STEM concepts to disadvantaged students. They are grateful to the MSSF for providing the support that led to admissions and a scholarship from Colgate University, where they will continue to pursue their passion for robotics.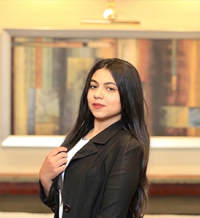 Alaa Abo El-Magd, an alumna of Maadi STEM School for Girls, ranked high in top-level competitions for her research, making it to the finals at the Regeneron International Science and Engineering Fair (ISEF), placing second in the Smart Innovation Competition, and having one of the top 10 youth projects in the Mena Hackathon Competition. Passionate about art and advocacy, Alaa led her school's art committee and participated in the Women2Women International Leadership Program and a UNESCO Center for Peace program. She is currently a freshman at Franklin and Marshall College, where she plans on majoring in environmental science and politics.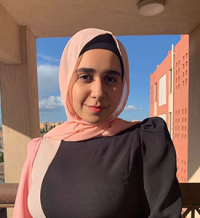 Alaa Ashraf graduated from Dakahlia STEM School, where she demonstrated her leadership potential through extracurricular activities, such as leading the TEDxYouth @Dakahlia STEM event. Driven by a passion for astrophysics, she worked with a professor from the University of Chicago on a research project in particle physics. She was also recognized for her research by Lumiere Education as one of the very best in its program and was selected to give a short presentation on her research at the graduation ceremony. In addition, she won a special award in the NASA Space Apps Competition in 2021. Alaa is studying astrophysical sciences at Princeton University. 
Fatma Elbanna credits her studies at Alexandria STEM School with opening her eyes to the challenges facing Egypt to realize the UN Sustainable Development Goals. In tenth grade, she began researching how to ensure sustainable access of poor villagers in Egypt to agricultural water, organic fertilizers, and renewable bioenergy from waste sewage and, two years later, won the Regeneron ISEF Grand Award in biochemistry for her project. Fatma plans to continue addressing global challenges through the intersection of chemistry and biology and to empower young Egyptian females in STEM. She is majoring in chemical and biomolecular engineering at Lafayette College.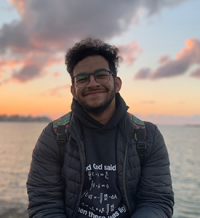 Youssef Elgharbaly has been interested in outer space since an early age. At Gharbiya STEM High School, he participated in the STEM Astronomy Club and won the gold medal for two consecutive years in the International Astronomy and Astrophysics Competition. Youssef stood out in the EducationUSA CCC at Amideast/Alexandria, serving as its vice president, and his willingness to help other students succeed led him to start an academic counseling club at his school. Youssef currently attends Franklin and Marshall College.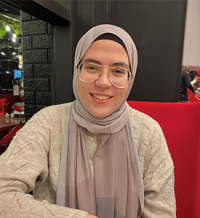 Nada ElShafey excelled in art and debate at Maadi STEM School for Girls. Because of her interest in education and her public-speaking skills, she was chosen to give presentations about STEM schools at a conference to improve education in Egypt. In addition, she led the creative writing club at the EducationUSA CCC and conducted sessions about the U.S. admission process at the CCC's 2022 bootcamp. Nada was also chosen to participate in NYU's virtual art program, YYGS, and EducationUSA academy summer program at Boston University. This fall she began her undergraduate studies at Bryn Mawr College, majoring in fine arts and computer science.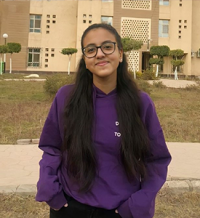 Mona Gomaa demonstrated impressive leadership skills at Maadi STEM High School for Girls, starting its Robotics Club, co-leading the Fab Lab team, and serving as the student union president. Driven by a keen interest in technology, Mona won first place at the Blastoff National Science and Engineering Fair, a special award at the NASA Space Apps Cairo Hackathon, and a national nomination to represent Egypt as a finalist in the European Union Contest for Young Scientists (EUCYS). An exceptional writer, she started a creative writing blog with over 1,000 views and published her own poetry collection. Mona is excited to pursue her passions for computer science and creative writing at Northwestern University.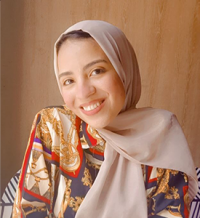 Nayera Hasan is passionate about the sciences and dreams of becoming an environmental entrepreneur. While at Maadi STEM School for Girls, she worked on scientific research, participated in competitions and research forums, and attended many summer programs. A team player at heart, Nayera readily shared her knowledge with her peers, serving as the chair of FabLab@Maadi STEM and actively participating in many clubs. She is thrilled to be able to pursue her interest in the interdisciplinary connection between politics, business, environmental challenges, and gender equality at Haverford College.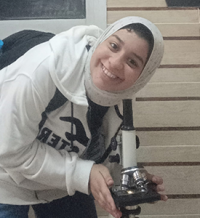 Passionate about genetics research, Farah Hassanain overcame many challenges to start her own research. In addition, she participated in the Pioneer Academics Research Program, conducted research at the University of Notre Dame, and joined a research project at the University of Chicago, earning two international awards and two college credits from Oberlin College. Farah served as the leader of the EducationUSA CCC in Alexandria, where she was recognized for her attentiveness and perseverance. She is attending Wesleyan College with plans to pursue a double major in molecular biology and environmental science.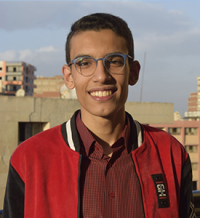 Abdelrahman Helal graduated from Gharbiya STEM High School, where he pursued his love for science and served as president of the school's student council and was a math and physics teaching assistant. An avid student of astronomy and physics, he joined the STEM Astronomy Club and became the head of an academic committee helping students all over Egypt learn about astronomy. He was later selected for the EducationUSA Academy Connects Program at Embry Riddle University to learn more about the fields of aerospace and aviation. Abdelrahman is a freshman at Minerva University, where he is pursuing a dual degree in physics and computer science.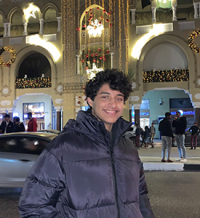 Moemen Ibrahim graduated from STEM High School for Boys—6th of October, where he constantly sought opportunities to challenge himself and grow. To develop his passion for research, he co-founded Youth Science Journal, Egypt's first such journal for high school students. He was also a national winner and global finalist at the 2022 NASA Space Apps Cairo Competition and was selected for the Yale Young Global Scholars program, providing him an opportunity to conduct additional research in innovations in sciences and technology.  Moemen is at Franklin and Marshall College, planning to major in computer science and minor in film studies.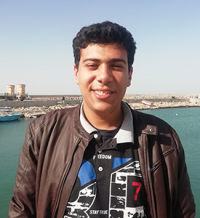 Ahmed Lotfi's passion for computers led to a paid internship at the age of 15 as a web-development instructor at an online academy. In ninth grade, he ranked among the top 10 in the NEXT Coders Programming Competition. At STEM High School for Boys—6th of October, his dedication to sharing his programming knowledge led him to initiate the web-development track at Hack Club@IsmiliaSTEM. He also served as the president of the German Club and stood out in creative writing, public speaking, and debate, including winning the Cambridge Immerse Education competition in 2021. Ahmed is at Wagner College, pursuing a double major in computer science and business.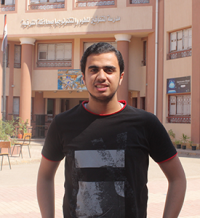 Mohamed Mostafa is a curious and passionate student who hails from a rural area in Egypt's Al-Sharqiyyah Governate. He has proven experiences in entrepreneurship, graphic design, software development, and foreign languages. His career interests include, but are not limited to, computer science, linguistics, and economics, and he usually spends his free time reading or exploring the outdoors. He is excited to pursue his undergraduate degree at Davidson College.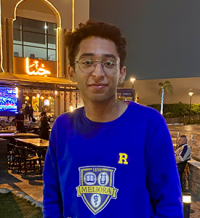 Ahmed Nassar graduated from STEM High School for Boys—6th of October, where he distinguished himself academically and by his passion for serving his community. He served as a capstone project assistant and as a mentor at Youth Science Journal. He was also a national winner and global finalist in both years that he participated in the NASA Space Apps Challenge, and a regional winner in the ISEF competition. Ahmed is excited to attend the University of Rochester, where he plans to double major in computer science and brain and cognitive science.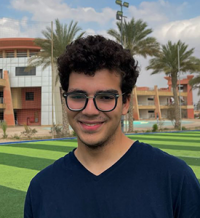 Ali Nawar is concerned about the proliferation of microplastics and hopes to research ways to prevent it.  He was a Pioneer Scholar in 2021 and a national finalist in the Regeneron International Science and Engineering Fir (ISEF) in 2021. He loves spending his spare time learning strange facts about our planet Earth and climate-related issues. He served as a TEDxyouth@IsmailiaSTEM coach and the president of the EducationUSA CCC. Ali is excited to be an incoming freshman at Franklin and Marshall College, where he plans to major in business and environmental science.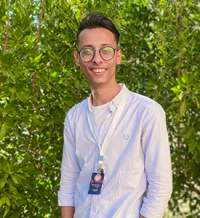 Androw Ramy Saed graduated from Redsea STEM School, where his academic achievements included earning a medal in the British Biology Olympiad, placing as an ISEF finalist in 2020/2021 for his biotechnology project and earning a first in the NASA Space Apps Ismailia Challenge. In addition, he served as the head of the Redsea STEM Fablab, developed a database of advanced courses to help freshman students improve their technical skills, and served as the multimedia director for several teams, including TEDxYouth @RedSea_STEM and Aqua Team. Androw is thrilled to be able to further develop his passion for STEM at New York University.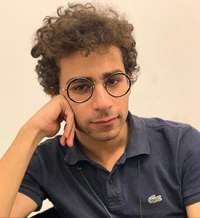 Mohamed Salem graduated from STEM High School for Boys—6th of October. There he developed and pursued his passion for literature and creative writing, posting essays, short stories, and flash fiction pieces on his personal blog. An active member of his school's community, he was a senior writer for Youth Science Journal, Egypt's first high school-run scientific journal, and contributed to the school's physics magazine. He also served as a German-language teaching assistant. Mohamed is at the University of the South—Sewanee, planning to major in English and creative writing.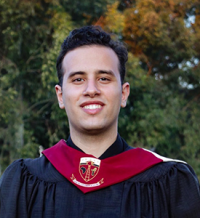 Ahmed Sameh graduated from the African Leadership Academy (ALA) in South Africa with a vision of improving the African continent's economy by establishing a pan-African software company and an educational foundation that teaches skills that African youth need to excel. Prior to joining ALA, Ahmed demonstrated his leadership potential through various extracurricular activities, among them establishing a Develop Yourself team that visited more than 50 schools around Egypt and benefited over 600 public school students. Ahmed plans to study computer science and business administration at Robert Morris University.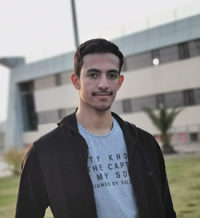 Nabil Youssef completed most of his elementary education in Canada and, after attending schools in Egypt, graduated from the STEM High School for Boys—6th of October. At each school he proved his ability to overcome obstacles and adapt to new experiences. He also demonstrated his leadership potential as the head of media of the STEM school's graphic design team (Mirus) and its Model Arab League. Nabil was a national winner and global finalist at the NASA Space Apps Hackathon in 2021 and constantly sought out other opportunities to challenge himself. He is majoring in engineering and business at Washington and Lee University. 

LEBANON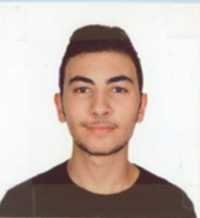 Jad Abou Ali, from Bchamoun, Mount Lebanon, is passionate about using his knowledge in the different sciences to solve real-world complex problems. After discovering an interest in chemical engineering in ninth grade, he began to research laundry detergents with a view to developing eco-friendly, nonpolluting detergents that will contribute to creating a world in which everyone has access to unpolluted water. As an only child, Jad developed responsibility and perseverance, which helped him get into the EducationUSA CCC at Amideast/Beirut. Jad is excited to be pursuing his passion for chemical engineering at Massachusetts Institute of Technology.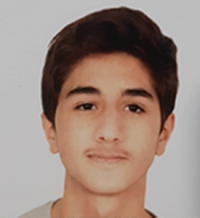 Daniel Abou Khzam comes from the village of Kfarhim in Mount Lebanon and attended Le Lycee National School in nearby Bakaata. He set his sights on attending university in the United States after encouragement from his parents and siblings. In addition to his outstanding academics, he enjoys extracurricular activities, including soccer and community service. Daniel found his passion in the extraterrestrial world—he believes "space is a concept full of mysteries"—and hopes to make his parents proud by helping to discover the "next big thing." He is double majoring in physics and astronomy at the University of Michigan.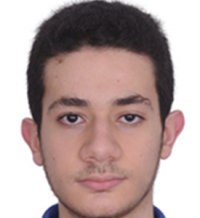 Elias Dakhoul, from Baalbeck, fell in love with technology when he received his first-ever smartphone. He didn't let his family's limited finances discourage him from pursuing a career in high tech. By studying hard, he ranked in the top three of his class, taught himself coding, and improved his English language skills. Because of the collapse of Lebanon's economy, he also began to consider study outside Lebanon, focusing on U.S. study opportunities after learning more about them through the EducationUSA CCC. He is thrilled that his efforts paid off, and he is now at Washington and Lee University, majoring in computer science.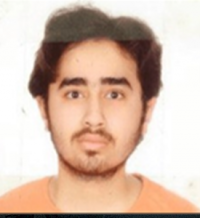 Tarek El Sheikh, from Taran Denniyeh, has been interested in the human body and its functions ever since he was a child. Over the years he has built his knowledge of human physiology, hoping to become a doctor who can provide help to all patients. Coming from a family of seven, with both parents working in the public sector at a time of economic collapse in Lebanon, he is grateful to the MSSF and the EducationUSA CCC for their support of his dream to study in the United States. He is thrilled to be studying biology at Colby College. 
LIBYA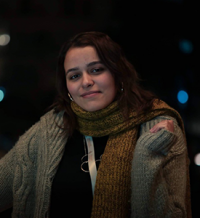 Reem Naji is a dedicated humanitarian and accomplished student who completed her International Baccalaureate at UWC East Africa in Tanzania. Reem has worked with international and local organizations in fields related to migration, youth empowerment, and gender equality, serving as a project officer for the Rawahil Foundation, a field activities coordinator for the Youth and Women Empowerment Forum, and an impact officer for the Global Shaper Network's Tripoli hub. Concerned about global issues such as climate change and women's reproductive rights, she intends to strengthen her advocacy through her major in international studies and public policy at Lake Forest College. 
TUNISIA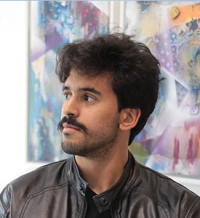 Adam Ajroudi, from Nabeul, recently graduated from Mahmoud Messadi High School. Defining himself to be a global citizen, he is enthusiastic about fine arts and cultural exchange programs and firmly believes in the importance of accepting, and learning from, diversity and volunteering.  This fall, Adam will attend Minerva University, where he will be pursuing a degree in computer science.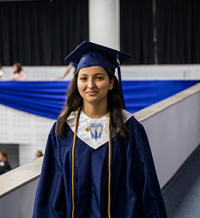 Amel Rouabhia was raised in a small town in Kef, one of Tunisia's most underdeveloped areas, and overcame challenges to earn a place in the TechGirls summer program at the age of 15 and a scholarship to finish high school at the American Cooperative School in Tunis. While living in Tunis, she became a regular patron of the Amideast-managed American Corner Tunis, where she developed and implemented a weeklong "Women in STEM Summit." In addition, she co-founded the "She Leads STEM" initiative to raise STEM awareness among girls all over Tunisia, especially those in underserved communities like her own. She is majoring in mechanical engineering at the University of Rochester.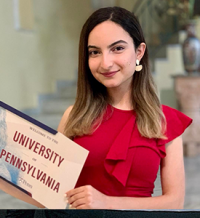 Rihem Sassi is an alumna of the Kennedy-Lugar Youth Exchange and Study (YES) program and a regular patron of the Amideast-managed American Corner in Sousse. After her return from her YES exchange year in the United States, she actively promoted the YES program at the American Corner, leading online sessions and at her high school. She also held leadership positions in her school's youth club, press club, and theater club. She is thrilled to attend the University of Pennsylvania's Wharton School, with plans to major in business economics and public policy.