Join us in welcoming 14 Hope Fund scholars as they begin their undergraduate programs this academic year at colleges and universities across the United States! They have accomplished amazing academic feats, despite the repeated traumas of growing up in Gaza and the West Bank, in order to earn their scholarships from colleges and universities across the United States.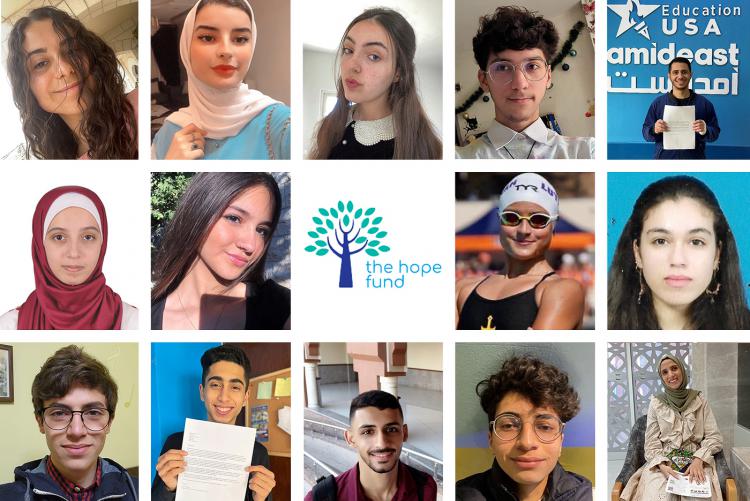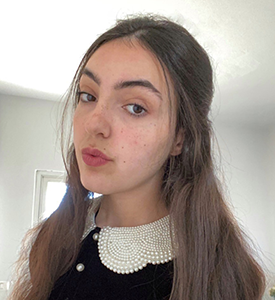 Shahed Abdeen is a talented and motivated student from Hebron. Passionate about art since elementary school, she has participated in numerous art competitions and festivals nationally and internationally, winning third place in a 2016 World Health Organization (WHO) competition and receiving the Madame Humanité Award, sponsored by the Czech Republic, for her contribution about humanity through art. Shahed's interest in pursuing her higher education in the United States led her to join the Hope Fund program, the EducationUSA Academy, and Al-Nayzak's Horizons Academy. With their help, she gained admission and a scholarship from the University of Notre Dame, where she is majoring in architecture with a focus on building restoration and conservation.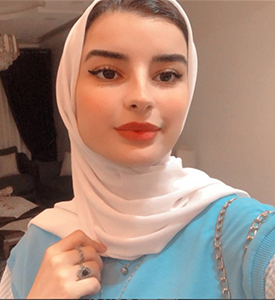 Farah Aburokba, a registered refugee from North Gaza, attended UNRWA schools from grades 1-9. In addition, she participated in two highly competitive programs: the English Access Microscholarship (Access) Program and the Kennedy-Lugar Youth Exchange and Study (YES) program, both administered by Amideast. During her YES year in Oregon. she performed 100+ hours of community service and played for her school's varsity basketball team. Passionate about computers from a young age, Farah participated in the three-year Code for Palestine program, learning how to code with the help of instructors from elite universities in the United States, including Stanford and MIT. Farah is excited to return to the United States to study computer engineering at the University of Notre Dame.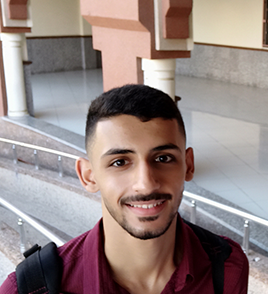 Mosalam Abu Zaanona, a registered refugee from Gaza, studied at UNRWA schools before moving to Arafat Secondary School for Gifted Boys, where he graduated at the top of his class. As an active member of the technology club, he brought acclaim to his school through successes such as ranking second in UNRWA's Science Contest. Mosalam, who dreams of establishing an AI company one day, is a computer science major at Whitman College.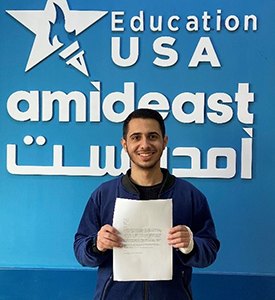 Majd Alafrange attended UNRWA schools during grades 1-9, then moved to the Arafat Secondary Public School for Gifted Boys. There he excelled, especially in his favorite subjects, mathematics and physics. His fascination with computers and electronics was sparked at age 12 by the gift of a smartphone, which motivated him to teach himself programming to create and launch his own apps. After an exchange year in the United States on the YES program, he took a gap year to concentrate on preparing himself for the challenging U.S. college admission process. That year, he also participated in hackathons and finished more than 10 online courses at Harvard, MIT, and other top institutions. Madj is now at MIT, majoring in electrical engineering and computer science.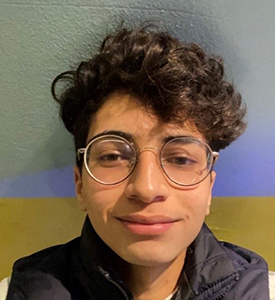 Amir Al-Habil, a registered refugee from Gaza, attended UNRWA schools before moving to government schools, where he excelled academically. Passionate about community service, he served as a team leader for Voices from Palestine and event organizer for TedxAlJalaaSt, and volunteered at several organizations including Amideast, the Al-Qattan Foundation, YMCA Gaza, and the Tamer Institute. Amir also completed the two-year Access Program and later participated in the Access Alumni Conversation Club, taking advantage of this cultural exchange opportunity to meet with alumni from different countries. Amir is excited to be starting his studies this fall at Gettysburg College, where he plans to major in mathematical economics and minor in data science.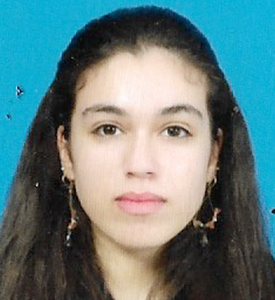 Sarah Alkilani, a registered Palestinian refugee, is a recent graduate of the Pioneers Baccalaureate School in Nablus. She consistently ranked at the top of her class and demonstrated great interest in the field of biology. In addition, she spent many years working at a speech therapy center, learning programming, and creating multimedia art. She also has extensive experience with tutoring children. Sarah plans to pursue biomedical engineering at Union College, whose liberal arts approach will allow her to explore her diverse interests and gain the skills necessary to help her community.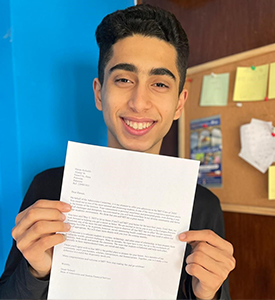 Hassan Alsheikh completed grades 1-9 at UNRWA schools in Gaza City before transferring to Arafat Secondary Public School for Gifted Boys. He graduated with top marks from the Code for Palestine program and further demonstrated his academic and intellectual ability, outstanding leadership skills, ambition, and dedication to learning when he was chosen from among hundreds of students to participate in the Computer Science and Human-Centered Design program. There, he learned directly from UCLA and Stanford University students and worked on various projects including Online Studio, a platform to support young Palestinian freelancers in Gaza. Hassan is excited to be pursuing electrical engineering and computer science at MIT.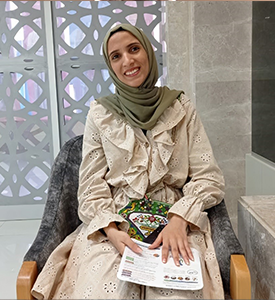 Fedaa Alsoufi is a fifth-generation refugee from Rafah in the Gaza Strip. After completing grades 1-9 in UNRWA schools, she transferred to a government high school, where she stood out for her academics and extracurricular achievements. Recognizing her aptitude for programming, her IT teacher pushed her to participate in two Scratch & Visual Basic competitions. After placing second in both, she was hooked on computers. Since then, she honed programming and human-centered design skills in Code for Palestine, developed a mobile app called RentMeUp, participated in WI-Hack hackathons, and made the semi-finals in the worldwide 2020 Technovation Girls Challenge. Her sights set on studying in the United States, Fedaa joined the EducationUSA Competitive College Club (CCC) at Amideast/Gaza during her senior year. She then took a gap year, using the time to focus on giving back to her community by volunteering as a writer for We Are Not Numbers and serving as a teaching assistant at Code for Palestine. She also wrote a guidebook in programming for 10–15-year-olds and developed a research plan titled "Can Unethically Produced Data Be Used Ethically?" for a research course at the Islamic University of Gaza. Recently, she co-founded PaliForClimate, an initiative that aims to raise awareness among Palestinian youth of climate change and green colonialism. She is currently at MIT, where she is majoring in computer science.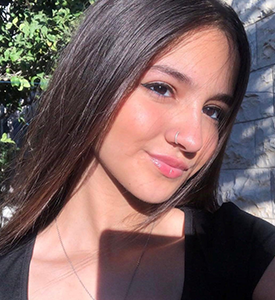 Passionate about engineering, Nada Amer took rigorous honors and Advanced Placement classes, consistently achieving academic excellence in high school. She also spent her freshman and sophomore high school years in Alabama, an experience that influenced her decision to pursue her bachelor's degree in the United States. After returning to Nablus to complete secondary school at the Pioneers Baccalaureate School, she joined the EducationUSA CCC at Amideast and worked diligently to be able to apply to world-class universities. She is thrilled that her efforts were rewarded by a full scholarship from Brigham Young University, where she is now majoring in chemical engineering. "Participating in the Competitive College Club and the Hope Fund at Amideast was the best decision I made. I was given genuine guidance and counseling throughout the college application process," Nada says. She adds that she plans to give a voice to the "unheard Palestinian voices in America," noting that her experience of living in a foreign country at the age of 13 "broadened my interest in advocating for and spreading knowledge of the struggles we Palestinians face every day."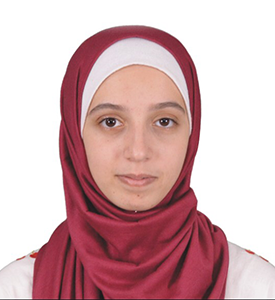 Half Palestinian, half Syrian, Judy Dawod has already witnessed death and destruction in her short life. In 2011, she found herself amid the civil conflict that erupted in Syria. By the age of 16, after relocating to Gaza, she had witnessed three major attacks on Gaza—in 2012, 2014, and 2021. Despite these traumas, she worked very hard to change her life and the lives of others. She excelled at UNRWA schools where she received her basic education, and at the government high school where she completed her secondary education. In addition, she participated in the Hands UP Project, where she improved her English language proficiency, developed drama skills, and volunteered with Save Youth Future. Through participation in the Preparing Global Leaders Forum, she honed leadership and group-dynamic skills focusing on responsibility, maturity, and accountability. Keen to develop her leadership and management capabilities, she is pleased to be majoring in business administration at Notre Dame College.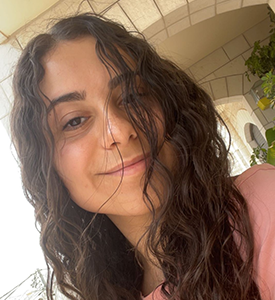 Yara Hamdan, a graduate of Pioneer Baccalaureate School in Nablus, is excited to start her undergraduate studies at Tufts University, with a double major in genetics and international relations. Yara's interest in health issues led her to start a health committee at her high school to provide testing and other health-related services for the students. She was also an enthusiastic participant in the Model United Nations (MUN), valuing the opportunity for "meeting people with similar interests and discussing important topics that could help develop my community." Her other interests included volunteering, teaching English to children, and playing the violin—an activity that she hopes to resume at Tufts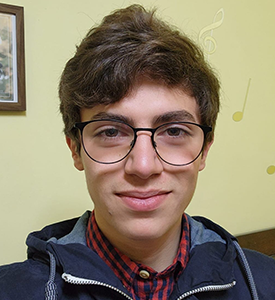 Rani Joudeh, from Jerusalem, is interested in coding, entrepreneurship, robotics, photography, and filmmaking. He is an alumnus of the Access Program and the EducationUSA CCC and, in 2019, attended the EducationUSA Academy at the University of Tennessee, which nurtured his passion for entrepreneurship. He was also active in Al-Nayzak's Horizons Academy in ninth grade, and, in summer 2021, partnered with two friends in a coding hackathon, where they successfully won full funding for their project, "Iktanez," an online bookstore that facilitates exchanges of used books across Palestine. In 2021, he also founded Fawda Shop, a small business for hoodies and T-shirts that he designs and markets online to a youth audience through Instagram. Thanks to his strong academics and other achievements, he was accepted at Northwestern University, where he plans to double major in computer engineering and economics.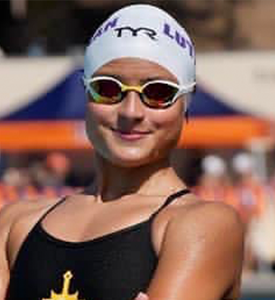 Passionate about swimming from an early age, Dania Nour represented her country in competitions in Asia, Europe, Africa and North America, winning two silver medals and a bronze at the Qatar international championship in 2015 and realizing her dream of representing Palestine at the Olympic games in Tokyo in 2021. The lack of training facilities for Palestinian swimmers aspiring to international competition "made my mission even harder but my dream to represent my country at the Olympics was always there," she recalls. As a female Olympian from a conservative community where parents are reluctant to allow girls to learn how to swim, she also discovered the important role an athlete can play to bring about change. "I am proud to be an inspiration to many other female youngsters in my country," she says. Determined to continue her training after obtaining her Abitur from a German-speaking high school, she secured a one-year scholarship to improve her English and take college preparatory courses at North Cross School in Virginia. She is thrilled to now be studying exercise science at California Lutheran University and training in the school's Olympic-size outdoor pool.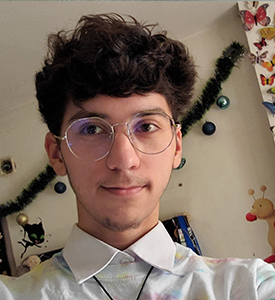 Amir Sobh, a registered refugee from Gaza, has loved drawing since early childhood. After entering the community of foreign artists online, he took on digital art as his main interest. At Jubilee School, he maintained a record of straight A's throughout and continued his focus on art by co-founding the school's first art club to uncover hidden talent and help express it in a beneficial way. Amir is excited to be in his freshman year at Bridgewater College, majoring in fine arts and pursuing a path that he hopes will lead to a career in the animation industry.
.