Cairo, Egypt – Today marks the second graduation of students who received scholarships through the U.S.-Egypt Higher Education Initiative Public University Scholarships program, an initiative funded by the United States Agency for International Development (USAID), supported by the Ministry of Higher Education and Scientific Research, and implemented by Amideast. The ceremony will recognize 101 graduates for having completed their undergraduate degrees at five universities: Ain Shams, Alexandria, Assiut, Cairo, and Mansoura Universities.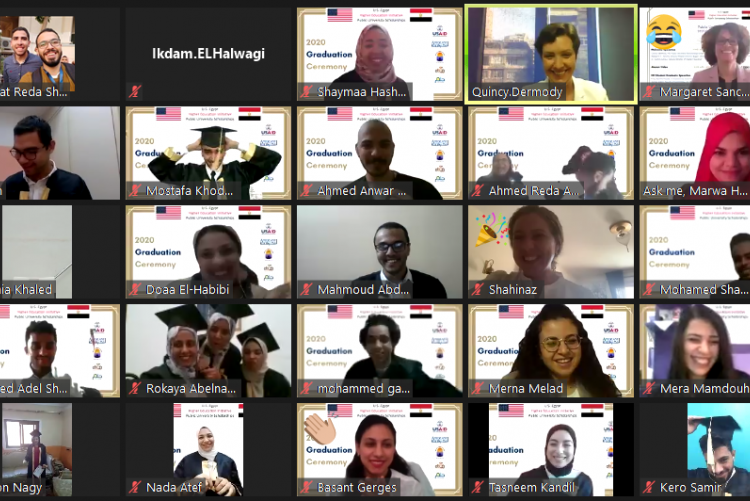 Held virtually due to the COVID-19 pandemic, the graduation ceremony will include remarks by senior representatives of Amideast, Deputy Mission Director of USAID, and the Ministry of Higher Education. Five students will speak about how this opportunity has impacted their lives. All students will receive graduation certificates and recognition for their accomplishments.
Despite the COVID-19 pandemic, the Public University Scholarships program has continued to deliver its promise to the scholars by providing online training and testing to improve their English language proficiency and by holding virtual exchange programs with students in the United States. Although our graduates are missing opportunities for in-person farewells to their university and colleagues, we celebrate their commitment and dedication in this virtual graduation ceremony.
This scholarship program is one component of the U.S.-Egypt Higher Education Initiative, a USAID-funded investment in Egypt's future that provides educational opportunities for talented, young Egyptians — women and men from underserved communities in rural and urban areas — to learn skills that will prepare them to meet the needs of the 21st century labor market. Since 2015, a total of 673 students from all 27 governorates have been awarded U.S.-Egypt Higher Education Initiative Public University Scholarships.
All graduating scholars completed community service projects across Egypt, and some developed their own community service initiatives. Students improved their English through classes with Amideast and independent study. They attended trainings to develop their workplace skills and ability to get a job. They also connected with actual employers to receive mentoring, have mock interviews, and complete internships. Further, 50 percent of the scholars studied abroad for one semester in the United States.
FOR MEDIA INQUIRIES IN EGYPT, CONTACT:
Yasmin Kadry | HEI Private Sector Engagement Officer
Amideast - Egypt
02-33320407