157 young men and women celebrated their graduation from the U.S.-Egypt Higher Education Initiative (HEI) Public University Scholarships program.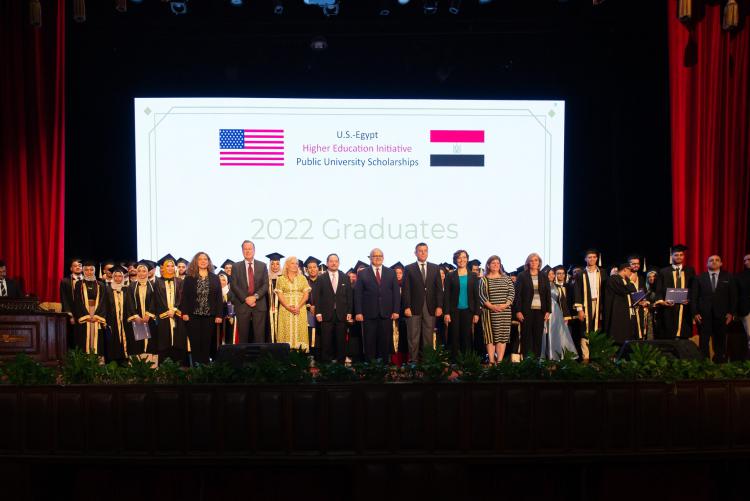 October 15, 2022—The HEI program is funded by United States Agency for International Development (USAID), supported by Egypt's Ministry of Higher Education, and implemented by Amideast/Egypt, with additional funding for two visually impaired students from the Housing and Development Bank.
The graduating students completed their undergraduate degrees in special excellence programs at five public universities: Cairo, Alexandria, Ain Shams, Assuit and Mansoura Universities. Of special note, thanks to the program's emphasis on promoting the full inclusion of people with disabilities, 12 percent of this year's graduating class are students with a disability.
The graduation ceremony, which was held at Cairo University on Sunday, October 15, included remarks by Ambassador Daniel Rubinstein, U.S. Chargé d'Affaires, ad interim, at the U.S. Embassy in Egypt, and recorded remarks by Minister of Higher Education and Scientific Research H.E. Prof. Dr. Ayman Ashour. The attendees also included Cairo University's president, Prof. Dr. Mohamed Othman Elkhosht, and HEI partners Mohamed Elsawaf, partner at PwC Middle East, and Cairo University student advisor Dr. Hanan Elsersy. In addition, three students spoke about the impact of their scholarships on their lives, and Shahinaz Ahmed, Amideast's country director for Egypt, delivered closing remarks
This scholarship program is one component of the U.S.-Egypt Higher Education Initiative, a USAID-funded investment in Egypt's future that provides educational opportunities for talented, young Egyptians—women and men from underserved communities in rural and urban areas—to learn skills that will prepare them to meet the needs of the 21st-century labor market. Since 2015, a total of 673 students from all 27 governorates have been awarded U.S.-Egypt Higher Education Initiative Public University Scholarships. Within 12 months of graduation, 74 percent of graduates were employed.
All graduating students completed community service projects across Egypt, and some developed their own community service initiatives. Students improved their English through classes with AMIDEAST and independent study. They attended trainings to develop their workplace skills and ability to get a job. They also connected with actual employers to receive mentoring, have mock interviews, and complete internships. Further, over 200 graduates studied abroad for one semester in the United States.