Today is an important day for Amideast. Our iconic logo and branding served us well for the past 25 years of our growth. Beginning today, however, as we face future challenges and embrace the new opportunities before us, we will do so with a new look.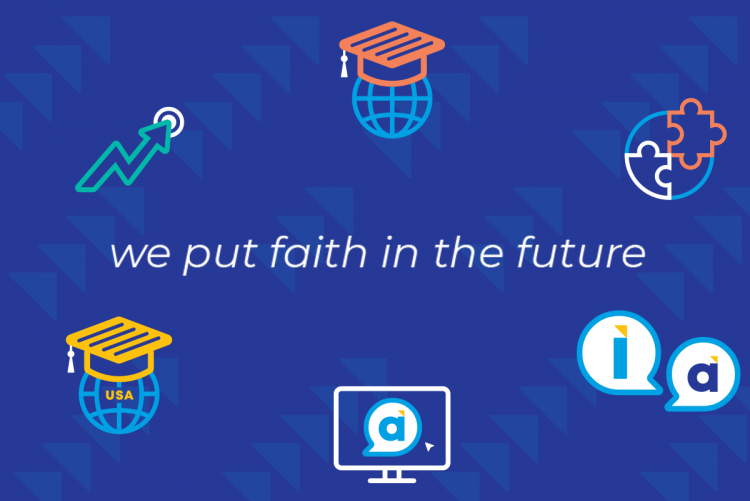 This new look reflects our faith in the future. In a region beset with conflict, economic stagnation, high youth unemployment, and other challenges, this optimism may seem at odds with recent events. Yet, we know from experience that Amideast can help create and expand educational and career opportunities that enable those with whom we partner to create a brighter future for themselves, their communities, and their countries.
Our new branding features a brighter, more modern logo and color palette, giving us a fresh and contemporary look befitting the 21st century. We are confident that our new image will expand our reach with our audiences—especially the growing youth population in the MENA region.
Our rebranding exercise also involved a healthy degree of introspection, a process that helped us identify our "brand persona"—the unique characteristics that guide our messaging and express our brand graphically. Whether a teacher, a mentor, or simply a role model, Amideast represents the person who dedicates time to help and encourage people to realize their potential.
We are adopting a new look—but not a new outlook.
Amideast was established seven decades ago to improve understanding between Americans and the peoples of the Middle East and North Africa. Since then, its mission has evolved to encompass international educational exchange, testing, training, and capacity building programs.
As proud as we are of our 70-year legacy, we are ever mindful of the need to keep our focus on the future. The challenges and the opportunities alike are too great to permit complacency. The world is changing, and we must embrace and benefit from new opportunities presented by the digital realm for improved communication, education, and training. We began our rebranding process in fall 2019, but the events of this past year gave this effort even greater urgency and meaning.
As we begin our next decade, we are looking forward to continued success in accomplishing our mission of creating hope, opportunity, and understanding.
We welcome you to join us as we write this next chapter of our history.