Amideast, in collaboration with Egypt's Ministry of Higher Education and Scientific Research (MHESR) and with the support of the American people through the United States Agency for International Development (USAID), is pleased to announce the signing of a memorandum of understanding (MOU) with 15 universities across Egypt agreeing to establish disability centers at their institutions over the next two years.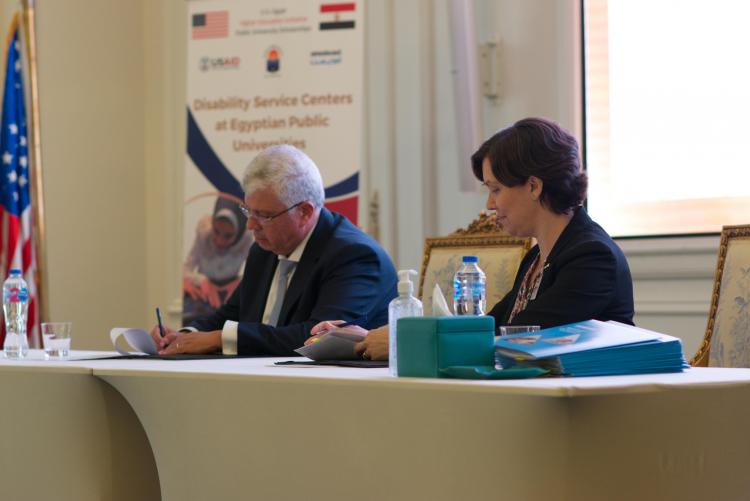 Cairo, Egypt — The 15 public universities are Tanta, Zagazig, Helwan, Suez Canal, Beni Sueif, South Valley, Fayoum, Sohag, Damanhour, Damietta, Suez, Sadat, Arish, New Valley and Luxor.
The MOU was signed on June 25 at a ceremony attended by the presidents of the 15 universities, representatives of Amideast, USAID, and the MOHESR, and guests from universities, the disability rights community, NGOs, and the private sector.
The establishment of university disability centers has been spearheaded by the U.S.-Egypt Higher Education Initiative (HEI) Public University Scholarships Program in order to serve the academic, physical, and community needs of students with disabilities on campus and promote equal access to higher education for those with disabilities within the university.
The 15 centers will be modelled on five pilot centers that the program successfully established at the universities of Cairo, Ain Shams, Alexandria, Assiut, and Mansoura. The sustainable disability center model that Amideast designed is a central unit serving and networking with the whole university and reporting directly to the university vice president. The five centers provide standardized services to an increasing number of students each year (approximately 4,500 students last year), raise awareness of disability rights, ensure action to follow the 2018 Disability Law 10 at their universities, improve university accessibility and accommodations, and provide access to assistive technology that reduces barriers to education.
In addition to the university disability centers, the Public University Scholarships program, which Amideast has administered since 2015, has awarded 673 scholarships to young, talented Egyptian women and men from all 27 governorates, including 44 people with disabilities, to prepare them for the 21st century labor market. More information can be found here.