ILO, Amideast launch initiative to enhance access to formal labor market in Jordan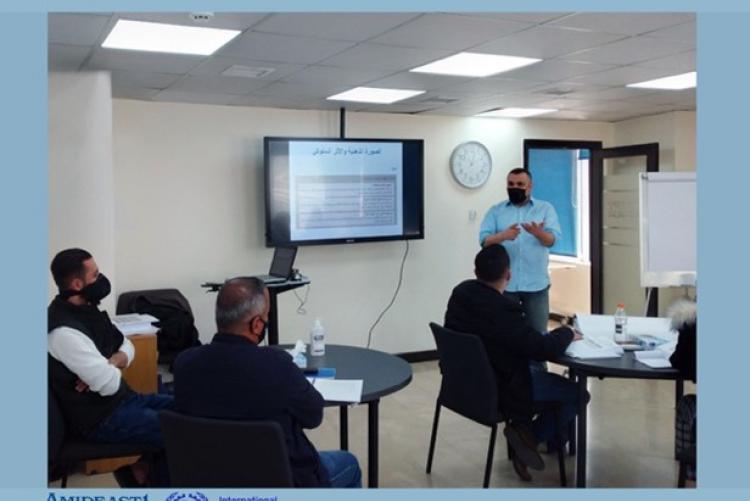 Amideast is pleased to partner with the International Labour Organization (ILO) on a new initiative aimed at expanding access to the formal labor market for nearly 400 Jordanians and refugees living in Jordan. The new Training-of-Trainers Programme for Life and Employability Skills is funded by the U.S. Department of State's Bureau of Population, Refugees, and Migration (PRM) through the project Formalizing Access to the Legal Labour Market for Refugees and Host Communities in Jordan.
Amideast will provide training and skills development to 30 career guidance counsellors working in the ILO's 14 employment centers across the Hashemite kingdom and in Zaatari and Azraq refugee camps. Upon completion of the 60-hour intensive training round, Amideast trainers will partner with the counsellors to transfer this advanced knowledge to up to 390 Jordanian and Syrian job seekers and youth prior to beginning their employment in the industrial, garment, textile, and other sectors.

Emphasizing the importance of this project to the ILO's efforts to alleviate the economic and market impact of the COVID-19 pandemic on jobs and growth prospects across Jordan, Amideast/Jordan's Country Director, Ms. Nour Alrasheed, said, "Impactful training in programs like this help create a path for jobseekers to find sustainable employment in sectors that are recovering and growing in Jordan. The pandemic has effected all sectors of the Jordanian economy and increased pressure on youth to find new opportunities for gainful employment, while re-skilling for digital workplace."
ILO Coordinator to the Crisis Response Thair Al Shraideh said this effort builds on a series of projects that focus on employment-driven interventions to create an enabling environment for decent work. "It is important now more than ever to equip job seekers with crucial skills that will enhance the opportunities of Jordanians and Syrian refugees for sustainable jobs, while also facilitating the integration of refugees into the formal Jordanian labor market in order to achieve self-sustainability and reduce dependence on assistance," he said.