We're excited to welcome 22 new Diana Kamal Scholarship Search Fund (DKSSF) scholars from Egypt, Lebanon, and Tunisia as they begin their undergraduate studies this fall.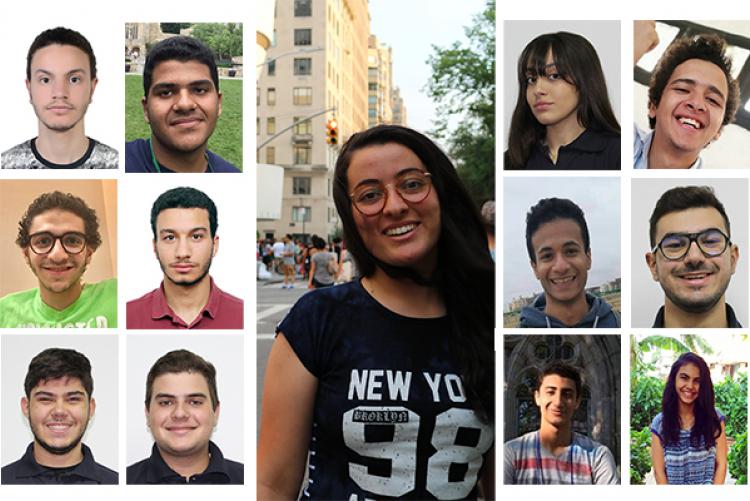 Our new scholars earned scholarships with the support of the DKSSF from Hamilton, Lafayette, Swarthmore, Whitman, and Williams Colleges; California State/Chico, Connecticut,  Drexel, Johns Hopkins, Kenyon, Northwestern, Stetson, and Union Universities; the Universities of Chicago, Denver, and Rochester;  Sewanee: The University of the South; and Minerva Schools at KGI. Congratulations to all!
Egypt
| | |
| --- | --- |
| Ahmed Elsayed AbdelQader is an accomplished STEM enthusiast, an imaginative creative writer, and a caring community leader. He has volunteered as a computer science instructor for African refugees; led a TEDxyouth@EBIS stage to encourage youth to embrace computer science; established a creative writing blog that now has 3000+ followers from 70+ countries; and received the Runner-Up Prize in the Cambridge Immerse Creative Writing Competition. Not least, his team placed first in NASA's SpaceAppsCairo in October 2018, second in the Cairo Intel Science and Engineering Fair and competed in the international fair in Phoenix, Arizona. Ahmed is excited to pursue his interests in both computer science and creative writing at Whitman College. | |
| Mohammed Badra's passion for computer science and automation led him to robotics and participation in multiple international competitions, including RoboCup (RCJ) and the World Robot Olympiad (WRO). Participating in the Soccer and Regular categories, his team placed first nationally and was the first Egyptian team to reach the semifinals in these competitions, giving him invaluable hands-on experience that has shaped his perspectives and career goals. A graduate of El Nasr Boys' School in Alexandria, he is attending Minerva Schools at KGI, in California, majoring in computer science, with a minor in mathematics, and looking forward to participating in future competitions. | |
| Rawan ElSafty's passion for international affairs grew during two years of travel abroad as a TechGirls '17 Alum and an Egyptian representative at UWC Belgium Short Course 2018. She was also the first Egyptian ambassador of Yale University's Model United Nations (YMUN). Added to this is a keen interest in science that has also been evident. As the ambassador for Technovation Challenge, she empowered girls to start coding; and she achieved first place in the NASA Space Apps Cairo competition, qualifying her to participate in Space Camp. Rawan is also a promising athlete — she achieved gold and silver medals in judo and played for Egypt's national team — and she has displayed impressive leadership qualities, serving as president of the EducationUSA Competitive College Club and starting the first LaunchX Club in Egypt. She plans to major in computer science and international affairs at Northwestern University. | |
| Passionate about pure mathematics, Aly ElSheemy was an International General Certificate of Secondary Education (IGCSE) student at the Arab Academy for Science, Technology and Maritime Transport. He participated in many robotics competitions, including ROV, RoboCup Soccer, and WRO Soccer, but his primary focus throughout high school was to develop a strong background in mathematics. He has conducted research in real analysis and submitted a research manuscript to a peer-reviewed journal that is currently under review. Aly is excited to attend the University of Chicago, where he intends to double major in math and computer science. | |
| Mazen Kazem, a recent graduate of the 6th of October STEM High School for Boys, earned admissions to Johns Hopkins University, where he plans to major in neuroscience. Mazen is curious about many things, from biology and psychology to public speaking and debate. He was the only high school student in Egypt to be selected as a research intern at the National Research Centre, and his team won NASA's Space Apps Cairo 2018 competition. His interest in neuroscience was evident in a TedX talk that he gave that looked at the baffling science of intelligence from social and biological perspectives. An outstanding student, Mazen was also selected to attend the EducationUSA summer academy program at Johns Hopkins University. | |
| Adham Khalifa's fascination with computer science and research has driven his desire since middle school to study in the United States in order to access the state-of-the-art facilities and unlimited resources that the U.S. higher education system has to offer. Already as an eighth grader in public school in Kafr El-Sheikh, Adham began to read about the U.S. college admissions process. He additionally stood out by becoming the first student at his school to win a prize at the Intel Science and Engineering Fair, as well as found a coding club and conduct research. Adham is looking forward to pursuing his undergraduate studies in computer science at Connecticut College. | |
| Abdelhalim Mira comes from a lower-class family in the rural village of ElZawya ElHamra. Realizing the merits of a proper education and the value of intellectual curiosity and determination, he has ascended the ladder of knowledge one step at a time, eventually securing a scholarship to the STEM High School in 6th October. Moreover, cultivating a zeal for creative writing, he has written poems and short stories, keeps a personal journal, and is working on his first novel. He also served as a volunteer Arabic translator for the YouTube channel Sciencephile the AI. Abdelhalim intends to double major in economics and creative writing at Kenyon College in Ohio. | |
| Saif Mostafa is an active young man with many interests, from computer science and mathematics to social media marketing. He helped to spread nonscholastic education through social media as a volunteer for many organizations, including Teens Club, Resala Charity, and Terre Des Hommes. He nurtured an interest in other cultures by hosting visitors from America and Turkey and living in a multicultural world during a summer program at Johns Hopkins University. Having experienced life on an American campus, he is looking forward to pursuing his bachelor's degree at Stetson University, majoring in computer science and minoring in mathematics. | |
| David Osama finished high school with a 3.8 GPA and achieved top scores on his college admission tests, including 1440 on his SAT 1 test and a 7.5 (total) IELTS score on his first try. He has served as a teacher's assistant in mathematics and developed his technical, teamwork, and problem-solving skills during an internship in a car workshop in his city. He enjoys playing the drums in a band, is active in his church, and excels in soccer. Motivated by a dream to contribute to the development of Upper Egypt, he joined the Competitive College Club at Amideast, even though participation required him to make many six-hour train trips to Cairo. He is pursuing his undergraduate studies at Union University in Tennessee. | |
| As a young boy, Mostafa Sabra found joy in reading National Geographic magazine. He has always been fascinated by the complexity of our universe and how human superiority is nothing compared to the dominance of nature. Driven by curiosity, he participated in the national physics Olympiads during his sophomore year of high school, ranking 16th overall despite his lack of experience and limited quantitative knowledge. His drive also led him to launch a research initiative aimed at solving the energy crisis in Egypt. Already it has developed a mechanical design that uses the Tesla turbine to generate energy from fluid wastes — an innovative solution that has won him numerous international awards. Mostafa plans to major in computer science at Connecticut College. | |
| Seif Selim is a STEM school alumnus who has a keen interest in science and a passion for learning. In 2018, his science project was awarded first place at the Egypt International Science and Technology Fair. Seif also has a passion for filmmaking and looks forward to making a documentary about STEM schools one day as he believes they are not known or appreciated enough. As one of the top 10 finalists of the Brain Bee neuroscience competition, he is interested in the ways in which the human brain is wired and what happens when things go wrong. Seif is excited to pursue his aspirations at Sewanee: The University of the South. | |
Lebanon
| | |
| --- | --- |
| Since childhood, Hikmat Abu Shala has been curious about the causes of diseases and what it will take to eradicate them. Three of his close relatives, including his mother, suffered from cancer. All three survived, giving Hikmat hope that there can be a cure for every disease and the motivation to play a major role in making the cures for rare diseases possible and accessible. He has already volunteered at the Red Cross, joined the Pure Heart Foundation, which helps infants afford heart surgeries, and became a student nurse at a hospital during the year he was a YES student in California — an exchange experience that enabled him to discover himself and set goals for his life. Hikmat will attend California State University/Chico, where he has chosen to major in molecular and cellular biology, laying the cornerstone of his career as a pharmaceutical scientist able to help those who suffer around him. | |
| Sbidag Demerjian had never thought that studying in the United States would be possible before she was awarded a Kennedy-Lugar YES scholarship to spend her sophomore year of high school the state of Maine, living with a wonderful host family, learning about their culture, and becoming an active member in the community. She also attended a two-week summer study program by Yale University in China that gave her a glimpse of what studying different majors would be like and what kind of job opportunities are available. Sbidag, who hopes to study international law in graduate school, plans to major in international relations at Connecticut College. | |
| Born in New Haven, Connecticut, Andrea Francis long dreamed of returning to the United States for college. While at Saint Joseph School in Lebanon, she turned to Amideast for support and guidance to achieve that dream. "The process was really hard, from choosing a major to finding the right college [and preparing] for my SAT, TOEFL, essays, and applications through the support of my friends and advisors," she writes, adding that "All the work was worth it at the end because I was able to get into the perfect university" — the University of Denver — "where everything that I love was present: engineering, swimming, music, art, diversity, research…." | |
| Charbel Haddad spent the first few years of his life in Roum, Jezzine, before moving with his family to Mazraat Yachouh, where he attended Saint Joseph School–Cornet Chehwan. Charbel excelled in all his classes, earning top grades and a spot on the honor roll every year, while also immersing himself in every extracurricular activity he could find in order to become a better-rounded and more cultivated individual. Charbel chose the University of Rochester because its open curriculum will provide him an interdisciplinary education like no other: he will be able to read nineteenth century literature while trying to solve the energy crisis. Since his interests are not limited to one field, this perfectly suits him. | |
| Nadia Manasfi has been taking every opportunity thrown her way. Coming from a family of five with uncertain finances, her goal is to study psychology in the United States in order to receive the best education provided and to reduce the burden on her family. Her goal is to make everyone, including herself, proud. She is excited to attend Lafayette College, where she will major in psychology. | |
| Originally from Beirut, Maroun Mezher grew up dreaming of studying abroad, specifically in the United States. His dream came true when he was awarded a Kennedy-Lugar Youth Exchange and Study (YES) scholarship to spend a year as an exchange student in the state of Washington — an experience that made him want to go back to the United States for college. Thanks to Amideast and its Competitive College Club program, he was able to achieve his dream again. They helped him discover Hamilton College, a school where he would be able to pursue his interests in economics and music. Maroun's long-range goal is to complete his Ph.D. in economics and teach economics on the college level. A drummer since he was five years old, he is looking forward to the opportunity to immerse himself in composing and producing music. | |
| Since discovering a passion for robotics several years ago, Amine Mrad has dedicated hours to building and programming robots — an effort that paid off at the Sumo Robot Competitions, where he was ranked three times by the 11th grade. Believing that the use of artificial intelligence will have a major positive impact on developing societies such as Lebanon, Amine has chosen to major in mechanical engineering with an emphasis on robotics. He was awarded a scholarship by Drexel University, allowing him to pursue his college studies in one of the world's leaders in experiential learning. | |
Tunisia
| | |
| --- | --- |
| Achraf Dhahbi attended Ariana Pioneer High School in the city of Ariana, where he also participated in various camps and competitions. However, he rarely left his hometown until he joined the Tunisian team at the International Championship of Mathematical and Logical Games in Paris. He later attended a competition in New York with his school's physics team and received two awards. A curious and driven student, Achraf is interested in astrophysics and film. He is also an avid sports fan. Achraf is currently a freshman at Williams College, studying astrophysics, while also playing basketball and enjoying club volleyball. | |
| Omar Drira studied at a pioneer high school, where he excelled in academics and various extracurricular activities. His love for science and art motivates him as he pursues undergraduate studies in mathematics at Lafayette College in Pennsylvania. He is adventurous and never turns down an opportunity to learn something new. In his free time, he enjoys various outdoor activities such as hiking and camping. | |
| Born and raised in Tunis. Youssef Kharrat is an outstanding student. In addition to excelling academically, he pursued many activities outside of school, including volunteering in his community, playing the guitar, and boxing. At the age of 17, he received a scholarship to participate in the Kennedy-Lugar YES exchange program, an experience that helped him step out of his comfort zone and try new things, something he still loves to do today. While abroad, Youssef offered guitar lessons to children, competed in various boxing tournaments, and participated in debate competitions. He currently attends Swarthmore College with a focus on engineering and computer science. | |
| Zeineb Ouerghi is from the small Tunisian town of Kef, where she attended Kef Pioneer High School and pursued her interest in the experimental sciences. Zeineb is a talented student and active member of the STEM community in Tunisia. During her freshman year of high school, Zeineb received a grant to participate in TechGirls, a highly selective exchange program that exposes participants to technology-related topics. After participating in the program, Zeineb was inspired to use technology for social good. She advocates for female digital literacy and is passionate about improving girls' access to STEM opportunities. She currently attends Minerva School at KGI and studies computational sciences. | |
To learn more about the Diana Kamal Scholarship Search Fund (DKSSF), please visit the DKSSF webpage.