This annual event celebrates the amazing work that women engineers around the world are doing as well as raises awareness of the exciting career opportunities in these fields available to women and girls. Amideast proudly supports a number of female engineering students from the Middle East and North Africa who are currently pursuing higher education in the United States through the Hope Fund and the Diana Kamal Scholarship Search Fund (DKSSF). Today we want to highlight three of these inspiring scholars and let them explain their passion for engineering in their own words.
Cyrine Ben Ayad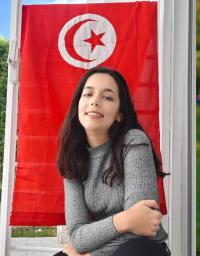 Tunisian DKSSF scholar Cyrine Ben Ayad was drawn to engineering because she "wanted an exciting career where I would wake up to something new every day." An outstanding high school student, Cyrine applied to Smith College with the support of the DKSSF and is now "studying alongside other powerful women that are inspiring me and pushing me to be better and do better."
Although her college career began remotely due to the COVID-19 pandemic, Cyrine jumped right into her first engineering class, working virtually with a team to design a building model that ran on solar energy while considering efficiency and aesthetics. She is passionate about sustainability and in her future career hopes to tackle the issue of serving humans through engineering and innovation without harming the environment.
Cyrine feels strongly that more women, especially Tunisian women, should pursue a career in engineering. She says, "I believe all of these women are capable just as men are. I have had a lot of girls in my STEM classes in Tunisia, and I know how skilled they are." Cyrine acknowledges that engineering is considered a male-dominated field but knows that it doesn't have to be this way. "Women bring a new perspective along with different ideas," she explains. "Sometimes, they wish a certain machine existed, a program, a mobile application, etc... As engineers, they wouldn't have to wait for men to realize the need for that machine or program. They would have enough skills to make it themselves and benefit others."
Sereen Assi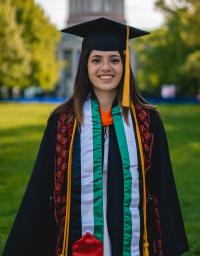 Palestinian Hope Fund scholar Sereen Assi, from the West Bank, recently graduated from the University of Rochester with a degree in biomedical engineering and will be pursuing her Ph.D. in bioengineering at the University of Pennsylvania this fall! The Hope Fund, along with the Amideast-administered English Access Microscholarship (Access) Program and the Abraham Lincoln Incentive Grants program, opened new doors for Sereen to pursue her passion for engineering. She even had the opportunity for a research semester abroad, working in a biomechanics lab at the University of Sydney in Australia supporting the development of kangaroo tendon xenografts to replace human tendon parts. She notes, "I got to work as part of a team of professors, medical workers, and engineers from multiple disciplines, and I got to meet many researchers who came up with interesting biomedical technology."
As she prepares to begin graduate school in a few months, she recognizes Amideast's role in her academic success, stating: "I never thought I could graduate from a school like the University of Rochester with a biomedical engineering degree, but AMIDEAST prepared me for this journey in every way, and the Hope Fund made this dream possible by continuously supporting me throughout my studies."
Cherine Ghazouani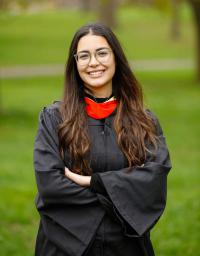 Tunisian DKSSF scholar Cherine Ghazouani loves engineering because of the "satisfaction of problem solving." She says, "To me, it is like playing a puzzle game, where you use your tools and strategy to solve it and finally, when all the pieces fit together, you get to create a beautiful masterpiece." With the support of the DKSSF, Cherine was able to complete a degree in optical engineering at the University of Rochester, one of the best institutes of optics in the United States, and is excited to "pay it forward by being a mentor and a resource for other minorities interested in engineering."
Growing up, Cherine was always fascinated by "futuristic movies and the science behind how things work." She explains, "Engineering for me is not just a profession, it's a continuous incentive to always be curious and strive to make the world better through science." Cherine now hopes to combine her passions of engineering and entrepreneurship and run her own optics startup where she can use her tech knowledge to support worthy causes.
To other women interested in pursuing a career in engineering, Cherine says, "today, by pursuing a career in engineering and science, you are becoming part of a large network of women in the field who support and mentor you because empowered women empower women."