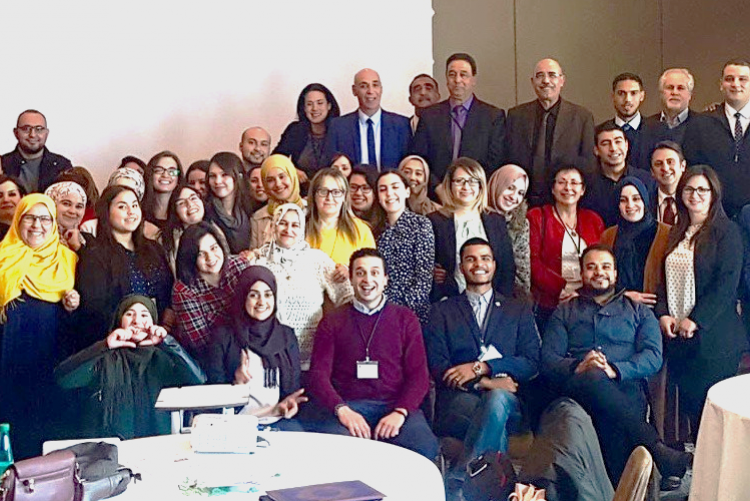 Algeria's ability to expand the teaching of English and improve classroom practices are critical to its ability to compete in the global economy. With demand for proficient English language speakers already rising in tandem with the country's economic growth, the need for effective English language training programs and professional development opportunities is increasingly evident.
Recognizing the challenge facing Algeria, AMIDEAST recently launched an English language initiative with funding from the U.S. Embassy in Algiers, aimed at promoting dialogue among key educational stakeholders about the relevance of the English language to Algerian youth of all ages and strategies for improving the effectiveness of teachers working with them.
The English Language Education in Algeria: Priorities and Perspectives forum was held in Algiers on March 17, 2018, with 72 educators and stakeholders present, from teachers and trainers, to ministry inspectors, university faculty, graduate students, and employers representing all 16 regions of the North African country.
During the day-long gathering, they shared their experiences and perspectives around four key themes: English and Algerian youth, English in higher education, English and employability, and English language teacher training. They also heard from well-known experts, both in person and via video, whose participation helped link the Algerian context with international best practices in English language teaching. In addition, AMIDEAST presented the results of an online survey about the importance of English for Algerian youth, involving nearly 100 young Algerians aged 17–25 from around the country.
The English Language Forum was an enriching and fruitful experience, which provided us with an opportunity to share ideas and to exchange views about key issues relevant to our field of practice.
The responses to that survey provided strong evidence that Algerian youth place a high value on English language proficiency and view it as extremely important for their future. They are also confident about their ability to use it for their academic and professional pursuits. This perception about English and confidence in using it, including online, also provide evidence of a shift in attitudes in Algeria — a shift that AMIDEAST believes can be leveraged in exploring new, innovative programs for this large youth population.