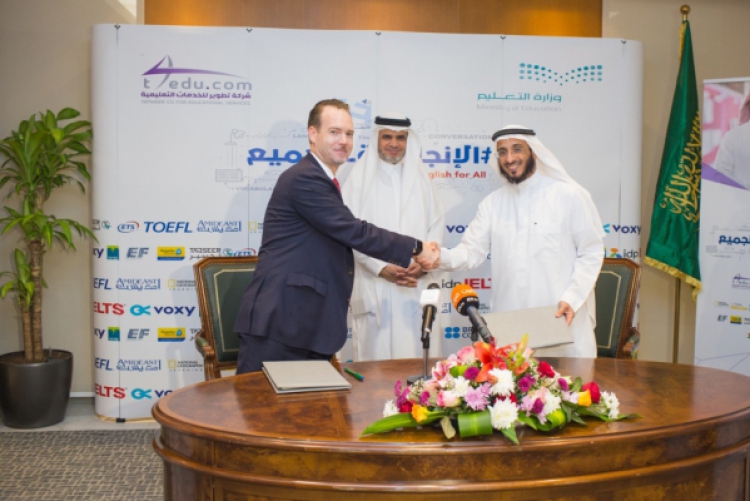 The TOEFL iBT® test is the best, most accurate way for English language teachers to show their English proficiency. The test is also more convenient and less expensive than some options, and with free, online, comprehensive test prep, preparing to take the test is easy. Click here to purchase a test voucher today.
The Kingdom of Saudi Arabia Ministry of Education announced this week that the TOEFL iBT test is one of the approved assessments that English teachers can take to show their English language skills. The effort, which will include both assessment and training initiatives, is part of the government's 2030 vision, which includes a number of programs and initiatives aimed at developing KSA into an exemplary and leading nation.
"English for All is a unique program that aims at providing teachers — and at a later stage, students — with cost-effective solutions to improve their English language proficiency," said Abdulrahman Alfuraih, Project All Program Manager at the Ministry of Education and Head of Supervision for the English 4 All Program project. "We at the Ministry of Education will do our best to encourage and support the implementation of the program. We believe that this program would be helpful in achieving the Saudi 2030 vision."
While English teachers have a choice of multiple exams, the advantages of the TOEFL test are clear:
Global Standard: The reputation of the TOEFL iBT test is second to none. For millions of people around the world, the TOEFL test has helped them achieve their dreams of university study, skilled migration, employment, scholarships, visas and more. More than 10,000 universities, agencies, institutions and organizations in 180 countries worldwide accept TOEFL scores for various purposes. Accurate and Fair – The best-in-class TOEFL scoring system combines multiple scoring methods to ensure that each test taker's abilities are accurately measured. ETS ensures that multiple raters' judgments contribute to each test taker's TOEFL speaking and writing scores. These raters are trained and monitored daily, and they are not exposed to information about the test taker, which ensures that each individual's response will be evaluated fairly.  
Superior Convenience:  Students can take the entire TOEFL iBT test in one day, rather than across multiple days, as is often the case with other exams. Also, the TOEFL iBT is widely available, with test centers located in AL Baha, AL Khobar, AL Madinah, Buraydah, Dammam, Hail, Jeddah, Jubail, Riyadh, Tabuk, Taif and Yanbu. In more populated regions, the test is offered several times per month.
Less Expensive: With a voucher from Amideast, English teachers in KSA can take the TOEFL iBT test for $240 USD (about 900 SR), which is less expensive than the IELTS test.
Free Test Prep:  The TOEFL Program offers a variety of test prep options, including prep for free and prep for a fee. One of the most popular free options is an online course, called "TOEFL® Test Preparation: The Insider's Guide," available at edx.org. The course has drawn more than 690,000 participants from more than 200 countries and is highly rated — earning 4.5 out of 5 stars. Enroll at https://www.edx.org/course/toefl-test-preparation-the-insiders-guide. Another popular option is the TOEFL Go! Global Official app, available from Apple iTunes or Google Play.
"The TOEFL test has been a highly respected measure of the ability to communicate in English for over 50 years, so it is an excellent choice for teachers to demonstrate their English proficiency," said Amideast/Saudi Arabia Country Director Don Schmidt. "The test is designed to measure all four language skills — reading, listening, speaking and writing in an academic setting. Teachers who are proficient in these skills will certainly improve the educational workforce that is needed to support KSA in achieving Vision 2030 and the nation's participation in the global economy."
To purchase a test voucher, click here. To find out where the test is offered and when, visit www.ets.org/toefl/ibt/register/centers_dates. To enroll for the free test prep course, visit https://www.edx.org/course/toefl-test-preparation-the-insiders-guide. To learn more about all available test prep, visit https://www.ets.org/toefl/test-takers/ibt/prepare.   
---

About the TOEFL Test
The TOEFL test of academic English is the most widely respected English-language assessment worldwide, recognized by more than 10,000 institutions in more than 130 countries. To date, more than 30 million students have taken the TOEFL test. More information regarding the TOEFL test, including registration, study tips and sample questions, is available on the TOEFL Go Anywhere website at www.toeflgoanywhere.org.
About ETS
At ETS, we advance quality and equity in education for people worldwide by creating assessments based on rigorous research. ETS serves individuals, educational institutions and government agencies by providing customized solutions for teacher certification, English language learning, and elementary, secondary and postsecondary education, and by conducting education research, analysis and policy studies. Founded as a nonprofit in 1947, ETS develops, administers and scores more than 50 million tests annually — including the TOEFL® and TOEIC® tests, the GRE® tests and The Praxis Series® assessments — in more than 180 countries, at over 10,000 locations worldwide. www.ets.org