Amideast and Citi Foundation are pleased to celebrate today the graduation of the third cohort of the Youth Entrepreneurship Program (YEP), an initiative designed to support young Egyptian entrepreneurs who seek to develop, launch, or expand viable businesses.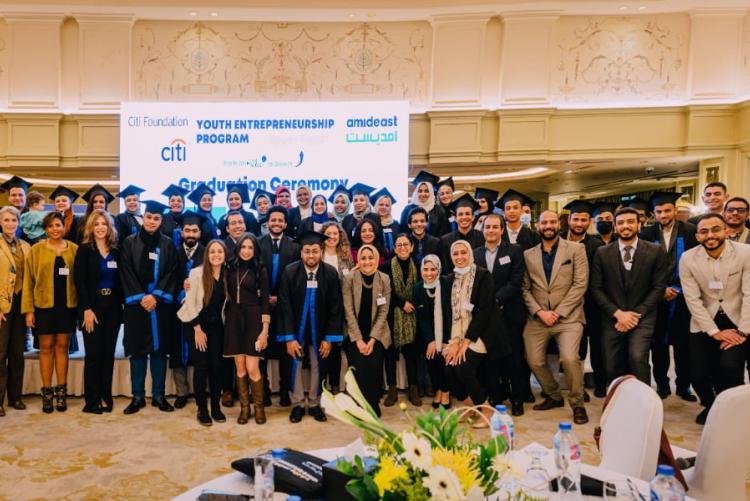 Cairo, Egypt — This year's graduation recognizes 81 men and women from Upper Egypt and their 17 businesses following their successful completion of the program, which was funded by Citi Foundation and designed and implemented by Amideast. The ceremony will take place on March 26, 2022, in Cairo.
YEP is part of a multi-country Skills for Success® grant that Citi Foundation has awarded Amideast to benefit underserved youth in Egypt through its Pathways to Progress initiative, which prepares urban youth with career readiness tools and opportunities to thrive in today's economy.
"Amideast is proud of our longstanding partnership with Citi Foundation and thrilled that we offer the fully-funded Youth Entrepreneurship Program for the third time in Egypt—and for the first time in Upper Egypt," said Shahinaz Ahmed, Amideast's country director for Egypt. "We focused this year on the inspiring youth population in Upper Egypt to empower innovation and entrepreneurship in Upper Egypt, a key goal for both Amideast and Citi."
Ms. Ahmed also noted that YEP's Pay-It-Forward model extended the program's benefits to an additional 840 youth. This innovative feature of many Amideast programs empowers the participants to lead workshops in which they share the knowledge they acquired during the program with peers in their communities. The benefits to both students and those they teach are significant.
"It's incredible to see the pride that develops when students teach others—the change in their being that occurs when an institution places such trust in them," she added.
On behalf of Citi Foundation, Mohamed Abdel Kader, Country Manager, Citibank Egypt, added, "We are proud to partner with Amideast and to invest in youth in Egypt through targeted empowerment programs. Such programs catalyze economic growth through Citi Foundation grants and in partnership with reputed regional NGOs."
YEP is just one of many ways in which Amideast seeks to better position Egyptian youth to realize economic security and thereby a brighter future for themselves, their communities, and ultimately Egypt. Participants in YEP-Upper Egypt benefited from training, coaching and mentoring, and business-incubation and seed-funding opportunities.
About Citi Foundation: Citi Foundation works to promote economic progress and improve the lives of people in low-income communities around the world. It invests in efforts that increase financial inclusion, catalyze job opportunities for youth, and reimagine approaches to building economically vibrant cities. Citi Foundation's "More than Philanthropy" approach leverages the enormous expertise of Citi and its people to fulfill its mission and drive thought leadership and innovation. For more information, visit www.citifoundation.com.