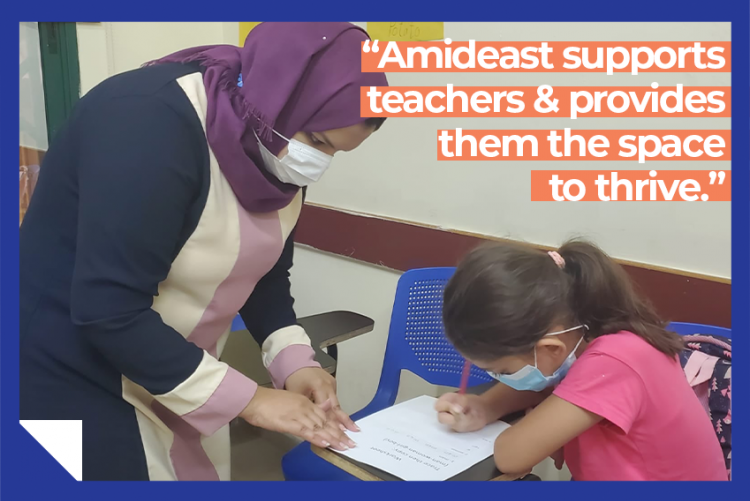 Today is World Teachers' Day, an annual event led by UNESCO to celebrate teachers around the globe. Education is at the core of Amideast's mission to create hope, opportunity, and understanding and it is thanks to our incredible teachers that we are able to meet this mission every day. Over the past year and a half, Covid-19 has presented our teachers with new challenges: virtual classrooms, new health and safety guidelines, and rapidly changing conditions. But their dedication to their students remained strong, and across the 11 countries in which we have offices, our educators demonstrated flexibility and willingness to learn new teaching methods for a digital context. Today we celebrate our teachers and are honored to introduce you to some of the talented people that are bringing their passion and knowledge to their classrooms.
---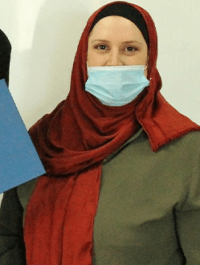 A teacher of 20 years in the West Bank, Danya Khelfa brings her knowledge and passion for learning to her students in the English Access Microscholarship (Access) program and English Language courses. She loves to help her students build confidence, meet their English learning goals, and realize their full potential. When Covid-19 pushed English courses online in early 2020, Danya developed her online teaching skills through a series of training workshops offered by Amideast. These professional opportunities and "the smiles of students when they finish their classes or courses" is why "I knew that teaching is the career choice for me."
For Amideast/Jordan teacher Dr. Mjriam AbuSamra, teaching was not so much a decision, but an inevitable outcome of her lifelong love of connectivity and exploration. She cherishes the in-depth class discussions that challenge both her and her students to reflect on life and develop new perspectives. Teaching Community-Based Learning in the MENA Region to American students studying abroad in Jordan, Mjriam notes that she is empowered by Amideast to teach them to think critically and challenge the dominant narratives about the Arab world. Her favorite part about teaching is the "respect and often friendship that remains with many students, years after they have left."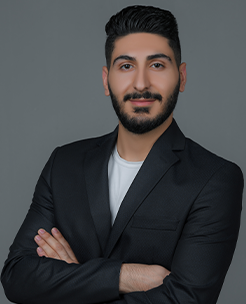 Ahmad Jomaa, an English teacher at Amideast/Iraq, appreciates the intangible rewards of teaching—the ability to make a real difference in the lives of people. He sees each class as a new challenge to cultivate a contagious passion for learning and keeps his classes as engaging and motivating as possible. He enjoys teaching at Amideast, noting that "Amideast trusts its teachers, supports them and gives them freedom in the classroom," while also "striv[ing] to develop and train [them] in order to enhance the quality of instruction."
During the seven years Wedian Abu Daqqa has been teaching English at Amideast/Gaza, she has built "unforgettable memories with my colleagues, students, and staff." She "adores" her job and keeps a relaxing and encouraging classroom environment so her students feel comfortable practicing and making mistakes from which they can learn. Teaching both regular English courses and English Access Microscholarship (Access) Program courses, Wedian has had the opportunity to teach different levels and ages. She notes that working at Amideast has helped her grow as a person and as a professional thanks to "the professional development courses offered and the workshops and events. [Amideast] supports and provides teachers the space to thrive, grow, develop, and teach."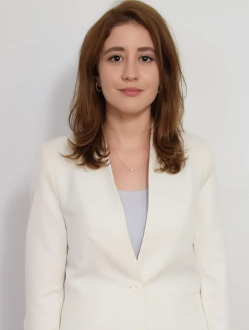 Amideast/Tunisia English teacher Abir Mili chose to become a teacher to help students reach their full potential and achieve their dreams. She sees the human connection she builds with her students as a way to empower their lives and create new communities. In addition to earning her master's degree and multiple professional certificates, Abir has benefited from Amideast- and U.S. Embassy-run professional development programs. She has enjoyed her two years of teaching at Amideast, noting that it has "given me the chance to be a part of like-minded people, to believe in myself as a teacher, to grow professionally and to build long lasting relationships."
For 14 years, Amideast/Yemen EL instructor Maisa Naji has been sharing her love of the English language with her students. An alumna of the Fulbright Foreign Student Program, through which she completed her M.Ed. in bilingual and multicultural education at Northern Arizona University, she brings her significant knowledge and experience to each new class. One of her favorite memories of teaching was during the graduation of the Amideast-administered English After School Program students, which she describes as "an emotional moment I won't forget" after watching the kids grow and develop as English speakers. Amideast has been a gateway for Maisa, through which she has been able to see the world from different perspectives and has grown "not only as a teacher, but also as an effective member of my society."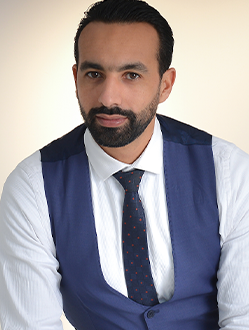 Youssef Boualleg, an alumnus of the Fulbright Foreign Student Program and an English educator who has taught at both Amideast/Morocco and Amideast/UAE, has the ambitious goal of changing teaching through creating lasting connections with his students. Working for Amideast has "allowed me to meet outstanding people [and] work on both national and international programs," he shares. They include U.S. Embassy-funded English language programs and teacher development programs in both the UAE and Morocco, opportunities that he describes as "the chance to inspire [and] work with two amazing teams at Amideast/UAE and Amideast/Morocco." He takes pride in watching former students become successful professionals, especially when they check back in with him to let him know about their career successes.
Amideast/Morocco educator Abdelfettah Daoudy was first inspired to pursue a career in education by his own English teacher in high school, whom he described as "a real inspiration to me and a great example to follow." Now an English teacher himself, he values the opportunity to empower his students with the English language skills they need for their future academic and professional careers. At Amideast, where he has been teaching for three years, he appreciates the international staff of teachers, the unique learning environment, and opportunities for professional growth, such as Amideast's Teacher Enhancement Program.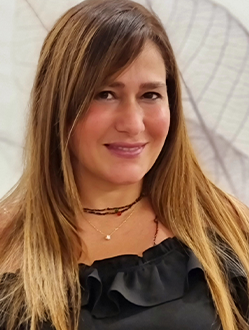 Since 2008, Catherine Haber has been bringing innovative strategies and incorporating social-emotional learning practices to her English classes at Amideast/Lebanon—in addition to serving as the head of the English program at Beirut Baptist Elementary School. A graduate of Amideast's Professional Certificate in English Language Teaching (PCELT), Catherine teaches a variety of ages, backgrounds, and levels—TOEFL® and SAT® students, students in the English Access Microscholarship (Access) Program, and other English students from primary school to university. Her favorite part about teaching at Amideast is the close follow-up she receives from the administration, while also enjoying their trust as she teaches and manages her classes.