Today is the International Day of Persons with Disabilities, a day designated by the United Nations to increasing public awareness, understanding, and acceptance of people with disabilities and celebrating their achievements and successes.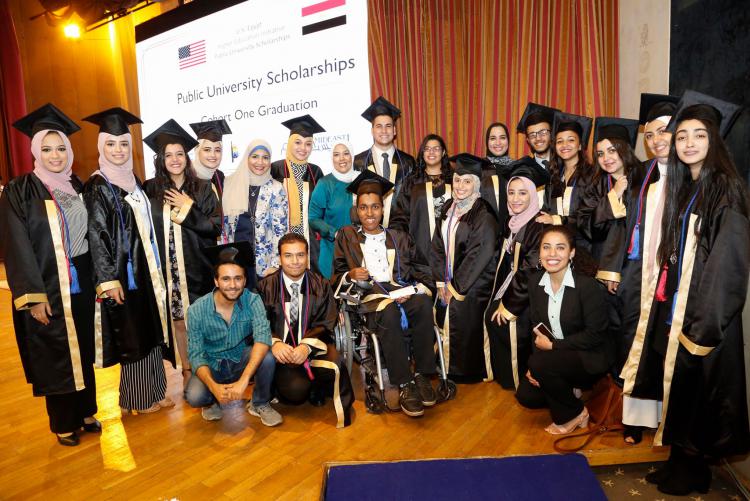 The one billion people with disabilities are one of the most excluded groups in our societies and have been among the hardest hit by the COVID-19 crisis in terms of fatalities. At Amideast, we are striving to ensure that our programs and services are accessible and inclusive for as many individuals as possible – a goal that has translated into action in our key focus areas:
          Exchange Programs: Through Amideast, students with disabilities from the MENA region have joined regional exchange initiatives such as Kennedy-Lugar Youth Exchange and Study (YES) program and the Fulbright program (regional initiatives), as well as programs for specific countries such as the Master's Scholarship Program (MSP) in Palestine. These students traveled to the United States for high school or higher education and necessary accommodations allowed them to participate fully in their programs.
         Testing: Amideast testing centers across the region are accessible and provide accommodations to ensure that people with disabilities are able to complete the assessments needed to access to higher education and professional advancement.
         Training: Amideast provides training tailored to meet the special needs of students with disabilities. These opportunities include the design of an English curriculum for 360 blind and visually impaired Egyptian students in partnership with the Development Association for Empowering Special Needs (DAESN) with funding from the Sawiris Foundation, Orascom Construction Industries, and Mitsubishi Corporation. Other examples include alumni of the English Access Microscholarship (Access) Program, who have received training in the fundamentals of offering assistance to visually impaired students, and a joint collaboration with the Institute of International Education (IIE) that leveraged the support of Amideast alumni teaching assistants to offer TOEFL® preparation for visually impaired participants.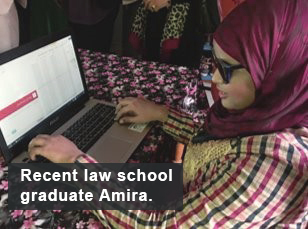 Special Initiatives: Amideast has addressed the needs of persons with disabilities through special initiatives. In Lebanon, it partnered with a network of Disabled Persons Organizations (DPOs) to help an NGO to produce and publish a booklet in Braille about the rights of persons with disabilities in that country. In Abu Dhabi, Amideast, with funding from the U.S. Embassy, partnered with the Higher Committee for Hosting Special Olympics World Games in Abu Dhabi to implement five art workshops in which local artists engaged school students with and without disabilities to create art together. The art pieces produced from these Unified Art Workshops were showcased and auctioned at the Special Olympics World Games in Abu Dhabi in March 2019. All proceeds were directed towards empowering people with intellectual disabilities.
         U.S.-Egypt Higher Education Initiative (HEI) Public University Scholarships: Funded by USAID, supported by the Ministry of Higher Education, and administered by Amideast, this program stands out for putting inclusion of people with disabilities at the heart of its work. Within its scope of developing Egyptian students to become English-speaking college graduates who excel in the workforce, HEI has awarded seven percent of Public University Scholarships to students with disabilities; those who have graduated to date have studied abroad in the United States for one semester and found employment upon graduation. The program also established University Disability Service Centers at five Egyptian public universities, tasked with ensuring inclusive and equal access to higher education for students with disabilities.
       Alumni Contributions: Many Amideast alumni bring the values of inclusivity and community service they developed while on program to their later endeavors. Egyptian HEI alumnus Ziyad made international headlines after creating a mobile app to help people experiencing deafblindness communicate with others. Moroccan YES alumna Fatima Zahra, who is blind, won the national prize for debate and dictation in English, while Gazan YES alumna Yara held a two-day American Sign Language workshop for seven medical students at Amideast/Gaza. Also of note is Lebanese Fulbright alumnus Mohammed Loutfy, who has been advocating for disability rights for over 15 years, including currently in a leadership position at the United Nations. Amideast is proud to see its alumni joining the larger effort to build a more inclusive world.