International exchange has long been at the core of Amideast's mission of fostering hope, opportunity, and understanding. For nearly 70 years, Amideast has supported international exchange between the peoples of the United States and the Middle East and North Africa. This Exchange Day 2021, we are excited to join in the celebration of the power of international exchange — in all its forms. As the global coronavirus pandemic has limited in-person exchange programming during the past year, the opportunities and value of virtual exchange have come into greater focus. Read on to meet some of the many exchange participants whose programs we support and to learn about the impact of people-to-people diplomacy through their eyes and experiences.
Mohammed, Hope Fund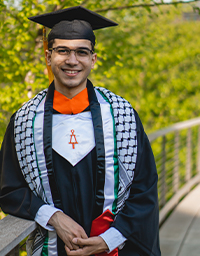 Of his U.S. college experience, Palestinian Hope Fund alumnus Mohammed Abumailaq notes, "[It] showed me what an engineer is capable of doing." A recent graduate of the University of Rochester in biomedical engineering, Mohammed had the opportunity to conduct research at his university's medical center that will be used to help advance hearing aid technology. He will continue to take advantage of the diverse campus life and cutting-edge research of U.S. universities as he pursues his Ph.D. at Boston University this fall. He plans to focus on neuroimaging techniques to better understand neurological disorders such as Alzheimer's, benefiting patients not just in the United States but back home in Gaza. It is his dream that "the impact of my future research reaches people from my community in one way or another. I also hope to address and help spread awareness about the health inequities and inaccessibility in Palestine."
Rihem, YES
"The YES program has changed my life. I'm so grateful for the opportunities that this program provided for me." That's how Tunisian Kennedy-Lugar Youth Exchange and Study (YES) program, alumna Rihem Sassi sums up the life-changing impact of her year as a high school student in Harrisburg, South Dakota. Keen to show her commitment to cultural exchange even while still in the program, Rihem shared with her family and friends back home through social media what she was learning and how the program was helping her grow — all the while sharing Tunisian culture such as through food and holiday celebrations with her American host community. Since returning to Tunisia in 2020, she has been actively encouraging future cohorts of Tunisian youth to spend a year in the United States by giving informational sessions about the YES program and her experience in the United States at the American Corner Tunis, her school, and her local youth club, both virtually and in-person. Over 200 people have attended her presentations so far! She shares, "Thanks to my exchange year, I am much more accomplished, open-minded, and empowered."
Abdullah, YES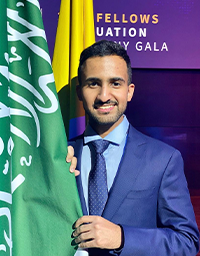 Saudi YES alumnus Abdullah Alaidroos spent the 2015-16 school year in Manteca, California! While there, he had the opportunity to share his culture by presenting to elementary school students from all around northern California and by engaging with his peers. Abdullah felt he learned a lot by living in a diverse community and says he "returned to Saudi Arabia carrying new values of inclusion and social engagement." Since his return, Abdullah has earned a degree in Global Communications and continues to work towards his goal of becoming a medical doctor. He plans to use the cross-cultural communication skills gained from his exchange as one of 60 young people selected to serve as a delegate at the Youth (Y20) Summit that takes place later this year.
Rehab, HEI Public University Scholarships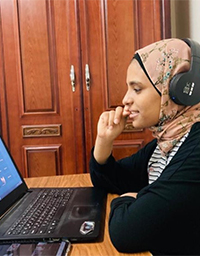 International exchange doesn't just happen in-person, but virtually as well! Rehab, a beneficiary of the USAID-funded, Amideast-administered U.S.-Egypt Higher Education Initiative Public University Scholarships program, took part in a virtual exchange program developed by Amideast and the University of Nebraska-Lincoln after the onset of the Covid-19 pandemic shut down in-person study abroad programs. She is working on her business degree in a joint program with Ain Shams University in Cairo, Egypt, and Kean University in New Jersey. Rehab benefitted from the program's international exchange component, even though the exchange took place through computer screens, stating that "the best thing I experienced was working on a group project with American students. I love working in groups; I am more productive and thoughtful working with a team. I was able to adapt easily working with the American students. And, they gave me good ideas for a startup I want to pursue."
Ahmed, HEI Public University Scholarships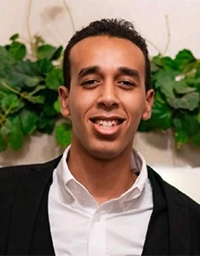 Ahmed, a Public University Scholarship student at Egypt's Ain Shams University, was able to study abroad for a semester at San Jose State University, in the heart of California's Silicon Valley! He took full advantage of this opportunity, signing up for courses in information security, database design, and programming in Python and attending career development sessions and hackathon events. One of Ahmed's favorite parts about studying abroad was being able to work on projects with people from diverse backgrounds and learning from each other. He joined the South Bay Islamic Association in San Jose, interacting with other Muslims from around the world. Even though Covid-19 ultimately pushed his in-person learning experience online, Ahmed still considers studying abroad to have been "one of the best experiences of my life. It taught me to be open-minded, broaden my perspective, and become more independent. Moreover, this experience helped me to be more confident and get out of my comfort zone."
Narjes, Fulbright Foreign Student Program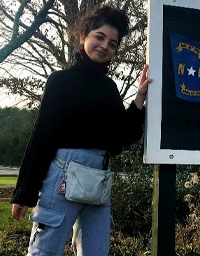 Bahraini Fulbrighter Narjes, currently studying film production at the University of New Orleans, had the opportunity to experience a classic American road trip, travelling from New Orleans to Virginia and passing through four other states on the way and visiting Washington, D.C., during her stay in Virginia. Narjes reflects that "[taking my first ever road trip] was a beautiful insight into the United States." Describing her excitement at discovering the diversity of these states, which she didn't realize beforehand, she notes, "that even though I am in the same country, this is still a new and very different place and I felt it!" She says that her experience so far has "not just raised my awareness about different cultures, but it also helped me share my own and I made great friends from across the globe! We are different but we share the same passion to learn and improve, it is something I'm grateful for."
Dounia, Fulbright Foreign Student Program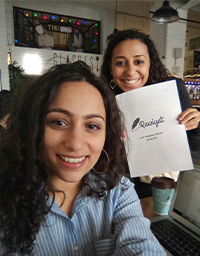 Moroccan Fulbright alumna Dounia's international exchange experience pushed her to make a difference! After graduating from New York University in 2013 with a master's degree in integrated marketing, she applied for and was awarded a Fulbright Community Action Grant! With the support of the grant, Dounia and a fellow Fulbright alumna founded the Rawiyat Project to help young refugee women process their journeys. In March 2017, she travelled to Beirut, where she conducted workshops for young women (15-17 years old) to give them tools that will enable them to express themselves and tell their stories through a variety of activities. A Beirut-based NGO continues to use their methodology and interactive design in its work with young refugee women. Reflecting on her experience, Dounia shares, "Fulbright alumni [have] the potential to be agents of change not only in our host or home country but in our region, and beyond."
Loay, Diana Kamal Scholarship Search Fund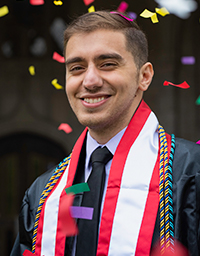 For recent University of Toledo graduate Loay Alarab, studying in the United States with support from Amideast's Diana Kamal Scholarship Search Fund has been life-changing. Loay, who comes from Lebanon, completed degrees in political science and economics while also building a community on campus for people from the MENA region or of MENA origins. As the co-founder and president of the Middle Eastern and North African Association, he helped fellow students "come together, connect more deeply with their cultural heritage." Beginning in his sophomore year, Loay was able to engage in extensive undergraduate research and presented at conferences. He also worked with one of his professors on a research team and received multiple grants for his independent research. This fall, he will begin his Ph.D. studies in political science at the University of Michigan in Ann Arbor. He reflects, "the opportunity to learn so much about my field at such an early stage in my educational/professional career has definitely been the highlight of my U.S. college experience."